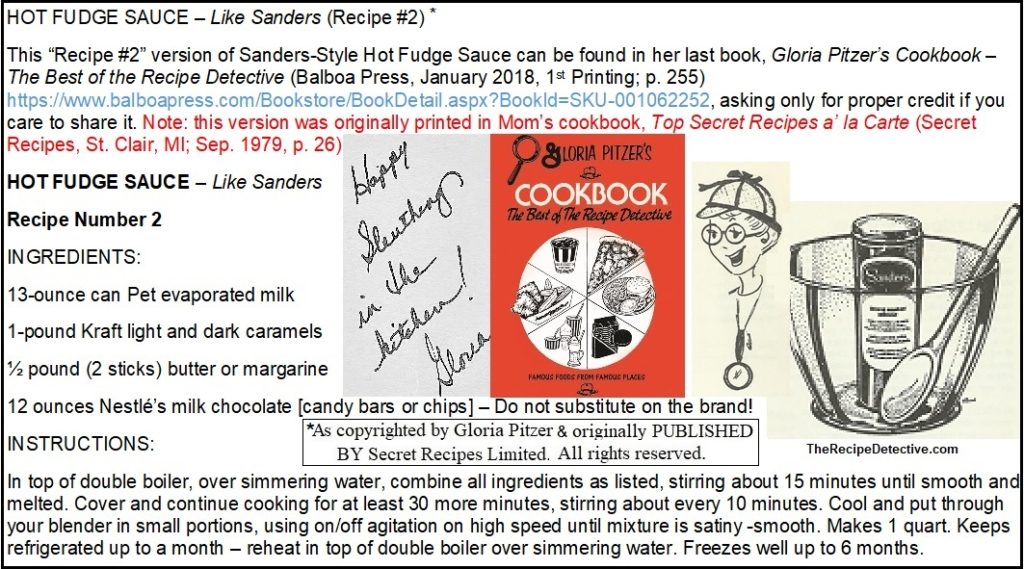 HOT FUDGE SAUCE – Like Sanders
Recipe Number 2
By Gloria Pitzer, as seen in Gloria Pitzer's Cookbook – The Best of the Recipe Detective (Balboa Press, January 2018, 1st Printing; p. 255). [A revised reprint of Gloria Pitzer's Better Cookery Cookbook (Secret Recipes, St. Clair, MI; May 1983, 3rd Edition).]
INGREDIENTS:
13-ounce can Pet evaporated milk
1-pound Kraft light and dark caramels
½ pound (2 sticks) butter or margarine
12 ounces Nestlé's milk chocolate [candy bars or chips] – Do not substitute on the brand!
INSTRUCTIONS:
In top of double boiler, over simmering water, combine all ingredients as listed, stirring about 15 minutes until smooth and melted. Cover and continue cooking for at least 30 more minutes, stirring about every 10 minutes. Cool and put through your blender in small portions, using on/off agitation on high speed until mixture is satiny-smooth. Makes 1 quart. Keeps refrigerated up to a month – reheat in top of double boiler over simmering water. Freezes well up to 6 months.