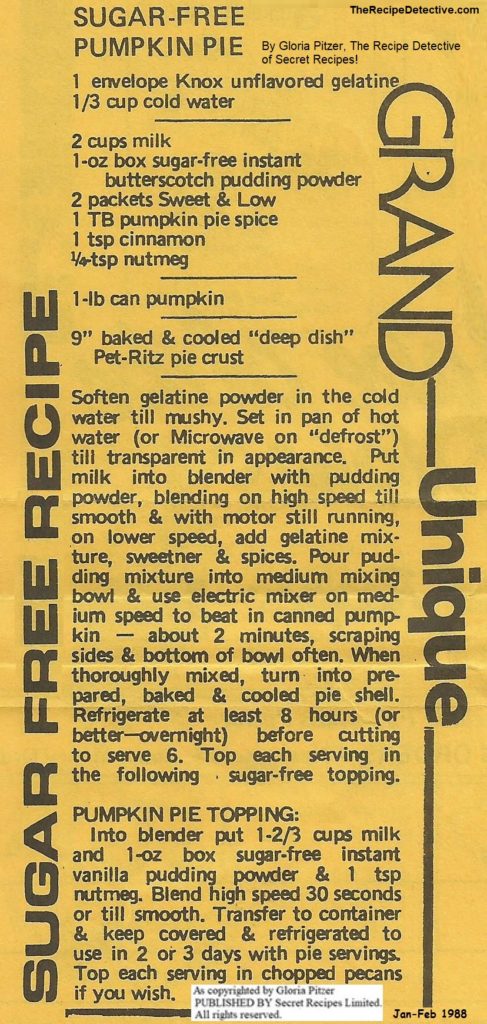 Sugar-Free Pumpkin Pie
By Gloria Pitzer – As seen in  her self-published cookbook, Sugar-Free Recipes (Secret Recipes, St. Clair, MI; Nov. 1987, p. 6)
Ingredients:
1 envelope Knox unflavored gelatin
1/3 cup cold water
2 cups milk
1-oz. box sugar-free, instant, butterscotch pudding powder
2 packets Sweet & Low sugar substitute
1 TB pumpkin pie spice
1 tsp. cinnamon
1/4 tsp. nutmeg
1-lb. can pumpkin
9-inch baked & cooled deep dish, Pet-Ritz pie crust
Instructions:
Soften the gelatin powder in the cold water until "mushy". Set in pan of hot water (or microwave on "Defrost" setting) until transparent in appearance. Then put the milk in a blender with the pudding powder, blending on high-speed until smooth; then switch to low-speed, adding the gelatin mixture, sweetener, and spices.
Pour this pudding mixture into a medium mixing bowl and use electric mixer, on medium-speed, to beat in canned pumpkin for about 2 minutes; scraping down sides and bottom of bowl often. When thoroughly mixed, turn into prepared pie crust. Refrigerate at least 8 hours (or better, yet, overnight), before cutting to serve 6.
Top each piece, when serving, in the following sugar-free topping and some chopped pecans.
Pumpkin Pie Topping
By Gloria Pitzer – As seen in  her self-published cookbook, Sugar-Free Recipes (Secret Recipes, St. Clair, MI; Nov. 1987, p. 6)
Into blender, put 1 2/3 cups milk with a 1-oz. box sugar-free, instant, vanilla  pudding powder & 1 tsp. nutmeg, blending on high-speed for 30 seconds or until smooth. Transfer to a covered container and refrigerate to use within 2 to 3 days with the (above) pie servings.