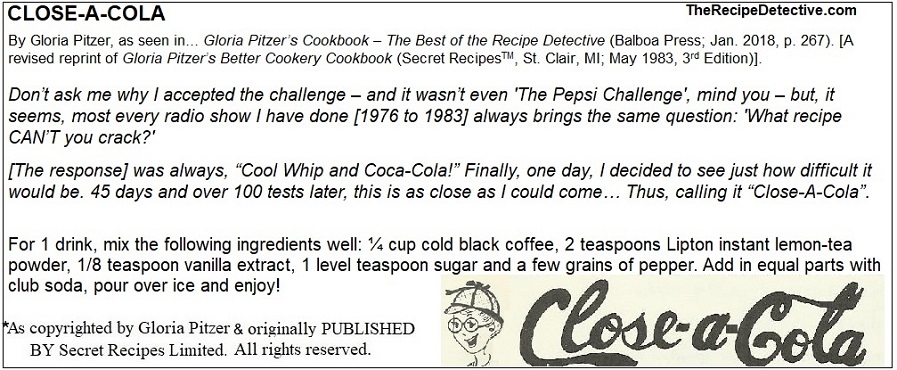 CLOSE-A-COLA
By Gloria Pitzer, as seen in… Gloria Pitzer's Cookbook – Best Of The Recipe Detective (Balboa Press; Jan. 2018) [A revised reprint of Gloria Pitzer's Better Cookery Cookbook (Secret RecipesTM, St. Clair, MI; May 1983, 3rd Edition).]
Don't ask me why I accepted the challenge – and it wasn't even the Pepsi challenge, mind you – but, it seems, most every radio show I have done [1976 to 1983] always brings the same question: "What recipe CAN'T you crack?" [The response] was always, "Cool Whip and Coca-Cola!" Finally, one day, I decided to see just how difficult it would be. 45 days and over 100 tests later, this is as close as I could come… Thus, calling it "Close-A-Cola".
INGREDIENTS:
¼ cup cold black coffee
2 teaspoons Lipton instant lemon-tea powder
1/8 teaspoon vanilla extract
1 level teaspoon sugar
a few grains of pepper
2-3 ounces club soda
INSTRUCTIONS:
For 1 drink, mix well, the coffee, tea powder, vanilla extract, sugar, and pepper. Add in equal parts with club soda. Pour over ice and enjoy!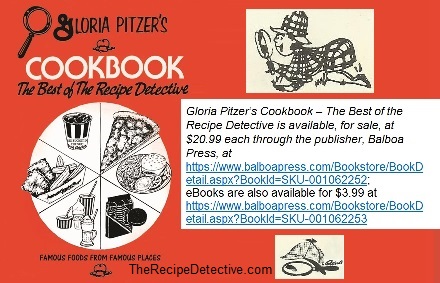 See also…