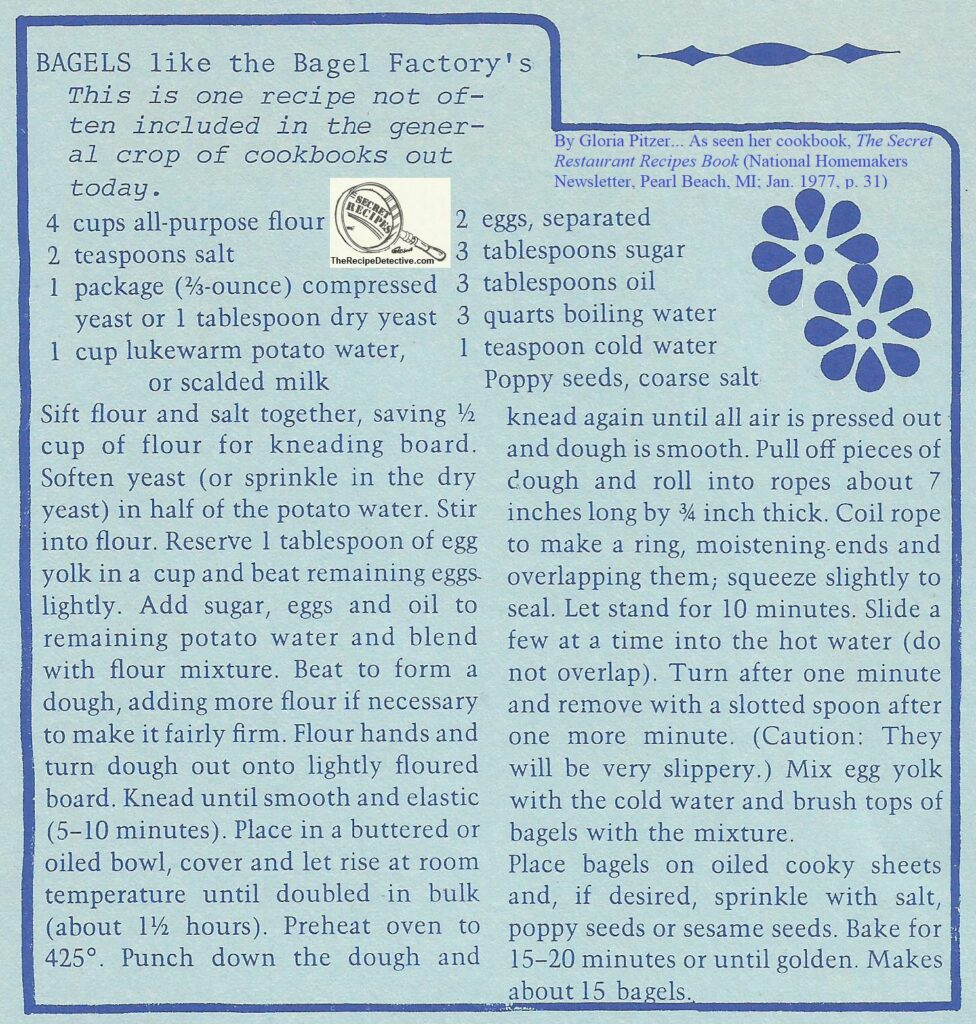 BAGELS, LIKE THE BAGEL FACTORY'S
By Gloria Pitzer, as seen in… The Secret Restaurant Recipes Book (National Homemakers Newsletter, Pearl Beach, MI; Jan. 1977, p. 31).
This is one recipe not often included in the general crop of cookbooks out today. [1977]
INGREDIENTS:
4 cups all-purpose flour
2 tsp salt
1 pkg. (2/3-oz) compressed yeast or 1 TB dry yeast
1 cup lukewarm potato water, or scalded milk
2 eggs, separated
3 TB sugar
3 TB oil
3-qt boiling water
1 tsp cold water
Poppy/Sesame seeds & coarse salt
INSTRUCTIONS:
Sift flour and salt together, saving ½ cup of flour for kneading board. Soften yeast (or sprinkle in the dry yeast) in half of the potato water. Stir into flour. Reserve 1 TB of egg yolk in a cup and [whisk] remaining eggs, lightly. Add sugar, eggs, and oil to remaining potato water and blend with flour mixture. [Mix] to form a dough, adding more flour if necessary to make it fairly firm.
Flour hands and turn dough out onto lightly floured board. Knead until smooth and elastic (5-10 minutes). Place in a buttered or oiled bowl, cover and let rise at room temperature until doubled in bulk (about 1 ½ hours).
Preheat oven to 425°F. Punch down the dough and knead again until all air is pressed out and dough is smooth. Pull off pieces of dough [creating about 15 pieces] and roll into ropes about 7 inches long and ¾-inch thick. Coil rope to make a ring, moistening ends and overlapping them; squeeze slightly to seal. Let stand for 10 minutes.
Slide a few at a time into the hot water (do not overlap). Turn after 1 minute and remove with a slotted spoon after 1 more minute. (CAUTION: They will be very slippery.) Mix [reserved] egg yolk with the cold water and brush tops of bagels with the mixture.
Place bagels on oiled cookie sheets and, if desired, sprinkle with salt, poppy seeds, or sesame seeds. Bake for 15-20 minutes or until golden. Makes about 15 bagels.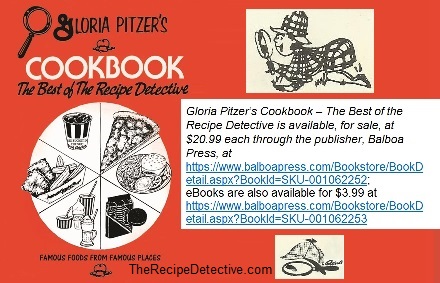 See also…