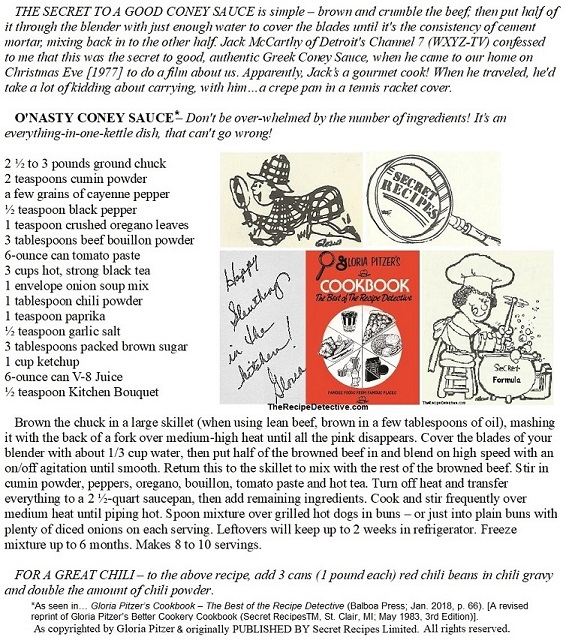 O'NASTY CONEY SAUCE
By Gloria Pitzer, as seen in… Gloria Pitzer's Cookbook – The Best of the Recipe Detective (Balboa Press; Jan. 2018, p. 66). [A revised reprint of Gloria Pitzer's Better Cookery Cookbook (Secret RecipesTM, St. Clair, MI; May 1983, 3rd Edition).]
THE SECRET TO A GOOD CONEY SAUCE is simple – brown and crumble the beef; then put half of it through the blender with just enough water to cover the blades until it's the consistency of cement mortar, mixing back in to the other half. Jack McCarthy of Detroit's Channel 7 (WXYZ-TV) confessed to me that this was the secret to good, authentic Greek Coney Sauce, when he came to our home on Christmas Eve [1977] to do a film about us. Apparently, Jack's a gourmet cook! When he traveled, he'd take a lot of kidding about carrying, with him…a crepe pan in a tennis racket cover.
Don't be over-whelmed by the number of ingredients! It's an everything-in-one-kettle dish, that can't go wrong!
INGREDIENTS:
2 ½ to 3 pounds ground chuck
2 teaspoons cumin powder
a few grains of cayenne pepper
½ teaspoon black pepper
1 teaspoon crushed oregano leaves
3 tablespoons beef bouillon powder
6-ounce can tomato paste
3 cups hot, strong black tea
1 envelope onion soup mix
1 tablespoon chili powder
1 teaspoon paprika
½ teaspoon garlic salt
3 tablespoons packed brown sugar
1 cup ketchup
6-ounce can V-8 Juice
½ teaspoon Kitchen Bouquet
INSTRUCTIONS:
Brown the chuck in a large skillet (when using lean beef, brown in a few tablespoons of oil), mashing it with the back of a fork over medium-high heat until all the pink disappears. Cover the blades of your blender with about 1/3 cup water, then put half of the browned beef in and blend on high speed with an on/off agitation until smooth.
Return this to the skillet to mix with the rest of the browned beef. Stir in cumin powder, peppers, oregano, bouillon, tomato paste and hot tea. Turn off heat and transfer everything to a 2 ½-quart saucepan, then add remaining ingredients.
Cook and stir frequently over medium heat until piping hot. Spoon mixture over grilled hot dogs in buns – or just into plain buns with plenty of diced onions on each serving. Leftovers will keep up to 2 weeks in refrigerator. Freeze mixture up to 6 months. Makes 8 to 10 servings.
FOR A GREAT CHILI [variation] – to the above recipe, add 3 cans (1 pound each) red chili beans in chili gravy and double the amount of chili powder.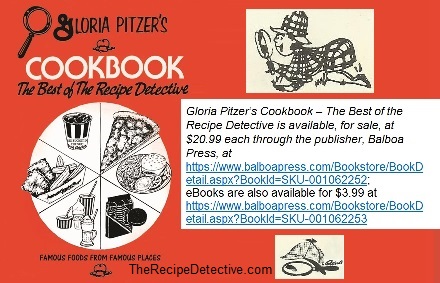 See also…