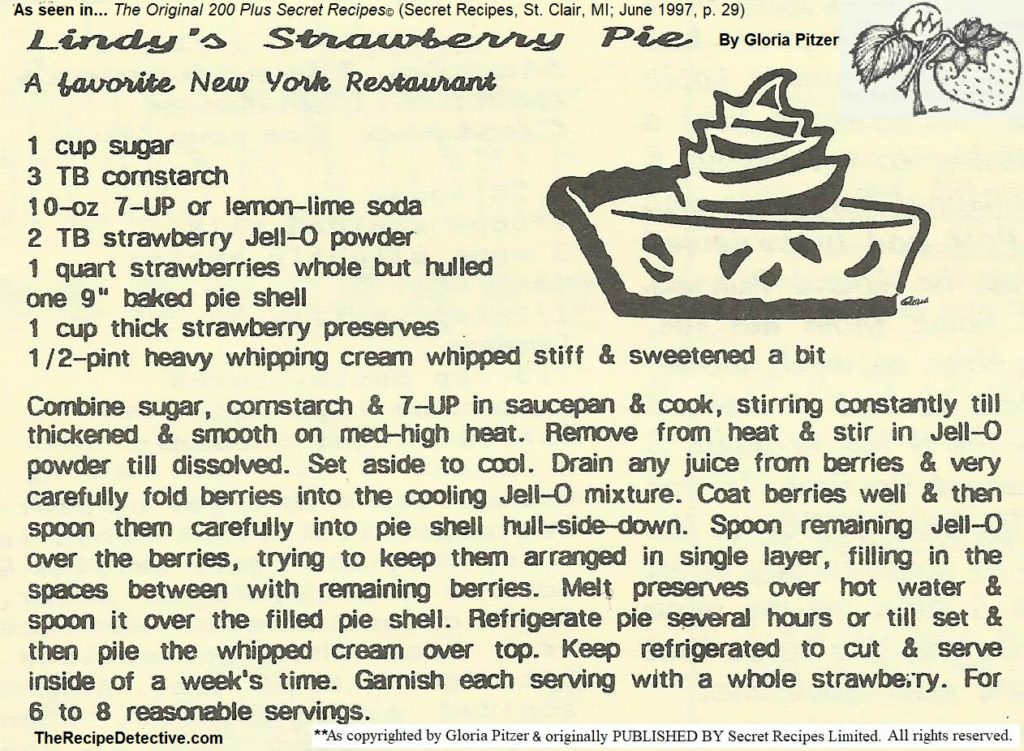 LINDY'S STRAWBERRY PIE
By Gloria Pitzer, as seen in… The Original 200 Plus Secret Recipes© Book (Secret RecipesTM, St. Clair, MI; June 1997, p. 20)
A favorite New York restaurant…
INGREDIENTS:
1 cup sugar
3 TB cornstarch
10-oz 7-Up or lemon-lime soda
2 TB strawberry Jell-O powder
1-qt whole strawberries, hulled
One 9-inch, baked pie shell
1 cup thick, strawberry preserves
½-pint heavy whipping cream, whipped stiff & sweetened a bit
INSTRUCTIONS:
Combine sugar, cornstarch, and soda in saucepan, cooking and stirring constantly until thickened and smooth, on medium-high heat. Remove from heat and stir in Jell-O powder until dissolved. Set aside to cool.
Drain any juice from the berries and very carefully fold them into the cooling Jell-O mixture. Coat berries well and then spoon them carefully into pie shell hull-side-down. Spoon remaining Jell-O over the berries, trying to keep them arranged in single layer, filling in the spaces between with remaining berries.
Melt preserves over hot water and spoon it over the filled pie shell. Refrigerate pie several hours or until set and then pile the whipped cream over top. Keep refrigerated to cut and serve inside of a week's time, for 6-8 reasonable servings.
See also…