CORNED BRIEF
By Gloria Pitzer, as seen in… Gloria Pitzer's Cookbook – The Best of the Recipe Detective (Balboa Press; Jan. 2018, p. 185). [A revised reprint of Gloria Pitzer's Better Cookery Cookbook (Secret RecipesTM, St. Clair, MI; May 1983, 3rd Edition).]
INGREDIENTS:
4- to 5-lb, well-trimmed, corned beef
2 cloves garlic
1 onion, the size of an orange
INSTRUCTIONS:
Put beef into an accommodating, oven-proof kettle with a tight-fitting lid. Add enough water to keep beef covered. Add onion, cut in 4 pieces and studded with garlic cloves (2 or 3 per piece of onion). Cover the kettle and bring to a boil on the stove top.
Allow it to boil for 5 minutes and then place it in a preheated, 350°F oven for 90 minutes. This makes it easier to slice later. When tender to your liking – you may want to leave it in the oven a bit longer, until it is – then, let it cool to lukewarm.
Chill it completely before slicing. It is important that you slice it at an angle across the grain of the meat, not up and down like bread – or the meat will fall apart, and you'll end up with it shredded. So, do be careful when you begin to slice it for the sandwiches.
Serves 12. Leftovers refrigerate up to a week if well-covered. Freezes up to 3 months.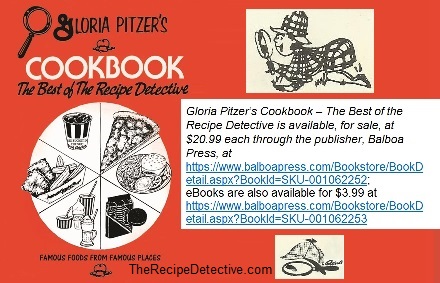 See also…