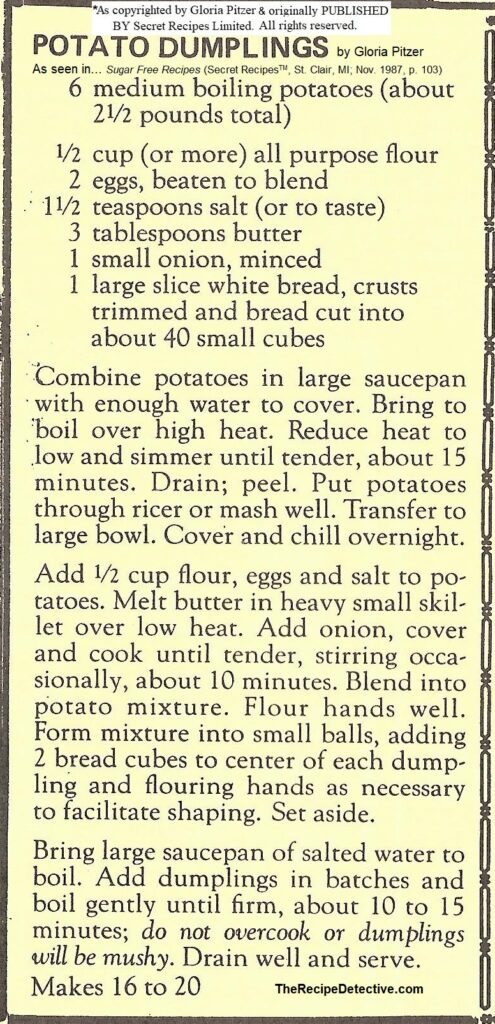 POTATO DUMPLINGS
By Gloria Pitzer, as seen in… Sugar Free Recipes (Secret RecipesTM, St. Clair, MI; Nov. 1987, p. 103)
INGREDIENTS:
6 medium, boiling potatoes (about 2½-lbs total)
½ cup (or more) all-purpose flour
2 eggs, beaten to blend
1½ tsp salt (or to taste)
3 TB butter
1 small onion, minced
1 large slice white bread (crust trimmed, and bread cut into about 32-40 small cubes)
INSTRUCTIONS:
Combine potatoes in large pan, with enough water to cover. Bring to boil over high heat. Reduce heat to low and simmer until tender – about 15 minutes.
Drain, peel, and put potatoes through ricer (or mash well). Transfer to large bowl. Cover and chill overnight.
Add flour, eggs, and salt to potatoes. Melt butter in heavy, small skillet over low heat. Add onion, cover, and cook until tender, stirring occasionally, about 10 minutes. Blend into potato mixture.
Flour hands well. Form mixture into small balls [16-20], adding 2 bread cubes to the center of each dumpling. Keep hands floured as necessary, to facilitate shaping. Set these aside.
Bring large pan of salted water to a boil. Add dumplings in batches and boil gently, until firm – about 10-15 minutes. [NOTE: Do NOT overcook or dumplings will be mushy.] Drain well and serve. Makes 16-20 dumplings.
See also…