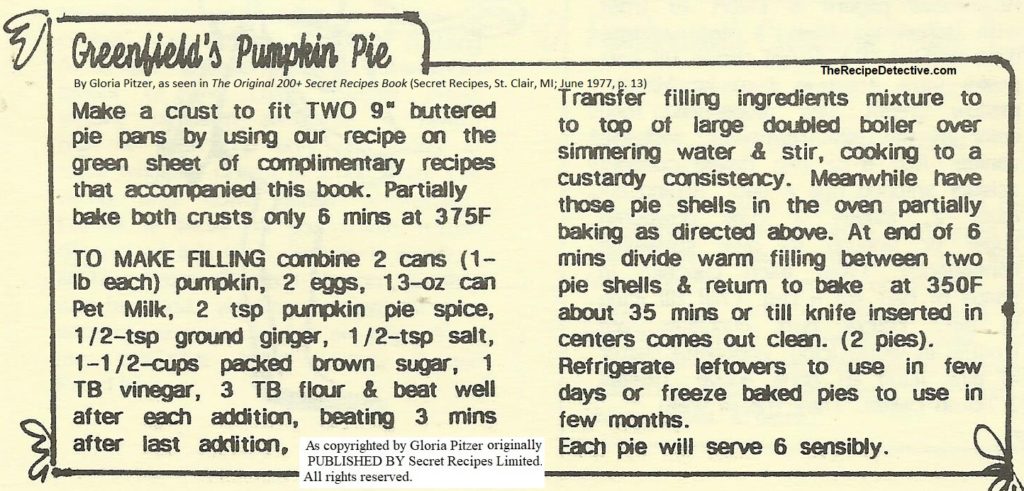 GREENFIELD'S PUMPKIN PIE
By Gloria Pitzer, as seen in… The Original 200 Plus Secret Recipes© Book (Secret RecipesTM, St. Clair, MI; June 1997)
Make (or buy) two raw, 9-inch, butter pie crusts*
FILLING INGREDIENTS:
2-lbs. canned pumpkin
2 eggs
13-oz. canned Pet Milk
2tsp. pumpkin pie spice
1/2 tsp. ground ginger
1/2 tsp. salt
1 1/2 C. packed brown sugar
1 TB vinegar
3 TB flour
INSTRUCTIONS:
Combine ingredients, as listed, beating well after each addition. Beat 3 more minutes after last addition.
Transfer filling mixture to top of large double-boiler, over simmering warm water and stir; cooking to a custardy consistency. Meanwhile, have those pie shells partially baking (at  375°F for 6 minutes).
Remove crusts and divide warm filling between the two pie shells and return to bake at 350°F for 35 minutes or until they test done.
*See Gloria's favorite and most reliable "Butter Pie Crust" recipe on this "Recipes" tab!
https://therecipedetective.com/2020/01/20/mondays-memories-of-my-mom-52-chances-for-memorable-beginnings/