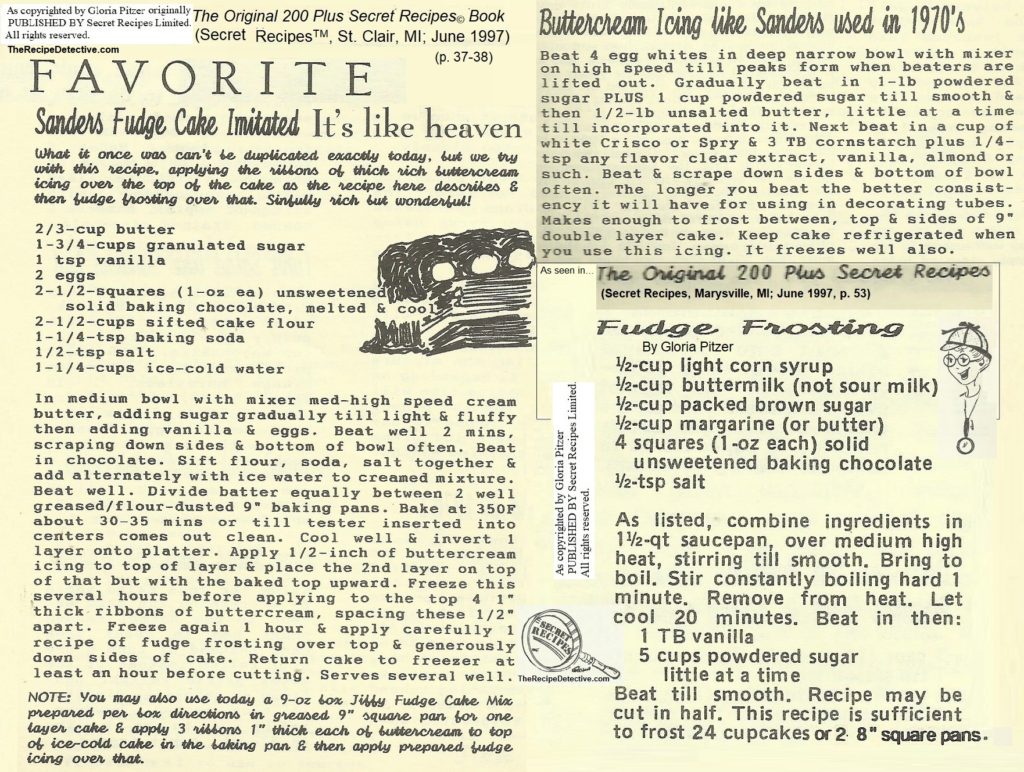 Sanders' Fudge Cake & Buttercream Icing, with Fudge Frosting
(aka: "Bumpy Cake")
By Gloria Pitzer, as seen in… The Original 200 Plus Secret Recipes© (Secret Recipes, St. Clair, MI; June 1997, pp. 37-38)
FUDGE CAKE –
INGREDIENTS:
2/3 C. butter
1 3/4 C. granulated sugar
1 tsp. vanilla
2 eggs
2 1/2 squares (1-oz each) unsweetened, solid baking chocolate (melted & cooled)
1 1/4 tsp. baking soda
1/2 tsp. salt
1 1/4 C. ice-cold water
CAKE INSTRUCTIONS:
In medium bowl, with mixer on medium-high speed, cream butter; adding sugar, gradually, until light and fluffy – then adding vanilla and eggs. Beat well for 2 minutes, scraping down the sides and bottom of the bowl often. Then beat in the chocolate.
Sift flour, soda, and salt together. Add this alternately with the ice water to the creamed mixture, beating well.
Divide batter equally between to two well-greased, flour-dusted, 9-inch square, baking pans.
Bake at 350°F for about 30-35 minutes, or until toothpicks inserted into centers come out clean. Cool well.
BUTTERCREAM ICING –
INGREDIENTS:
4 egg whites
1 lb. + 1 C. powdered sugar
1/2 lb. unsalted butter
1 C. white Crisco or Spry
3 TB cornstarch
1/4 tsp. any flavor of clear extract (vanilla, almond, etc.)
ICING INSTRUCTIONS:
Beat egg whites in deep, narrow bowl, with mixer on high speed until peeks form when beaters are lifted out. Gradually beat in powdered sugar until smooth, then the same with the butter, in little bits at a time. Beat in last three ingredients, scraping down the sides and bottom of the bowl often. The longer you beat this, the better the consistency it will have, for using in decorating tubes. Makes enough to frost a 9-inch, double-layer cake – top, sides, and between layers. Keep this refrigerated. It freezes well, too!
FUDGE FROSTING –
INGREDIENTS:
1/2 C. each – light corn syrup, buttermilk (not sour milk), packed brown sugar, & margarine (or butter)
4 squares (1-oz each) unsweetened, solid baking chocolate
1/2 tsp. salt
1 TB vanilla
5 C. powdered sugar
FROSTING INSTRUCTIONS:
As listed, combine first six ingredients in 1 1/2-qt. saucepan, over medium-high heat, stirring until smooth. Bring to hard boil for one minute, stirring constantly. Remove from heat and let cool for 20 minutes. Then beat in vanilla and powdered sugar, a little at a time, until smooth.
CAKE, ICING, & FROSTING ASSEMBLY:
Invert one cooled cake layer onto platter (bottom-side up). Apply 1/2-inch buttercream icing to this. Place 2nd layer of cake on top of icing, with top-side up. Freeze this for several hours.
Remove from freezer and apply to top four 1-inch thick ribbons of buttercream, each spaced 1/2-inch apart. Freeze again for one hour.
Remove from freezer, again, and apply 1 recipe of my Fudge Frosting carefully to top and sides. Return cake to freezer for at least one hour, before cutting to serve – 9 generous portions or 16 moderate servings.