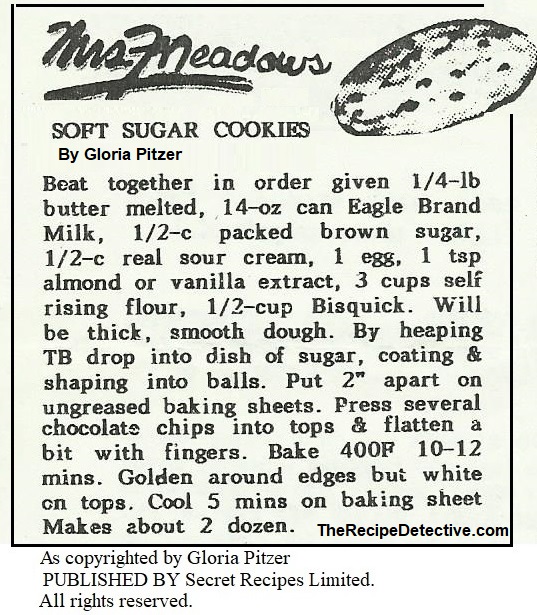 MRS. MEADOW'S SOFT SUGAR COOKIES
By Gloria Pitzer, as printed on her "Free Recipes/Information" sheet (circa 2000).
INGREDIENTS:
1/4-lb. butter, melted
14-oz. can Eagle Brand Milk
1/2 C. packed brown sugar
1/2 C. real sour cream
1 egg
1 tsp. almond or vanilla extract
3 C. self-rising flour
1/2 C. Bisquick
[* small dish of white sugar]
INSTRUCTIONS:
Beat together, in order listed [except for white sugar], until a thick, smooth dough forms. Drop dough by a heaping tablespoonful into the dish of white sugar, coating and shaping into balls.
Place balls 2 inches apart on an ungreased baking sheet, flattening them a bit with your fingers. [*Option: press several chocolate chips into the tops of the the cookies, as well.]
Bake at 400°F for 10-12 minutes. Should appear golden around edges but white on top. Cool 5 minutes on baking sheet. Makes about 2 dozen.
*Special note: I used a 1/8-cup scoop to ball up my cookies and I had about 50 cookies. This recipe says it yields 2 dozen – it should be 4 dozen.
Mondays & Memories of My Mom – Making Memories with a Christmas Cookie Exchange!