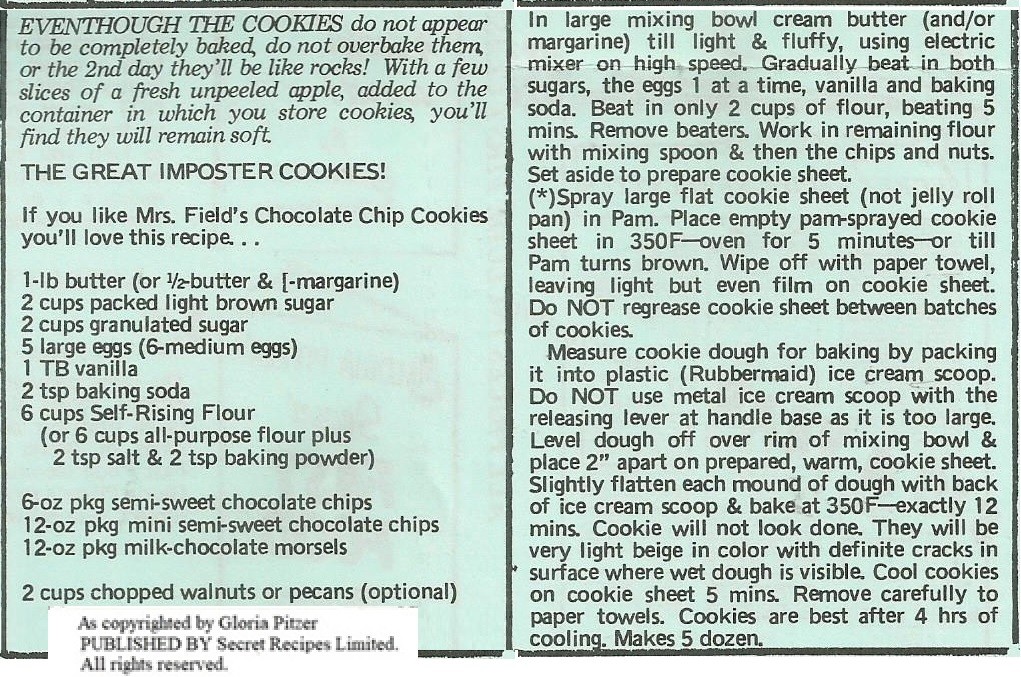 Mrs. Field's-Style Chocolate Chip Cookies [aka: The Great Imposter Cookies!]
By Gloria Pitzer; from her Spring 1995 newsletter, Secret Recipes Quarterly (St. Clair, MI; p.6 )
Even though these cookies do not appear to be completely baked, do not over bake them or they'll be like rocks by the 2nd day! Cookies will remain soft in a covered container by adding a few slices from a fresh, unpeeled apple.
1 pound butter (or use ½-lb butter with ½-lb margarine)
2 C packed, light brown sugar
2 C granulated sugar
5 large eggs (or 6 medium)
1 TB vanilla
2 tsp baking soda
6 C self-rising flour
6 ounces semi-sweet chocolate chips
12 ounces MINI semi-sweet chocolate chips
12 ounces milk chocolate morsels
2 C chopped walnuts and/or pecans (optional)
In large bowl, cream butter (and/or margarine) with electric mixer on high speed until light and fluffy. Gradually beat in the sugars, eggs (1 at a time), vanilla and baking soda. Add in only 2 cups of the flour, beating for 5 minutes. Remove beaters and work in remaining flour with sturdy mixing spoon, stirring in chips and nuts last.
Using a 1/8-cup scoop, place dough balls 2 inches apart on a warm, prepared* cookie sheet (see instructions below), slightly flattening each mound with the back of the scoop.
Bake at 350°F for exactly 12 minutes. [Note: Cookies will not look done – very light beige color with definite cracks where wet dough is visible.] Cool on the cookie sheet for 5 minutes before removing carefully to place on paper towels. These cookies are best after 4 hours of cooling on the paper towels…but, who can wait that long?!
*To prepare cookie sheet: spray it with Pam and place it in a 350°F oven for 5 minutes or until Pam turns brown. Remove pan and wipe with paper towel, leaving a light, but even, film on the cookie sheet. Do not re-grease between cookie batches.
Note: other versions of this recipe, using different measurements or different ingredients like Dream Whip or oatmeal or cake mix, can be found in some of Gloria Pitzer's cookbooks as well. Gloria's first imitation of these cookies appeared (with the cake mix ingredient) in her cookbook, The Joy of not Cooking – Anymore than You have To! (Secret Recipes, St. Clair, MI; Nov. 1983, p. 191).