Hello to everyone!
Allow me to introduce myself to any new visitors here – I am Laura (Pitzer) Emerich, and this is my blog, Mondays & Memories of My Mom, a tribute to the legacy of a woman who helped to make me who I am, as well as a mentor and "trail-blazer" for so many others. To me, she's "Mom"; but, to the world, she's Gloria Pitzer, the ORIGINAL Secret Recipe Detective. In the early '70s, Mom started developing (writing and testing) her own recipes that mimicked popular dishes in the restaurant, grocery and fast food industries.
 Illustration by Gloria Pitzer
She marketed her talents – as I wrote in my first blog, A Legacy of Love – "through newspapers, magazines, local television talk shows…but, especially through radio talk shows. For nearly 40 years she was a regular on a few local radio talk shows such as 'Ask Your Neighbor', hosted by Bob Allison on WWJ-Radio, which still airs out of the Detroit area today and 'Listen to the Mrs.', which is still hosted by Art Lewis on WSGW-Radio in Saginaw, MI. Mom said Warren Pierce of 'The Warren Pierce Show' put her 'in touch with some of the most responsive and enthusiastic listening audiences.' That show also still airs out of the Detroit area on WJR-Radio. Mom did radio shows all over the country – mostly by phone, from the comfort of home."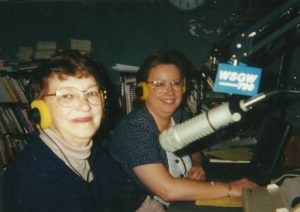 She passed away almost a year ago, 2 weeks after her 82nd birthday, leaving behind a beautiful legacy of faith, love, generosity, sarcastic humor and a wide range of artistic talents. I feel so lucky to have all these memories of her and how she contributed to making me the woman I am today. So, I want to share those wonderful recollections with the world, which is so easy now through the internet and social media; and try to carry on her legacy in my own way. Mom was such a huge influence in my life. It doesn't matter that it wasn't all sunshine and rainbows – you have to have storms to get those rainbows and appreciate the sunshine even more! So, it's all good!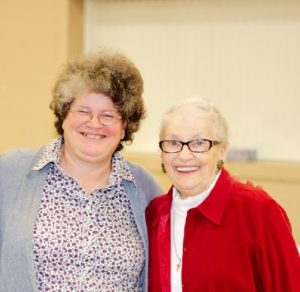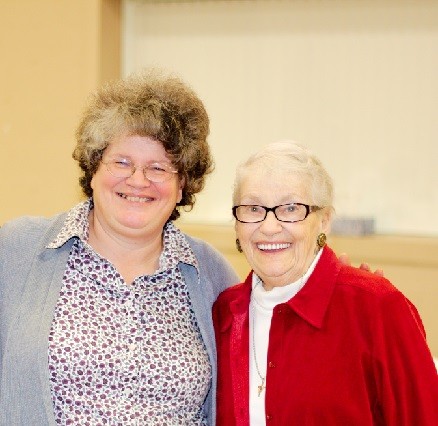 Photo by Paul Jaekel, Jan. 2016
During the last few years of Mom's life, I got to know her in a new way – one that I missed out on in my self-centered teen years. I was helping Mom to rewrite her favorite cookbook, from 1983, Gloria Pitzer's Better Cookery Cookbook, to be published by Balboa Press. Mom never wanted to let any of her cookbooks be published by a company that wanted to change her creations. But, times changed and so did situations, as well as attitudes. The publisher we chose for the project didn't want to change very much of anything except the title (because it too closely resembled The Betty Crocker Cookbook title, which it was supposed to in the first place) and a few illustrations (because they had the likeness of "The Colonel" on them.) I also had to change the layout slightly; not because of the publisher, but because of the digital revolution and the printed format we chose for the final product. Mom and I also had to choose some parts to be totally omitted due to their lack of current relatability or something else. Years ago, Mom would've said, "Never! Not any of it!" But, she learned over the years that it's better to go with the flow than swim against the tide. I've always loved to write, myself; something Mom always nurtured in me. Re-reading Mom's creative "Food for Thought" articles and discussing them with her, brought us closer in a whole new way. Mom's favorite thing in life was to write. She also loved to mentor those who shared the love! She always said, "I make a living with my writing – but, it's my writing that makes living worthwhile!"
"When you're wishing for a happier, fuller life, a life with real meaning, there's a need to remain steadfastly receptive to intuitions & inspirations that whisper to the listening thought of hope & courage." – Gloria Pitzer [as seen in Gloria Pitzer's Secret Recipes Newsletter, Issue 183, Nov-Dec 1997; pg. 10]
Now, it's New Year's Eve! This is the time that most of us spend recalling, reasoning, recollecting, reflecting, reminiscing, remembering, ruminating and resolving to do and be better than we've ever been, even more than we are right now – resolutions are made that call for improvement and change in ourselves! Making a New Year's resolution is a common tradition, whereas people resolve to change an undesired trait or behavior, to accomplish a personal goal or to, otherwise, improve their life.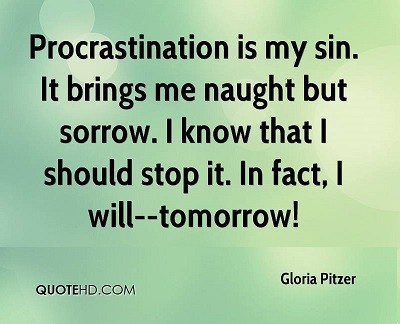 The New Year's Eve anthem (a musical composition of celebration), Auld Lang Syne is an old Scots poem penned by Robert Burns in 1788; but made known more famously by Guy Lombardo's version, which he and His Royal Canadians band sung every New Year's Eve for about 38 years (1939-1977). The title literally translates into basic English as "old long since," which basically equals "days gone by" or can be even more loosely interpreted as "for the sake of old times." Any way you cut it, it's traditionally sung on New Year's Eve at the stroke of midnight to say goodbye to the old year and celebrate the new one. However, it is also heard at funerals, graduations, and other special occasions as a farewell or ending to that event.
"Should auld acquaintance be forgot, And never brought to mind? Should auld acquaintance be forgot, And auld lang syne! For auld lang syne, my dear, For auld lang syne. We'll take a cup o' kindness yet, For auld lang syne." – Robert Burns (1759 – 1796)
The most commonly sung [or should I say "mis-sung" – in our own special drunken interpretations?] parts of Auld Lang Syne are the 1st verse and chorus, which begs the question, "Should we leave it behind us and forget about it?" I ask myself, how am I to learn from my mistakes if I forget them? Mom once said, "You never realize what a good memory you have until you try to forget something." [As seen in Gloria Pitzer's Secret Recipes Newsletter, Issue 146, Sep-Oct 1990; pg. 7] However, this is another, earlier viewpoint from Mom on the subject of forgetting, as she wrote in a small "Food for Thought" piece in one of her newsletters:
"Some things, perhaps, are better left unsaid and forgotten – or, like the woman in The Bible, who looked back when she was warned not to, we just might become pillars of emotional salt; hardening our feelings and losing our sense of compassion, rather than become someone with perspective, with our eyes on where we're going, rather than where we've already been.
Being able to get a handle on life by not letting it get the best of us, when the lemons outweigh the levity in our relationships, is a recipe worth having. Resolving the problems with recipes in the kitchen is something we're all willing to accept, because cooking is an individual and very personal experience – a creative challenge for some, a positive involvement for others. Yet we accept the risk of failing at what we attempt with foods, more readily than we will with our relationships with other people. It's a puzzle to me that we are willing to endure such a paradox that we'll put more effort into the table we set than into the examples we set…" [As seen in Gloria Pitzer's Secret Recipes Newsletter, Issue 130, Jan-Feb 1988; pg. 8]
In closing, as with my pervious blogs, I'd like to share with you one of Mom's make-alike recipes that appeared on her "Free Recipes/Information" sheet, which she used to give out in exchange for a self-addressed, stamped envelope; asking only for proper credit if you care to share it. This is a photo copy of her 2000 imitation of a sugar-free, Strawberry Fluff-Style dessert like the one served at Old Country Buffet. It's a great dessert to take to parties as a dish-to-pass, allowing yourself and others, whose New Year's resolution is to lose weight, to indulge and not feel guilty!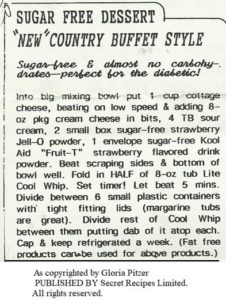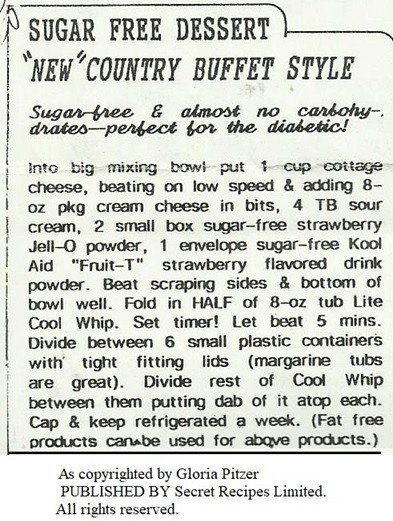 Note: this particular sugar-free recipe was not included in Mom's last cookbook, "Gloria Pitzer's Cookbook – The Best of the Recipe Detective", published by Balboa Press (January 2018, 1st Printing) – a re-write by me, Laura Emerich, of her famous, self-published book, "Gloria Pitzer's Better Cookery Cookbook" (May 1983, 3rd Printing). However, many other wonderful sugar-free recipes and humorous stories can be found in the "Dieting" Dishes chapter or section of this book on pages 283-291.
Finally, dear strangers and friends, on this celebratory occasion of ringing in the new year, I wish for you all to cherish your memories – good and bad – as they are all a part of who you are and will help you in becoming who you want to be in 2019! As Mom would always say, "Happy sleuthing in the kitchen!"… But, may the table you set, pale in comparison to the example you set! Happy New Year to you all!