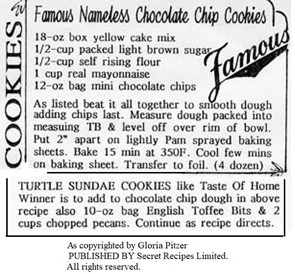 FAMOUS NAMELESS CHOCOLATE CHIP COOKIES – with Turtle Sundae Cookies alternative
My original version had a dozen ingredients. Look at how I shortened it! Still, the results are identical! An interesting note on the popularity of these cookies… A few years ago, [around 1980], I received a letter from Dr. Joyce Brothers, in which this was the only recipe she requested. I sent her the longer, from-scratch version. I hope she has a chance to try this version. One thing I noted about the original cookie is that it has a "sugary" consistency to it. It's almost like a confection.
When Amos, himself, was interviewed in Family Circle magazine a few years ago, he offered them the recipe for making his kind of cookie at home. I tried that recipe 3 times and it was NOT one bit like his famous cookies. To be like his product, the cookie must be firm, a little crisp, but not dry, and have a definite brown-sugar-flavor and crunchy-texture to it. You can add chopped raisins to the finished batter and you can double the chocolate chips – but do be sure, if you are imitating the original product, that you include some pecan halves, as well as chopped pecans, for these really "make" the cookie!
INGREDIENTS:
18-ounce box yellow cake mix
2  boxes (3 ¾-ounce ) butterscotch pudding powder ((NOT instant))
1 ¼ cups mayonnaise
12-ounce pkg. semi-sweet chocolate chips
4-ounce pkg. walnut chips
4-ounce pkg. pecan halves
INSTRUCTIONS:
Mix the dry pudding powder with the dry cake mix in a roomy bowl. Combine thoroughly, using a slotted spoon or large meat fork. Then, mix in the mayonnaise; but, don't use an electric mixer! When well-blended, add the chips and nuts.
Drop by rounded spoonful, 2 inches apart on an ungreased cookie sheet. Bake 12 to 14 minutes at 350°F.
It's important to permit the cookies to cool at least 2 minutes on the baking sheet before moving them, carefully, to paper towels to continue cooling. These are very fragile while warm but tend to firm-up while cooling.
Keep at room temperature in a tightly covered container for up to a month! They freeze poorly. Makes 4 ½ dozen.
Note: If weather is very humid, you'll note that these become quite limp if they stand out, uncovered, for any length of time. If you store the cooled, firm cookies in an airtight container they should remain crisp despite humid weather.
Turtle Sundae Cookies alternative – Like "Taste of Home" Winner
Add, to chocolate chip dough (above), a 10-ounce bag English Toffee Bits and 2 cups chopped pecans. Continue as recipe, otherwise, directs.