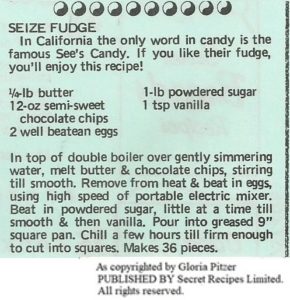 Seize Fudge, Like See's Candy
By Gloria Pitzer, Secret Fast Food Recipes (Secret Recipes, Marysville, MI; "21st printing" – Dec. 1999, p. 48)
In California, the only word in candy is the famous See's Candy. If you like their fudge, then you'll love this make-alike version!
Ingredients:
1 stick butter
12 ounces semi-sweet chocolate chips
2 eggs (well beaten)
1 pound powdered sugar
1 tsp vanilla
Instructions:
In top of double-boiler, over gently simmering water, melt the butter and chocolate chips, stirring until smooth. Remove from heat and beat in eggs with portable electric mixer on high speed. Beat in powdered sugar a little at a time, until smooth, then add vanilla. Pour into greased 9-inch square pan. Chill a few hours until firm enough to cut into 36 squares.
NOTE: This recipe may have appeared in an earlier printing of this cookbook, but it wasn't in the first printing from March 1985.