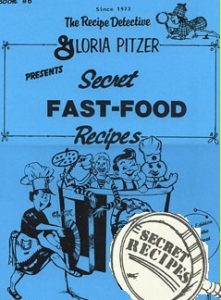 Sara Lee's-style Carrot Square Cake
By Gloria Pitzer, from her cookbook, Secret Fast-Food Recipes (Secret Recipes, St. Clair, MI; March 1985, p. 94)
Cake Ingredients:
2 Eggs
1 tsp Vanilla
6 oz. Oil
1 tsp Salt
1 1/2 tsp Baking Powder
2 tsp Cinnamon
1 cup Sugar
1 1/4 cup All-Purpose Flour
1 cup Carrots, grated fine
1 cup Walnuts, well-chopped
1/2 cup Light Raisins, optional
Instructions for Cake:
Combine first 8 ingredients with electric mixer on medium-high. Beat 3 minutes scraping down sides of bowl often. Remove beaters. Stir in last 3 ingredients. Grease and flour 9″ square pan. Spread batter evenly in pan. Bake at 325 degrees F about 50 minutes. Cool in pan about 30 minutes. Frost with Cream Cheese Icing (below) and sprinkle with additional walnuts.
Icing ingredients:
6 oz. pkg. Cream Cheese, softened
1/4 lb. Butter
1 lb. Powdered Sugar
1 1/2 tsp Orange Extract
1 tsp Orange Peel (I use Spice Island brand)
1 TB Light Corn Syrup or Pancake Syrup
1 TB Cornstarch or Flour
Instructions for Icing:
Cream the cream cheese with the butter until light and fluffy, using med-high speed of electric mixer. Add half of the sugar, increasing speed to high. Add extract and peel and beat about 1 minute. Scrape down sides of bowl often. Resume beating adding remaining powdered sugar. Beat smooth. Frost sides and top of cake.
About Sara Lee's®
Sara Lee, often known for the long-running slogan "Nobody doesn't like Sara Lee" is often misquoted as "Nobody does it like Sara Lee". As companies go, so do theme lines. In 2006, Sara Lee announced a new company wide campaign: "the joy of eating." The campaign was part of a restructuring of operations.
Today, Sara Lee sells food, beverage and household products in over 180 countries and has some 50,000 employees worldwide.
For more information, check out www.SaraLee.com It has a variety of information including nutrition, their history, and what's new.