Hello, all! Happy Monday and welcome to Mondays & Memories of My Mom.
I'm Laura Emerich and I write these blogs in relation to my memories of my mom, Gloria Pitzer, the ORIGINAL Secret RecipesTM detective. I started this tribute, in September of last year, to honor Mom's legacy – besides being Mom, lover of life, family and God; she was also a satirist cartoonist and writer, as well as the famous Recipe DetectiveTM, investigator of the secrets of the food industry, pioneer and trail-blazer of the "copycat recipes" crusade – and, thus, this was a great way to channel my cherished memories of her and how she's influenced my own life, as well as the lives of others.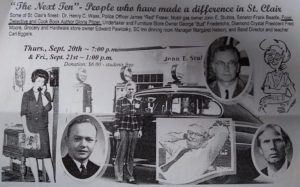 My subject for this week's blog is about family roots and influence. "It's all relative" is an idiom, or common term, used to say that [anything] can be thought of in opposite ways depending on what one compares it to. So, my question is: Are behavioral traits nature (roots) or nurture (influence)? This debate has been going on for eons, involving whether human behavior is determined by a person's genes (nature) or their environment (nurture).
I don't know the true answer, anymore than Mom knew the true recipes of the products she imitated at home; but, I do know that writing and artistry seem to run throughout generations of our family. As a writer and artist, myself, whenever my children did anything of the like, I highly-encouraged more of it from them – nurturing a natural talent, I suppose. My mom did the same for me and my siblings, as her parents (as well as aunts and uncles) did for her and her siblings…so is that nature or nurture? I feel like it's a combination of both.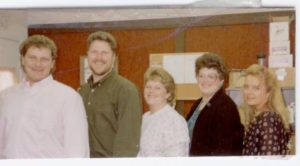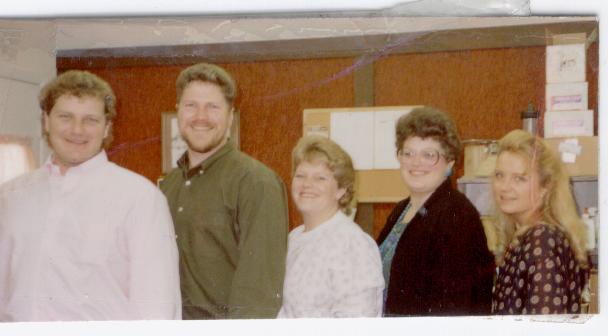 I believe my love of writing and drawing stemmed from my mom and her relatives, as many of them (in both of her parents' families that we know of) are gifted writers and artists, in some way, as well. However, while guesses can be made, whether the talent and/or passion for such are inherited and/or influenced by one's up-bringing remains an unanswered question.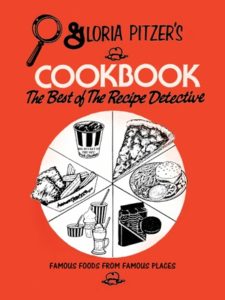 Besides her many years of syndicating weekly and bi-weekly columns and cartoons to papers and magazines around the country, Mom also wrote, illustrated and self-published close to 40 cookbooks in almost 30 years, 1973-2001 (plus a couple of books that were just food-for-thought/soul and "our family story"). A few years ago, I helped Mom re-write one of her favorite cookbooks, The Better Cookery Cookbook (1983) for a new digital generation. It went to press shortly before she passed away last year, under a new title, Gloria Pitzer's Cookbook – The Best of the Recipe Detective (Balboa Press, Jan. 2018). Mom was so happy about reaching a new generation with her recipes and stories!
Similarly, Mom wrote, illustrated and self-published a "homemaker's" newsletter for 25 years (Jan. 1974 through Dec. 1998 – 219 issues in all). It began and ended as a monthly publication, but there were some years in between when she published it bi-monthly (doubling the size) and other years when it was published quarterly (at about 4 times the monthly size). Each issue of the newsletter was always stuffed full of witty humor, stories from her radio show visits all around North America, restaurant reviews, food-for-thought, food-for-the-soul and, of course, her wonderfully unique recipes that were "food-for-the-table". Mom would always write a little bit about our family and close friends too, because she always considered her subscribers as family and close friends also.

The newsletter's title evolved over the years – from Gloria Pitzer's Homemaker's Newsletter, in its 1974 conception, to Gloria Pitzer's National Home News Magazine in 1978, to Gloria Pitzer's Monthly Cookbook of Secret Recipes in 1980, to Gloria Pitzer's Cook's Quarterly in 1984, to Secret Recipes Newsletter in 1986, to Gloria Pitzer's Secret Recipes Quarterly in 1995 and to its final name, Gloria Pitzer's Secret Recipes, in 1998 (it's last year of publication.)
I would love to hear from anyone who still has their issues of Mom's newsletters and still uses them! Please write to me at [email protected]. I don't have a lot of the issues, myself, but I still use the ones I have all the time, as well as her cookbooks. I'm also missing a couple of her cookbooks because, like others, I lent them out and never got them back.
Speaking of writing, did you know that April is National Records & Information Management Month? "Records" and "Information Management" are very general terms that encompass so many forms! I love to keep records of important things that have happened throughout my life (and the lives of my kids), using calendars, scrapbooks and "time capsule" boxes. I have boxes in the basement for myself and each of my three grown kids full of special keepsakes and creations (ceramic/clay projects, drawings and creative writings). My dad had given me a box of stuff like that once, when I was grown and having kids of my own. I loved it so much, because he and Mom treasured these things, that I created these kind of "time capsule" boxes for my kids too. Over the years, I've added our special "creations" and keepsakes from special events to each of them, including my own.
My mom's extent of record-keeping for her life included all the family stories she wrote about in her newsletters and books, plus a few scrap books she kept, full of pictures and keepsakes from special events. But, most of her experiences and thoughts were inscribed in the journal entries that she wrote on a daily basis, book after book, since she was a young girl until she passed away in January 2018. Mom's love of writing especially helped her to remember things in her last years, after developing dementia from a double-stroke she suffered in June 2014.
And, speaking of record-keeping, my dad's side of the family (both, the Knotts and Pitzer clans, from the West Virginia area) kept a lot of excellent records of their heritages! By the way, did you know that there's a National Genealogy Day and it was just celebrated last month on March 9th? When I inherited Dad's collection of our relatives' pictures (from his Mom's collection), I found many were documented with who, when and where descriptions – some pictures were accompanied by letters/cards that depicted the people, places and events. Likewise, on the internet, I can trace both of my paternal grandparents' families back to their great-great-grandparents (in the mid-18th century) thanks to their families' excellent records & information management that has made all this data available for a new, digital generation!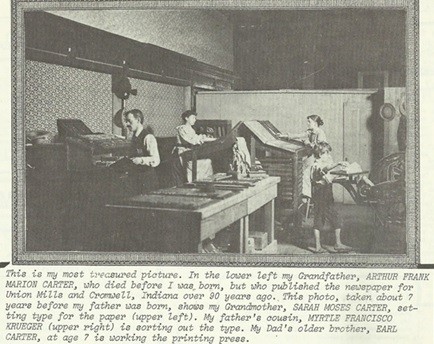 However, our Klein-Carter family history, from my Mom's parents' side of the family, has not been an easy lineage to trace. Even with the "free" membership at Ancestry.com, I can't seem to find anything more than I already know from Mom's stories. Under this picture (above), found on page 52 of Mom's cookbook, Eating Out at Home Cookbook (self-published by Gloria Pitzer's Secret Recipes, St. Clair, MI; September 1981), Mom mentions her dad's parents and a second cousin, plus, his older brother. I know my Mom's dad was born in May of 1894. Thus, since his mom, setting type in this picture, doesn't really look pregnant yet, but his 7-year-older brother is there (and looks about that age), working the press, I can only guess that this picture may have been from around early 1893.
The pictures I inherited from Mom, of her side of the family relatives, were rarely labled with any who, when or where information. I know she always meant to get around to it, but never did. I have many albums like that, myself. Now, all the more, I want to go through all of them, while I still can, and date, identify (people/places) and organize them for my kids to add to and pass on to their kids.
While Mom's dementia, during her last few years before passing, brought up fairly clear memories of decades ago, almost like they were yesterday; sometimes, however, the picture was still missing a few puzzle pieces or the pieces were rearranged a little. So I keep trying to track down Mom's ancestry records as best as I can with the bits and pieces of information that I have gethered from her stories.
Mom wrote a story about her mom's side of the family, the Klein's, in her book, My Cup Runneth Over and I Can't Find My Mop! [subtitled, "The True Story of a Family"] (self-published by Secret Recipes, St. Clair, MI; Dec. 1989, pp. 83-84). The picture above is also seen on the back cover of that book. Here is Mom's story about the legend she knows as her mom's family heritage:
…my mother's parents were originally German, but they were also Jews, and living in Russia at the turn of the [20th] century. It was dangerous for any Jew in Russia at that time – so much like the story of "Fiddler on the Roof', my grandparents with two small children and my grandmother expecting their third child, took a crowded freighter to America [around 1906]. They couldn't speak a word of English and had nothing with them but what they could carry by hand.
On the way over, unfortunately, they came down with what suspected to be TB [Tuberculosis]… years later [around 1915], following the birth of their 7th child [my mom was their 4th child, born in 1909], TB finally took my grandmother. Having settled in Pittsburg, my grandfather moved on to Cleveland where he hoped to find relatives who would help him with a job and a place to raise the motherless children. It didn't work out as he expected, however. The relatives were not where he had last contacted them.
The orphanage was over-crowded that he had been directed to, in order to leave the children and seek treatment for the TB that seemed to be getting worse for him. Having been turned away by the orphanage, he was about to leave all the children on a street corner, telling them that somebody would come along to help them, but that he had to get his train to the sanitorium that the government was sending him to for help. At that point, the nuns were passing by on their usual afternoon walk…on their way back to the Catholic orphanage down the street.
They stopped long enough to ask if they could be of help and, upon hearing the story from the older children, who spoke English, and [from my] Grandpa's broken English, they concluded that the children needed to be cared for. They took the children to the Catholic orphanage, ensuring my grandfather that they would see to it that they went to Temple every Saturday, even though they would be in the Catholic schools and living in the dormitories with the other children.
When there was room for them at the Jewish orphanage, they would then be transferred – and the promise was kept. There, they all remained until each one turned 16 years of age… The compassion of those Catholic nuns and the care they gave the children of that Jewish immigrant, when Jews were hated as much as they ever were in this country, kept me from ever harboring feelings of prejudice toward other people due to their religious or racial backgrounds…
Consequently, I grew up without prejudices – with an open mind to all of us being different and yet the same and that's okay, respecting our differences. As a result, my children also grew up without prejudices…whether nature or nurture, it's all relative!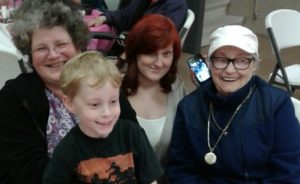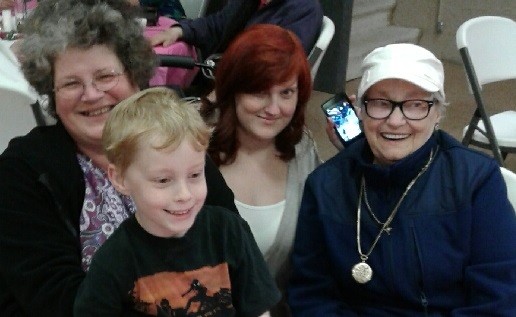 I hope you've enjoyed reading "It's all Relative" (the blog) and will return again next week – as Monday, the 22nd, happens to be National Earth Day and Easter Monday! Next week is also celebrating (besides my oldest two kids' birthdays) Easter Sunday, National DNA Day on Thursday and Arbor Day (for most states) on Friday!
In closing, I usually end with one of Mom's recipes that she gave away for free on her product information and ordering sheets in exchange for a SASE. The following recipe for "Carrot Square Cake, Like Sara Lee's" wasn't on any of those sheets, but it was given away for free when my brother, Michael Pitzer, first developed TheRecipeDetective.com website years ago for internet exposure to our parents and their "Secret Recipes"TM business. This particular recipe was also printed on page 47 of Mom's cookbook, Secret Fast-Food Recipes (Secret Recipes, St. Clair, MI; 1985).
Sara Lee's-Style Carrot Square Cake from Gloria Pitzer's Secret Fast-Food Recipes Cookbook (1985)
Cake Ingredients:
2 Eggs
1 tsp Vanilla
6 oz. Oil
1 tsp Salt
1 1/2 tsp Baking Powder
2 tsp Cinnamon
1 cup Sugar
1 1/4 cup All-Purpose Flour
1 cup Carrots, grated fine
1 cup Walnuts, well-chopped
1/2 cup Light Raisins, optional
Instructions for Cake
Combine first 8 ingredients with electric mixer on medium-high. Beat 3 minutes scraping down sides of bowl often. Remove beaters. Stir in last 3 ingredients. Grease and flour 9″ square pan. Spread batter evenly in pan. Bake at 325 degrees F about 50 minutes. Cool in pan about 30 minutes. Frost with Cream Cheese Icing (below) and sprinkle with additional walnuts.
Icing ingredients:
6-oz. pkg. Cream Cheese, softened
1/4 lbs. Butter
1 lb. Powdered Sugar
1 1/2 tsp Orange Extract
1 tsp Orange Peel (I use Spice Island brand)
1 TB Light Corn Syrup or Pancake Syrup
1 TB Cornstarch or Flour
Instructions for Icing
Cream the cream cheese with the butter until light and fluffy, using med-high speed of electric mixer. Add half of the sugar, increasing speed to high. Add extract and peel and beat about 1 minute. Scrape down sides of bowl often. Resume beating adding remaining powdered sugar. Beat smooth. Frost sides and top of cake.