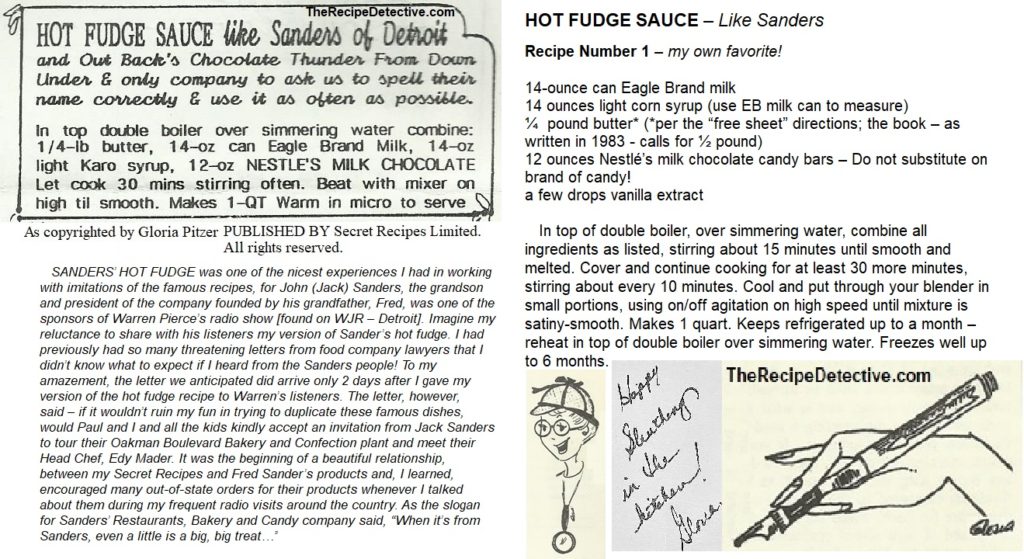 Sanders-Style Hot Fudge Sauce (Recipe No. 1)
By Gloria Pitzer, from Gloria Pitzer's Better Cookery Cookbook (Secret Recipes, St. Clair, MI; May 1982) [aka: Recipe #1]
Ingredients:
14 oz. Eagle Brand Milk (can)
14 oz. Karo Syrup (light)
12 oz. Nestles Milk Chocolate Chips (not the semi-sweet)
1/4 lbs. Butter
Instructions:
Combine ingredients in top of double boiler over simmering water and stir until chocolate melts. Continue to cook for 30 minutes, stirring a few times . Remove from heat, then beat with a mixer until smooth.
When cooled, pour into a jar and cap tightly. Refrigerate. Makes 32 servings.
About Sanders Candy Co.®
Sanders first opened in Downtown Detroit in 1875. Over the years, they expanded to over 57 stores covering the Detroit area. These stores not only sold candy, fudge toppings, and baked goods, but also had fountain counters serving light lunches, as well as an assortment of desserts including the popular Ice Cream Sodas, Sundaes and Hot Fudge Cream Puffs.
Sanders soon became the leading purveyor of candies in the Greater Detroit area and began to sell directly to national supermarket chains and other retailers in the area. Many of the national stores were outfitted with Sanders in-store bakery stations for cake decorating and more, while others featured the full line of Sanders products in their bakery departments.
Sanders still uses the finest quality ingredients in all of their chocolates, candies and fudge toppings following strict formulas created by Fred Sanders over 100 years ago.
For more information, check out www.SandersCandy.com It has a variety of features including information on parlor locations, career opportunities, and an online store so you can order these truly amazing products if you can't find them in your area of the country.