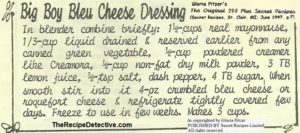 BIG BOY-STYLE BLEU CHEESE DRESSING
By Gloria Pitzer
As seen in… The Original 200 Plus Secret Recipes© Book (Secret RecipesTM, St. Clair, MI; June 1997, p. 7)
INGREDIENTS:
1 ½ C. real mayonnaise
1/3 C. liquid drained from any canned green vegetable
½ C. powdered creamer (like Creamora)
½ C. non-fat, dry, milk powder
3 TB lemon juice
½ tsp. salt
Dash pepper
4 TB sugar
INSTRUCTIONS:
In blender, combine briefly [everything, as listed, except bleu cheese], until smooth. Stir into it 4-oz. crumbled bleu cheese or Roquefort cheese and refrigerate, tightly covered, for a few days. Freeze to use within a few weeks. Makes 3 cups.
Mondays & Memories of My Mom – March is Women's History Month