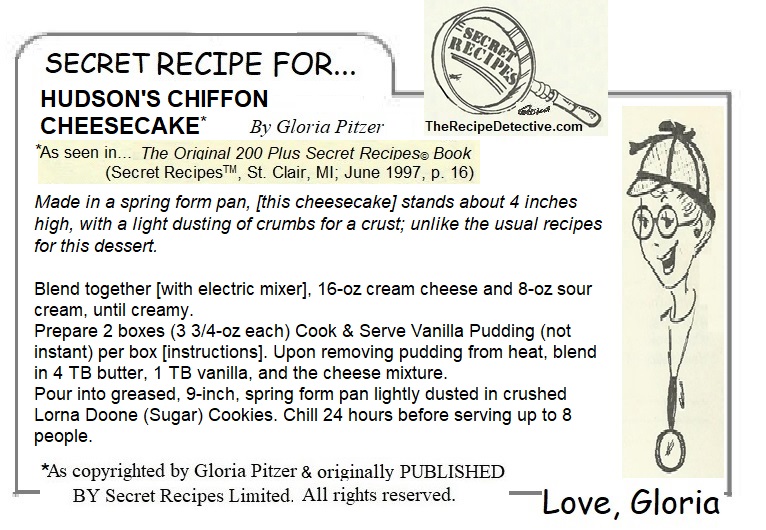 HUDSON'S CHIFFON CHEESECAKE
By Gloria Pitzer, as seen in… The Original 200 Plus Secret Recipes© Book (Secret RecipesTM, Marysville, MI; June 1997, p. 16).
Made in a spring form pan, [this cheesecake] stands about 4 inches high, with a light dusting of crumbs for a crust; unlike the usual recipes for this dessert.
INGREDIENTS:
16-oz cream cheese
8-oz [tub] sour cream
2 boxes (3¾-oz each) Cook & Serve vanilla pudding (NOT instant)
4 TB butter
1 TB vanilla
Lorna Doone (Sugar) Cookies, crushed
INSTRUCTIONS:
Blend together [with electric mixer], cream cheese and sour cream, until creamy [and set aside]. Prepare Cook & Serve pudding, per box [instructions]. Upon removing pudding from heat, blend in butter, vanilla, and the cheese mixture.
Pour into greased, 9-inch, spring form pan lightly dusted in crushed Lorna Doone (Sugar) Cookies. Chill 24 hours, before serving up to 8 people.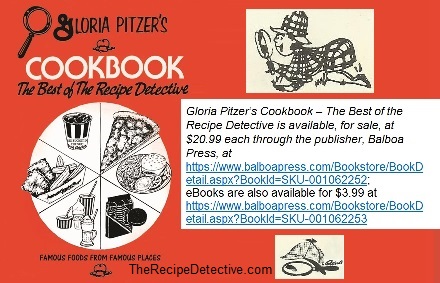 See also…