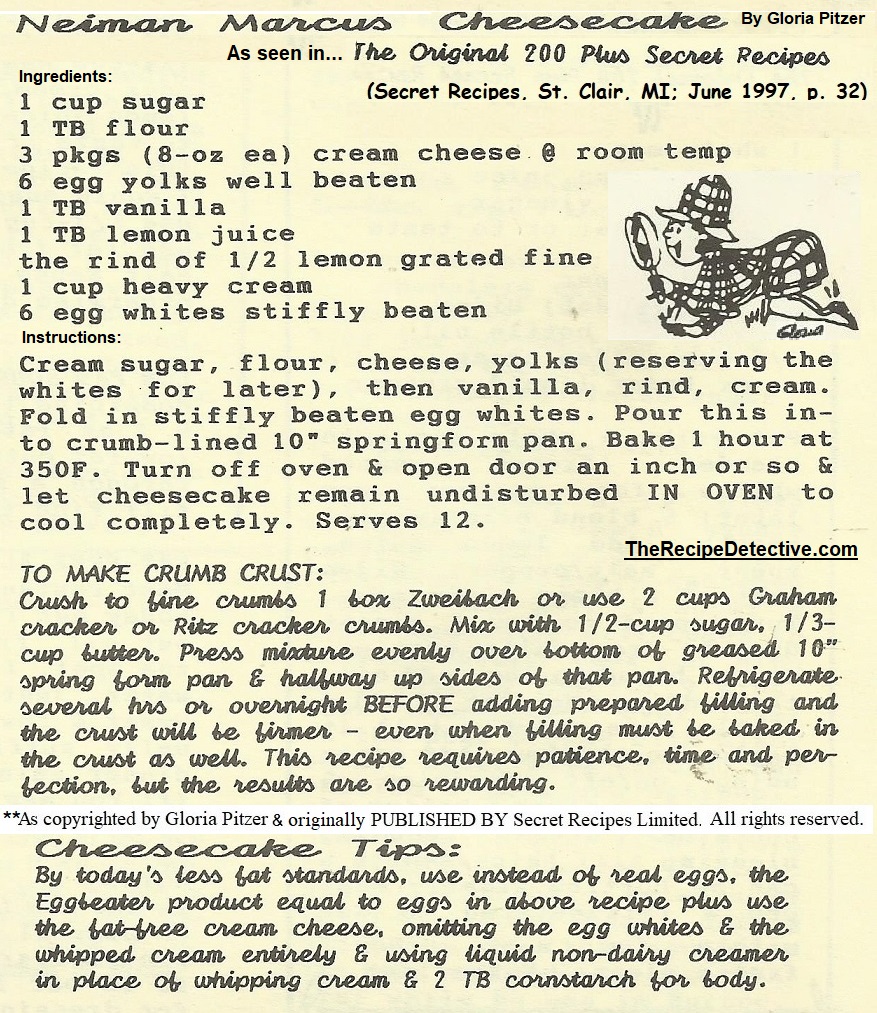 Neiman Marcus-Style Cheesecake
By Gloria Pitzer, as seen in… The Original 200 Plus Secret Recipes© (Secret Recipes, St. Clair, MI; June 1997, p. 32)
Ingredients:
1 cup sugar
1 TB flour
3 pkgs. (8-oz. each) cream cheese, at room temperature
6 egg yolks, well-beaten
1 TB vanilla
1 TB lemon juice
the rind of half a lemon, grated fine
1 cup heavy cream
6 egg whites, stiffly beaten
Instructions:
Cream together the sugar, flour cream cheese, and beaten egg yolks. Add vanilla, lemon juice, rind, and heavy cream. [See below for crumb mixture.] Fold in the stiff egg whites. Pour this into a crumb-lined 10″ springform pan. Bake 1 hour at 350°F. Turn off oven and open door about 1 inch or so, letting cheesecake remain undisturbed IN OVEN to cool completely. Serves 12.
CRUMB CRUST for Neiman Marcus Cheesecake
Crush into fine crumbs 1 box Zwieback – or use 2 cups graham or Ritz cracker crumbs – mixing with 1/2 cup sugar and 1/3 cup butter. Press mixture evenly over bottom of a greased  10″ springform pan and half-way up the sides.
Refrigerate several hours or overnight BEFORE adding prepared filling [above] and the crust will be firmer even when the filling must be baked in the crust as well. This recipe requires patience, time, and perfection – but the results are so rewarding!
Cheesecake Tips for Lower Fat and Cholesterol Options
By today's "less fat" standards, use instead of the 6 real eggs (yolks and whites) an equivalent with the Egg Beaters product. Also use fat-free cream cheese. Omit the heavy cream entirely, using liquid non-dairy creamer with 2 TB cornstarch for body.