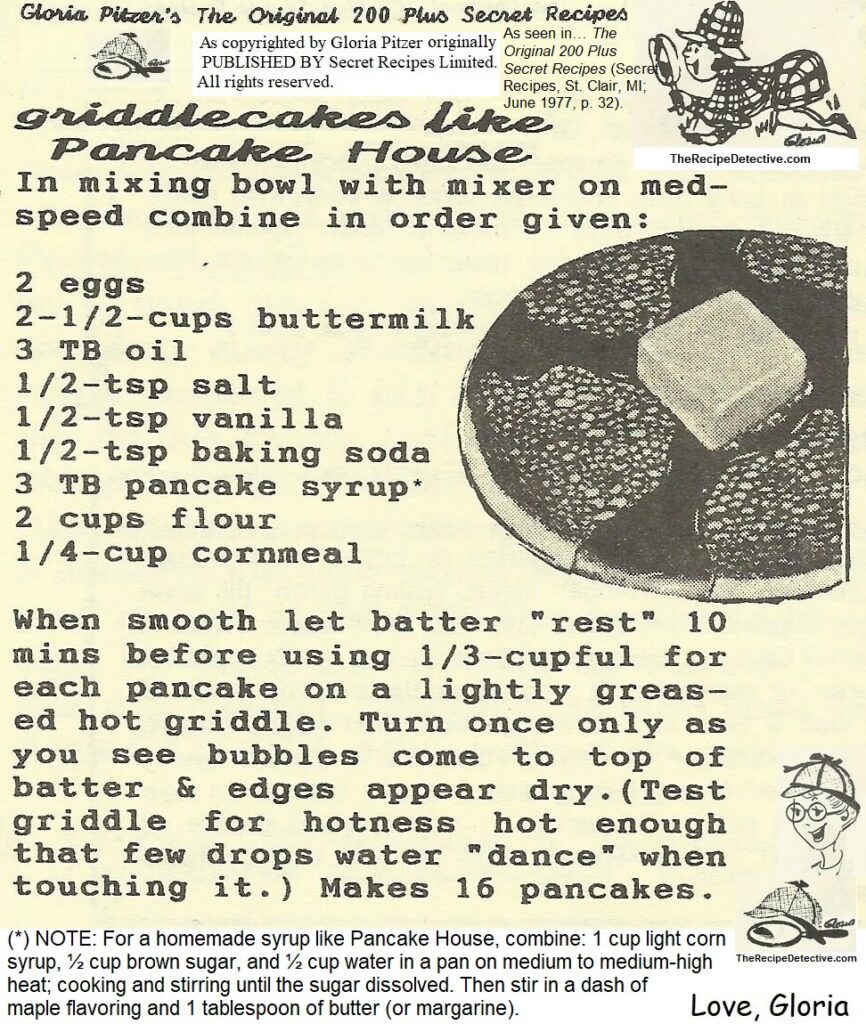 GRIDDLECAKES AND SYRUP, LIKE PANCAKE HOUSE – BY GLORIA PITZER
As seen in… The Original 200 Plus Secret Recipes (Secret Recipes, St. Clair, MI; June 1977, p. 32).
INGREDIENTS:
2 eggs
2½ cups buttermilk
3 TB oil
½ tsp salt
½ tsp vanilla
½ tsp baking soda
3 TB pancake syrup (*see homemade version below)
2 cups flour
¼ cup cornmeal
INSTRUSCTIONS:
In mixing bowl, combine ingredients as listed and beat on medium speed. When smooth, let batter rest 10 minutes before using – 1/3 cupful for each pancake on a lightly greased, hot griddle.
[NOTE: To test griddle for hotness: a few drops of water will "dance" on it when it's ready.]
Turn [griddlecakes] once, only as you see bubbles come to top of batter and edges appear dry. Makes 16 pancakes.
*GLORIA'S HOMEMADE SYRUP, LIKE PANCAKE HOUSE:
Combine 1 cup light corn syrup, ½ cup brown sugar, and ½ cup water in a pan on medium to medium-high heat; cooking and stirring until sugar dissolves. Then stir in a dash of maple flavoring and 1 TB of butter (or margarine). [Makes about 1½ cups.]
Also see…
Mondays & Memories of My Mom – Gloria Pitzer's Homemaker's Newsletter