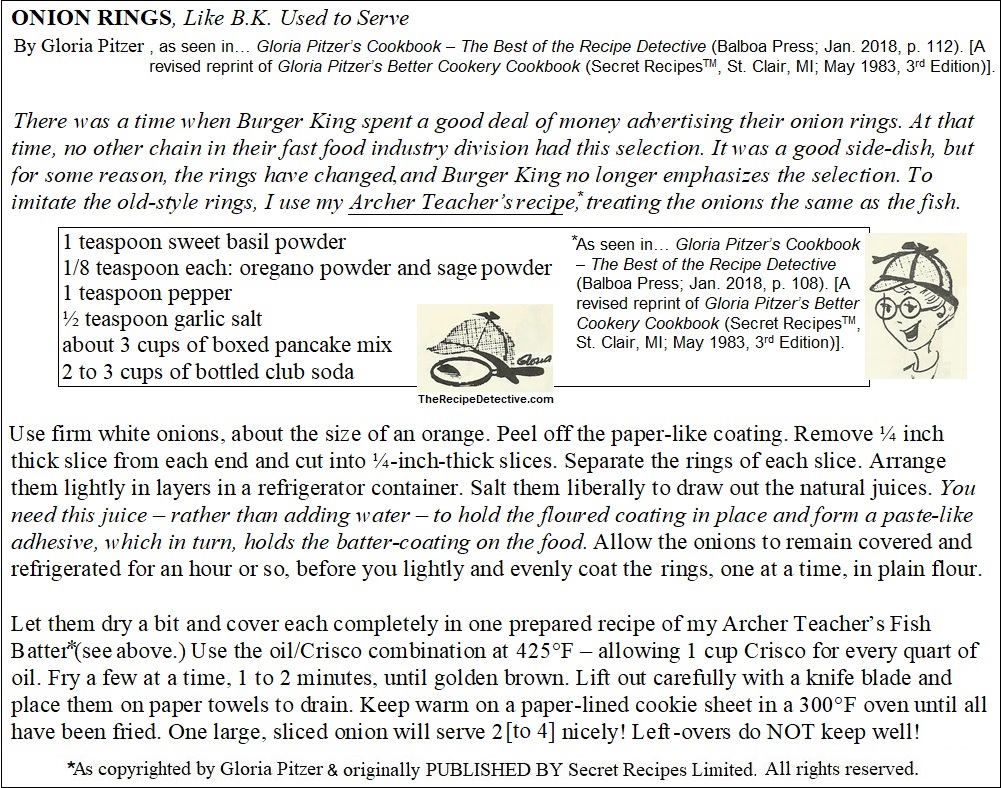 ONION RINGS, LIKE BK SERVED
By Gloria Pitzer, as seen in… Gloria Pitzer's Cookbook – Best Of The Recipe Detective (Balboa Press; Jan. 2018, p. 112). [A revised reprint of Gloria Pitzer's Better Cookery Cookbook (Secret RecipesTM, St. Clair, MI; May 1983, 3rd Edition).]
There was a time when Burger King spent a good deal of money advertising their onion rings. At that time, no other chain in their fast food industry division had this selection. It was a good side-dish, but for some reason, the rings have changed, and Burger King no longer emphasizes the selection. To imitate the old-style rings, I use my Archer Teacher's [batter] recipe, treating the onions the same as the fish.
INGREDIENTS:
1 large, firm, white onion; about the size of an orange [per 2-4 people]
salt
flour
one prepared recipe of my "Archer Teacher's Fish Batter"
[*Ingredients pictured below or see "Recipes" tab.]

Blend of 1-qt oil to 1 cup Crisco, [for a 3-inch depth] heated to 425°F
INSTRUCTIONS:
Peel off the paper-like coating [of the onions]. Remove ¼ inch thick slice from each end and cut into ¼-inch-thick slices. Separate the rings of each slice. Arrange them lightly in layers in a refrigerator container. Salt them liberally to draw out the natural juices.
You need this juice – rather than adding water – to hold the flour coating in place and form a paste-like adhesive, which in turn, holds the batter-coating on the food. Allow the onions to remain covered and refrigerated for an hour or so, before you lightly and evenly coat the rings, one at a time, in plain flour. Let them dry a bit and cover each completely in batter.
Use the oil/Crisco combination at 425°F to fry a few [rings] at a time, 1 to 2 minutes, until golden brown. Lift out carefully with a knife blade and place them on paper towels to drain. Keep warm on a paper-lined cookie sheet in a 300°F oven until all have been fried. One large, sliced onion will serve 2 [to 4] nicely! Left overs do NOT keep well!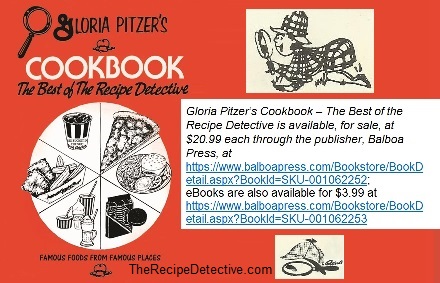 See also…