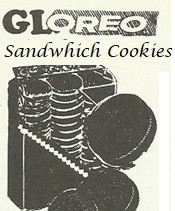 Gloreos – The Oreo-Style Sandwich Cookies
When the Washington (DC) Post once interviewed the Nabisco people to ask how they felt about a Michigan housewife, claiming she could imitate their famous chocolate sandwich cookie at home, they were very insistent that it was impossible! Well, I felt if Hydroxy could come close, so could I – and I gave the big food company a taste of their own product!  – Gloria Pitzer
COOKIE INGREDIENTS:
18 oz. package devil's food cake mix
2 eggs (eggs)
2 TB oil
1/2 cup Nestle's Quick cocoa powder
COOKIE INSTRUCTIONS:
Preheat oven to 400 degrees F. Combine cake mix, eggs + water, oil and cocoa powder. Blend well until you can form it into a ball. Let stand 20 minutes.
Form dough into 1/2-inch balls placed 2 inches apart on lightly greased baking sheet Flatten each ball with bottom of a greased once drinking glass that has been dipped in Nestle's Quick powder to deepen the color of the cookies to resemble the originals.
Bake 8 minutes. Immediately out of the oven, flatten each cookie with the back of a pancake turner. Let cool 20 minutes while you prepare the filling.
FILLING INGREDIENTS:
1 envelope unflavored gelatin
1/4 cup cold water
1 cup Crisco
1 lb. + 1 cup powdered sugar
1 tsp vanilla
FILLING INSTRUCTIONS:
Soften the gelatin in 1/4 C cold water and place in a pan of hot water until clear. Meanwhile, beat the Crisco until fluffy, adding the powdered sugar a little at a time.
Add the vanilla and cooled gelatin and beat 6 minutes. Shape into 1-inch balls and place between the bottom sides of two cookies, pressing them gently but firmly together until the filling becomes nicely rounded at the edges.
Chill about one hour to set the filling.
ASSEMBLY:
Shape the chilled  filling into 1-inch balls. Place each ball between 2 cooled cookies, on the bottom-sides of each. Press gently until filling has spread to the edges of the cookies like the originals. Makes 4 dozen sandwich cookies.
Mondays & Memories of My Mom – Grow & Make Your Own Groceries!
AboutOreos®
The Oreo cookie was developed and produced by Nabisco in February 1912 at its Chelsea factory in New York City (now Chelsea Market). It was created mainly to target the British market, whose biscuits were seen by Nabisco to be too 'ordinary'. Originally, Oreo was mound-shaped and available in two flavors; lemon meringue and cream. In America, they were sold for 30 cents a pound in novel tin cans with glass tops, which allowed customers to see the cookies.
A newer design for the cookie was introduced in 1916, and as the cream filling was by far the more popular of the two available flavors, Nabisco discontinued production of the lemon meringue filling during the 1920s. The modern-day Oreo was developed in 1952 by William A Turnier, to include the Nabisco logo.
What a lot of people don't know is that over 491 billion Oreo cookies have been sold since they were first introduced, making them the best selling cookie of the 20th century.
Check outwww.nabiscoworld.com/Oreofor more information about Nabisco and their entire line of great snacks.