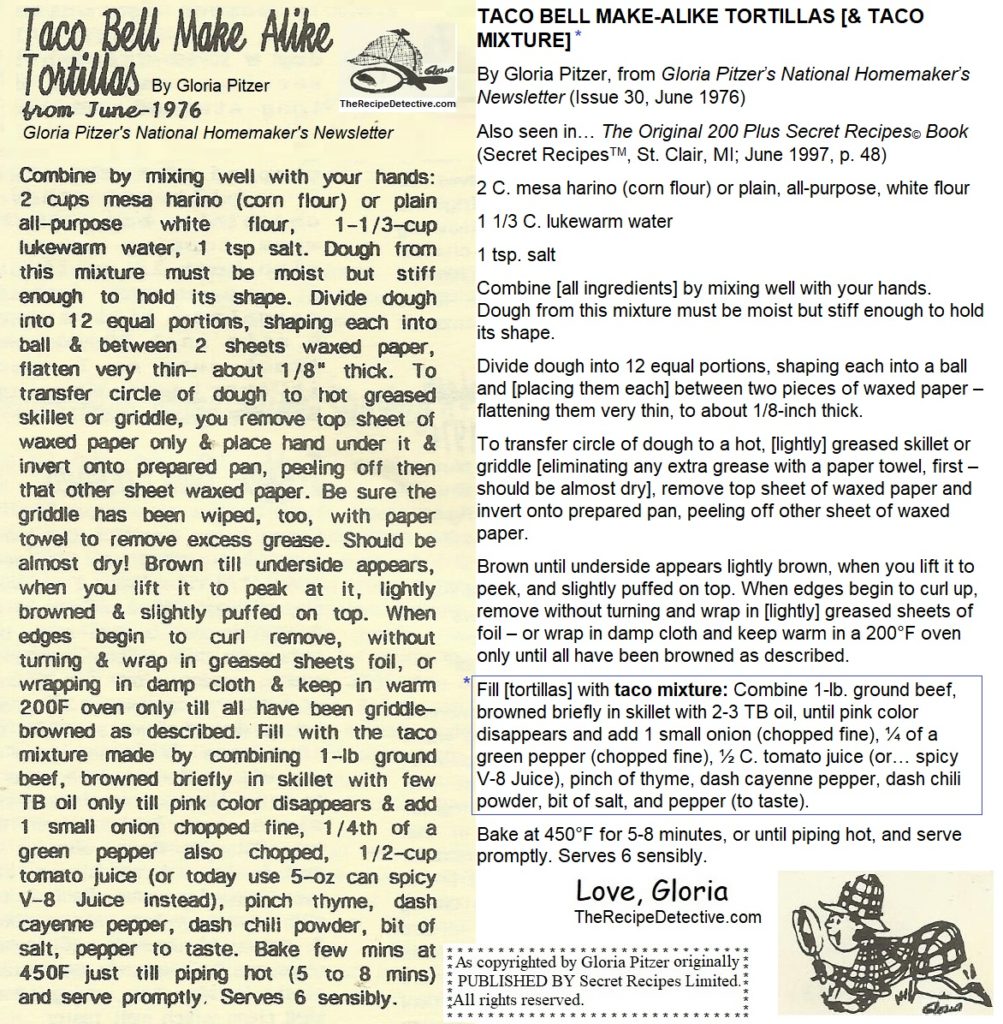 TACO BELL MAKE-ALIKE TORTILLAS [& TACO MIXTURE]*
By Gloria Pitzer, from Gloria Pitzer's National Homemaker's Newsletter (Issue 30, June 1976)
Also seen in… The Original 200 Plus Secret Recipes© Book (Secret RecipesTM, St. Clair, MI; June 1997, p. 48)
2 C. mesa harino (corn flour) or plain, all-purpose, white flour
1 1/3 C. lukewarm water
1 tsp. salt
Combine [all ingredients] by mixing well with your hands. Dough from this mixture must be moist but stiff enough to hold its shape.
Divide dough into 12 equal portions, shaping each into a ball and [placing them each] between two pieces of waxed paper – flattening them very thin, to about 1/8-inch thick.
To transfer circle of dough to a hot, [lightly] greased skillet or griddle [eliminating any extra grease with a paper towel, first – should be almost dry], remove top sheet of waxed paper and invert onto prepared pan, peeling off other sheet of waxed paper.
Brown until underside appears lightly brown, when you lift it to peek, and slightly puffed on top. When edges begin to curl up, remove without turning and wrap in [lightly] greased sheets of foil – or wrap in damp cloth and keep warm in a 200°F oven only until all have been browned as described.
*Fill [tortillas] with taco mixture: Combine 1-lb. ground beef, browned briefly in skillet with 2-3 TB oil, until pink color disappears and add 1 small onion (chopped fine), ¼ of a green pepper (chopped fine), ½ C. tomato juice (or… spicy V-8 Juice), pinch of thyme, dash cayenne pepper, dash chili powder, bit of salt, and pepper (to taste).
Bake at 450°F for 5-8 minutes, or until piping hot, and serve promptly. Serves 6 sensibly.
Mondays & Memories of My Mom – Any Reason to Celebrate with Food