Hello and happy Monday to all! I personally look forward to Mondays, each and every week! They're my 52 Chances a year, in which I get to share Memories of My Mom with all of you!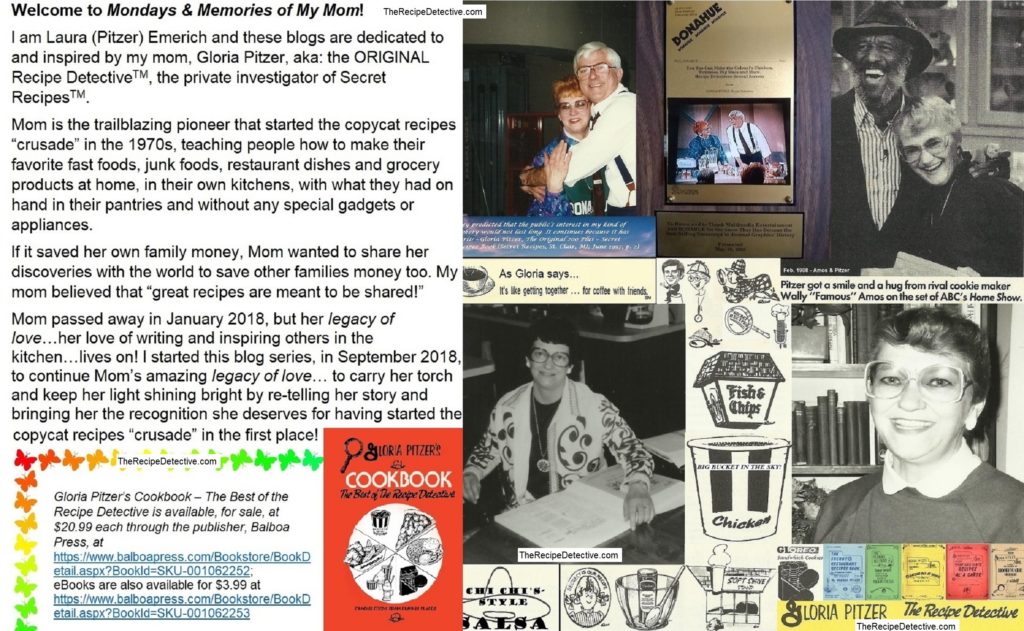 The year is almost half-way through and the dawn of summer (aka: Memorial Day, which is considered the un-official start of summer) is only a week away! Memorial Day was originally established as a day of remembrance, set aside to honor our veterans who died, serving in the U.S. military.
Our hearts go out to their surviving families, as those veterans gave their lives, protecting our country and our freedoms. Therefore, while we enjoy celebrating our freedoms this coming weekend, keep in mind at what cost we have them, in the first place! Likewise, let us also commemorate those veterans for the ultimate sacrifice they all made for us.
Traditionally, many towns honor their local veterans with floral wreaths and small American flags on their graves, as well as with community parades and special memorial services. Afterward, many of us will celebrate the extended weekend with pot-lucks or family picnics or backyard barbecues [as it is National Barbecue Month, too]!
For some reason, Americans always like to find ways to "celebrate", even the most somber of days, with optimism, happiness, and hope – and, of course, food! As I mentioned a few weeks ago, this is one of those holidays that didn't make Wikipedia's top 10 celebrated Public Holidays in the United States. But it's still noteworthy as being celebrated with a lot of food!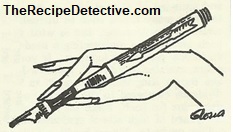 FROM MOM'S MEMORIES…
As seen in…
My Cup Runneth Over and I Can't Find My Mop (Secret RecipesTM, St. Clair, MI; Dec. 1989, p. 4)
WHEN LIFE GIVES YOU LEMONS…
WE ALL EXPECT life to be good to us – most of the time. That isn't too much to ask, now, is it? But when things don't work out the way we had planned or [as we had] hoped… the tendency is there to feel [that] life gave us lemons. The best experiences often come out of the biggest disappointments. So, when life gives you lemons, you have to make lemonade – turning a 'let-down' into a 'set-up'…
Norman Vincent Peale once said that God never closes a door that he hasn't opened a window. But the opportunities that are available to us aren't always the most obvious when we're in the throes of self-pity or weary from overwork… You certainly won't hear opportunity knocking at the front door if you're in the backyard, looking for four-leaf clovers.
To seize every opportunity to express your very best effort is the kind of motivation with which I grew up and have passed on to our five, now-adult, children. When they all lined up for this Memorial Day snapshot [in 1969 (below)], before we left to march in the big parade in beautiful, downtown Algonac; little did we know how beautifully our [lives] would turn out. How little did we know what big challenges would tempt us to give up [and] to succumb to defeat.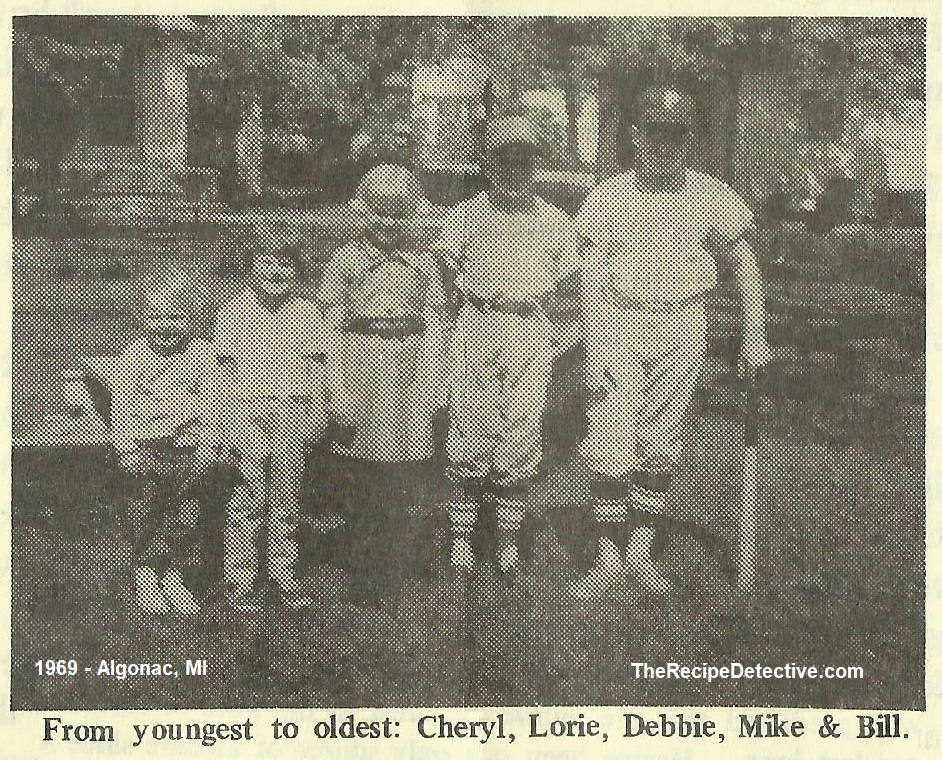 Additionally, this coming Friday will also be National Road Trip Day and National Cooler Day! It's one of those times, with the extended weekend, when hundreds of thousands of people (me and my husband included) will hit the road for a long weekend getaway – or maybe just a one day journey with a picnic somewhere.
After my parents became empty-nesters and needed a break from their long work week, they often chose to go on a road trip somewhere. It didn't matter if it was a planned route or the "other scenic route" (that's what Dad called it when he got lost). They were together and away from "it all", just enjoying each other and the beautiful Michigan scenery!
Sometimes, however, work would always manage to creep back in whenever they stopped for a bite to eat, as Mom usually managed to find something good that she wanted to analyze and duplicate when she got back home. My husband and I can relate to the road trip getaway. We love taking road trips like my parents did. Michigan, and the whole Great Lakes area, is a wonderful place to explore and unwind from a hectic work week.
Needless to say, I can't wait until we can begin our 'motor-home camping' again with our Good Sam friends. It's our weekend vacation pleasure, May through October. Becoming part of the Good Sam organization is the best thing that has ever happened to us, where we could both enjoy mutual friendships and activities. Wonderful, caring people, who constantly remind us that 'there are no strangers in Good Sam – only friends we haven't met, yet!' – Gloria Pitzer, from Gloria Pitzer's Secret RecipesTM Newsletter (Secret RecipesTM, St. Clair, MI; May-June 1987, 126th issue, p. 3)]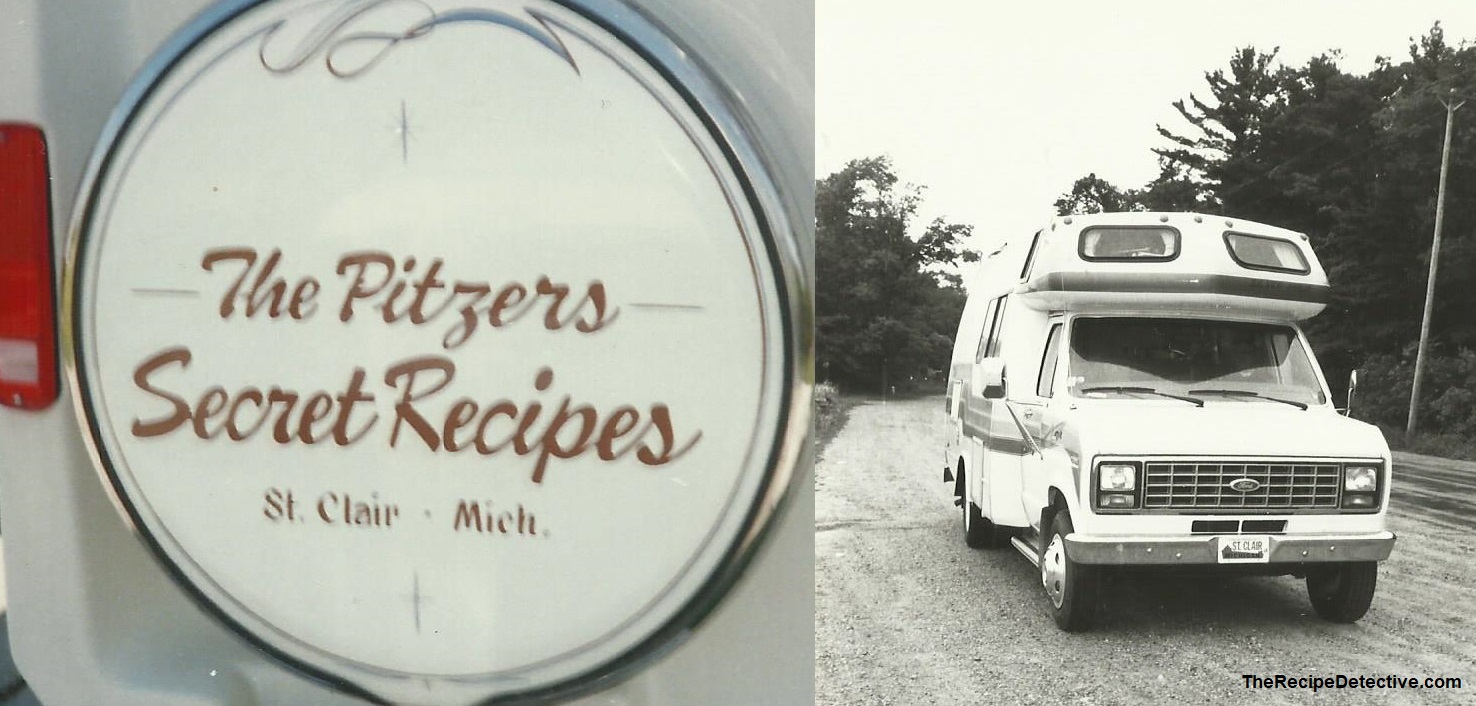 MORE FROM MOM'S MEMORIES…
As seen in…
Gloria Pitzer's Secret Recipes Newsletter (Secret RecipesTM, St. Clair, MI; Jan-Feb. 1988, p. 1)
GOOD SAM, GOOD EXAMPLE
One thing among many that I have learned from Good Sam, the national RV organization, to which Paul and I have belonged for three years now [since 1985]; is that you should never ever withhold your enthusiasm for caring about others.
Never regret anything you do or say on behalf of the good it might bring to those [about whom] you care – for, if your motives are unselfish, and your intentions are to encourage or enrich or benefit others, you can't lose. You should jump right in, adding enthusiasm to whatever it is that you are doing that might appear to be just a passive condition when enthusiasm is needed.
Try a little enthusiasm! …Enthusiasm and optimism go hand-in-hand with happiness. These provide us with an emotional springboard from which we can dive quite smoothly, into deep and troubled waters, and still surface refreshed and invigorated. (p. 1)
The trouble with trying to be happy all the time is that most people look for one particular condition or experience or possession, from which they hope to derive complete contentment, forgetting that happiness is a moment – not a forever! (p. 4)
'MANY PEOPLE FEEL THAT life is uphill all the way. They fail to look at the things that are good, enjoyable, and worthwhile. They are conscience only of the climb. No road is ever uphill forever! We should soon learn the importance of being able to also come downhill without fear and be able to notice the scenery along the road, too.' – Gloria Pitzer, The Secrets of Homemade Groceries (Secret Recipes, St. Clair, MI; Sep. 1979)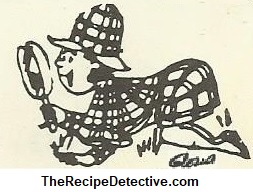 LAST THOUGHTS…
Here are four basic tips for planning road trips that I shared last year…
Always bring a real roadmap, as there are places that actually don't have any cell service for miles.
Allow extra time and gas (or electric charge – whatever the case may be) for spontaneity. In case you decide to take a detour or two to other map dots along the way!
Stop frequently and take breaks – "smell the roses", photograph the memories, and talk to the locals.
Pack a cooler with some drinks and snacks, even if you plan to eat at restaurants along the way. You know what they say about the best laid plans…
I hope you enjoy your extended weekend and 2022's dawn of summer!
IN CLOSING…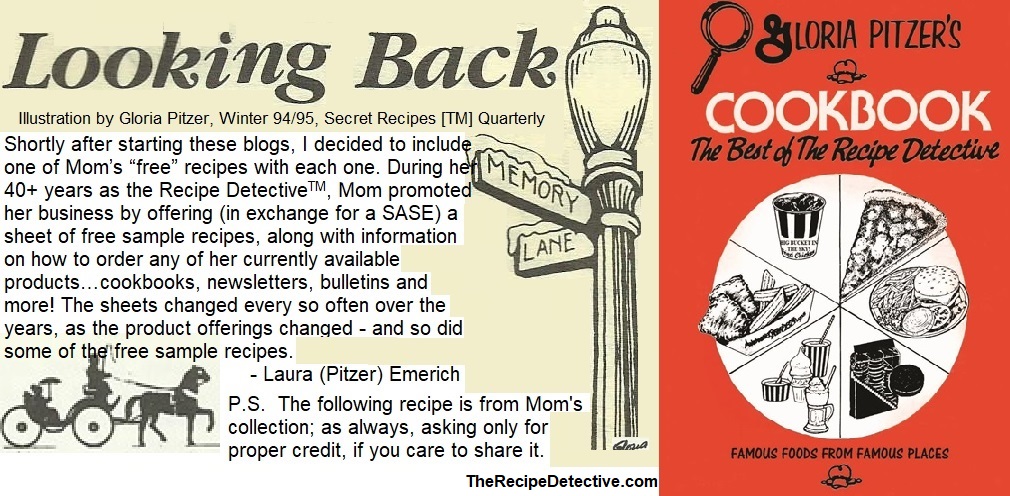 In honor of May, also being National Salad Month, here is Mom's secret recipe for Seven Layer Salad – from her last book, Gloria Pitzer's Cookbook – The Best of the Recipe Detective (Balboa Press; Jan. 2018, p. 37), a revised reprint of Gloria Pitzer's Better Cookery Cookbook (Secret RecipesTM, St. Clair, MI; May 1983, 3rd Edition).
This was always a popular dish that Mom to took to many summer pot lucks. I also shared this recipe with Kathy Keene's "Good Neighbor" audience, on WHBY (in Appleton, WI), around this time last year.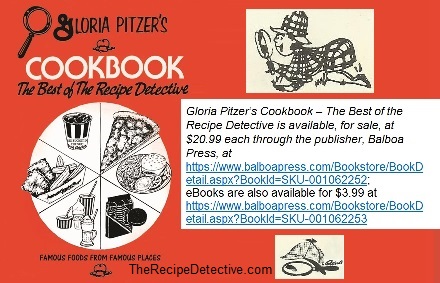 P.S. Food-for-thought until we meet again, next Monday…
Some of May's observances include… American Cheese Month, Better Speech and Language Month, National Asparagus Month, National Barbecue Month, National Egg Month, National Get Caught Reading Month,  National Inventor's Month, National Preservation Month, National Recommitment Month, National Salsa Month, National Strawberry Month, and Asian American and Pacific Islander Heritage Month!
Today is also… National Lucky Penny Day and National Taffy Day!
May 24th, is… National Yucatan Shrimp Day, National Brother's Day, National Escargot Day, and National Wyoming Day! 
May 25th, is… National Brown-Bag It Day and National Wine Day!
May 26th, is… National Blueberry Cheesecake Day!
May 27th, is… National Grape Popsicle Day! Plus, as the Friday before Memorial Day (for 2022), it is also… National Don't Fry Day! 
May 28th, is… National Brisket Day, National Beef Burger Day, and National Hamburger Day! [NOTE: It's also National Hamburger Month!] In honor of the latter three, here's a re-share of Mom's imitation of White Castle's sliders…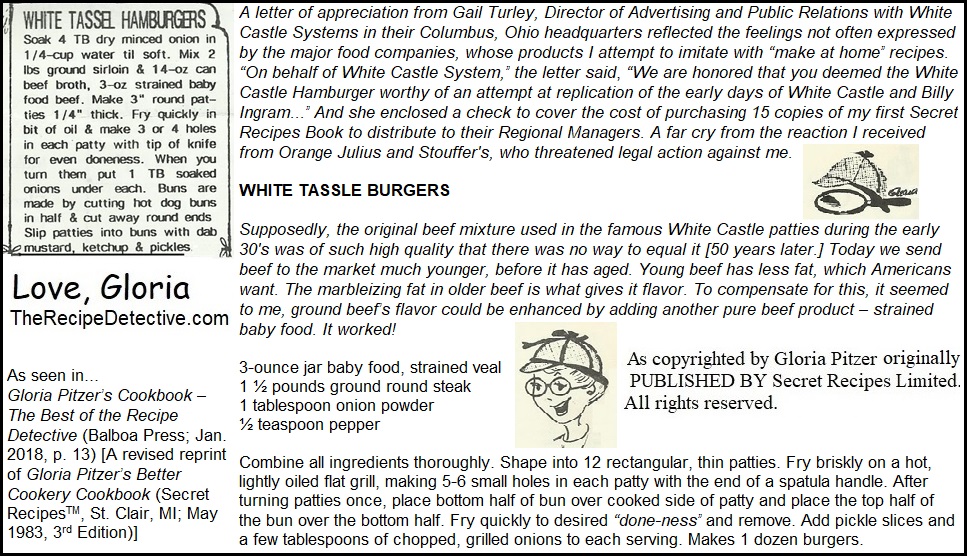 Sunday, May 29th, is… National Coq Au Vin Day!

…21 down and 31 to go!