Happy Monday! I always look forward to Mondays! They're my 52 Chances, each year, in which I get to share Memories of My Mom with all of you!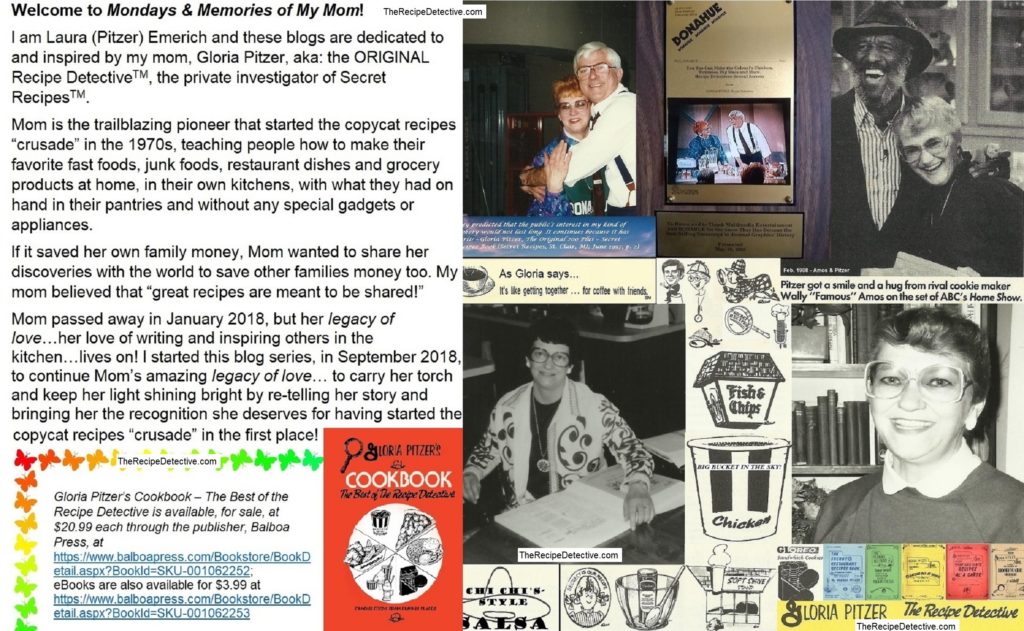 #DoSomethingGoodForYourNeighborDay
Today is National Do Something Good for Your Neighbor Day! A neighbor was once defined as being near or next door to another. That has since expanded broadly to include any fellow human being.
Key traits of good neighbors include being friendly, available, and approachable. Other good traits are being respectful, mature, helpful, and trustworthy. Friendly neighbors always welcome new residents, introducing themselves, as well as other neighbors; always maintaining relationships and being sociable.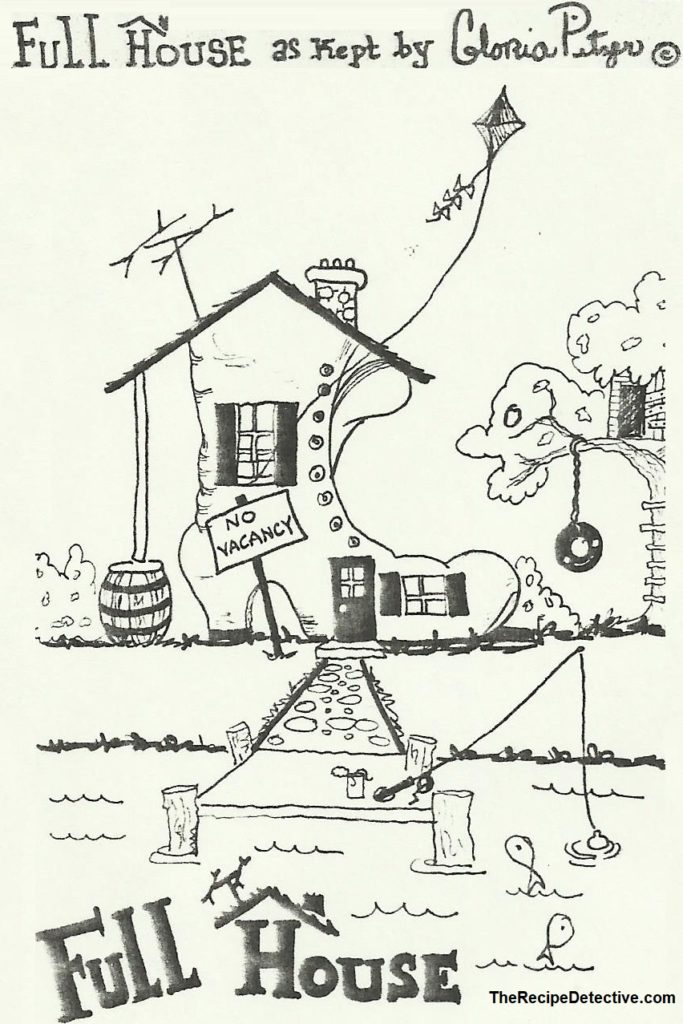 Generations ago, it was commonplace to know most, if not all, of your neighbors! However, according to a great article by John Anderer (Dec. 27, 2019), Sign Of The Times: 75% Of Adults Aren't Friends With Any Of Their Neighbors, "1 in 4 people are living somewhere with 'no sense of community spirit' in their neighborhood."
Over the decades, people have withdrawn from socializing with their neighbors. Furthermore, John wrote that "56% say they have no interest in getting to know those who live next door any better than they already do. But the survey did find that people living in rural areas (18%) are more likely to have friends in their neighborhood than city dwellers (15%)."
Mom celebrated "neighbors" (in the broader meaning) over the radio airwaves for many decades, 1974 to 2014, starting with Bob Allison and his Detroit area 'Ask Your Neighbor' show's audience, who were the first to call her "The Secret Recipe Detective".
Bob and Mom formed a fast friendship, and she soon became a regular guest on his show every Monday for decades, sharing her secrets for imitating famous foods.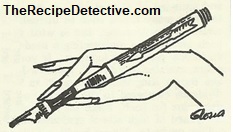 FROM MOM'S MEMORIES…
As seen in…
The Secret Restaurant Recipes Book (National Homemaker's Newsletter, Pearl Beach, MI; Jan. 1977)
FOR NEARLY TWO YEARS, we had only a hundred readers or so. Then, because some good folks in the media took a liking to the newsletter and mentioned it, subscriptions picked up. Bob Allison of Detroit's WWJ-Radio [show], 'Ask Your Neighbor', probably gave us the most enthusiastic reception, which led to our becoming a sponsor of the show and caught the attention of the 'Detroit Free Press' 'Newsweek', 'National Enquirer' and many others until we found our circulation had jumped…to nearly 4,000 in a little more than a year.
The duplications of the famous name recipes stirred the [public's] interest. It was a service that apparently had not been offered to the public yet, and one we were most happy to supply. The humorous columns I had [been syndicating] to newspapers just a few years before became a popular attraction in the monthly newsletter…
The operation grew so quickly that it had the whole family working seven days a week, just to keep up with the orders. All of our five children helped to assemble, staple, address, and mail out the copies under my husband's supervision, until we reached about 3,000 readers and then we found it [to be] such a full-time activity that my husband resigned from his position of 20-some years as an account t executive for a sign company… just  to devote all of his attention to running my 'office'. 

It was such a joy to be doing something for people that brought them so much happiness and our own family such a sense of unity. When our oldest son, Bill, went off to college… and our [other] son, Mike… we had to replace them. It was pure luck [or Divine intervention] that one of my friends, and the wife of one of the Little League coaches that Paul had worked with in baseball, here, in town, was anxious to help us out.
Sherry Ellis joined us, and I can only describe her as 'bubbling like a happy brook' – the best thing that this office could have hoped for. Debbie, our oldest daughter, continued to help us after school and our two younger daughters, Laurie and Cheryl… It even included my mother's assistance and, you'll note, I have used some of her recipes. Without her, I never would have learned to boil water properly. She's a superb cook!
[As of] January 1977, we will publish our 37th monthly issue of the 'National Homemaker's Newsletter' and we [now] have close to 5,000 readers. We say that getting the newsletter is just like getting together once a month for coffee with friends!

It was a bittersweet day when Mom published her last newsletter (Issue #219) in December 2000 – after 27 years of "getting together" with her thousands of readers, who she always thought of as her neighbors and friends. But she reveled in keeping in touch with them through her radio "appearances".
By the way, Mom also celebrated neighbors for almost 13 years (June 1992 through December 2005), as did I for 13 months (April 2020 through May 2021), with radio talk show host, Kathy Keene, and her "Good Neighbor" show's audience, on WHBY in Appleton, WI. I'm honored to have been able to share that with her.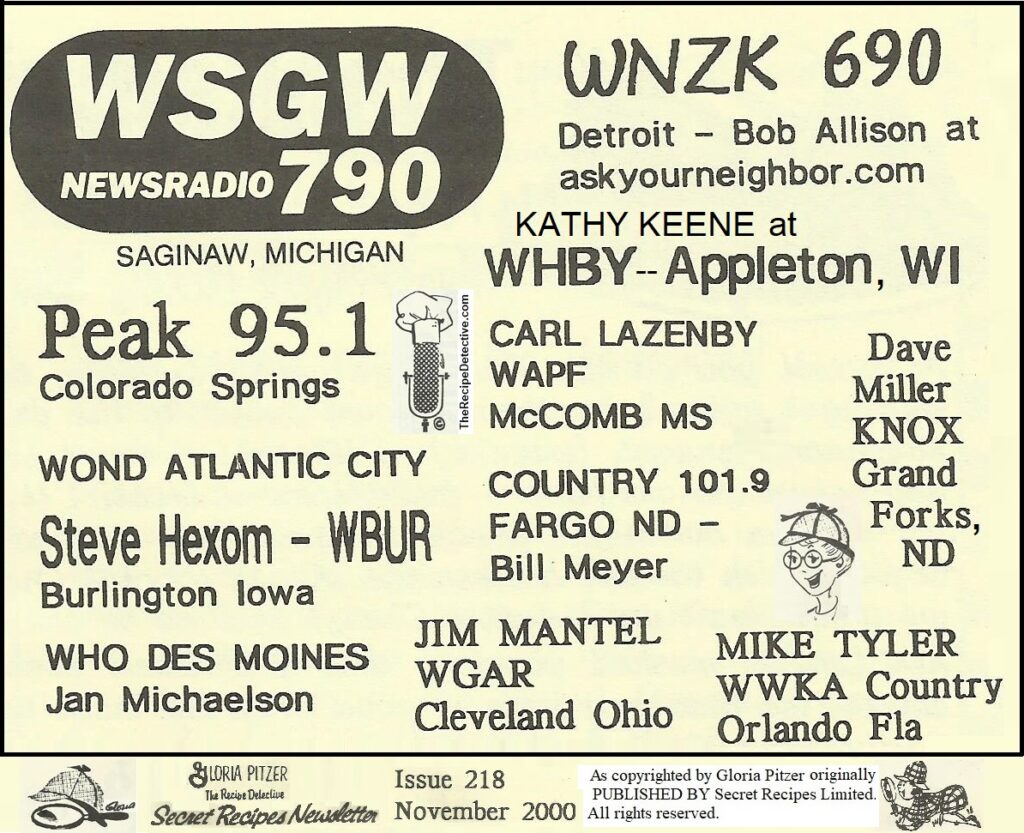 According to a consensus of online advice, a few great ways to make friends with your neighbors, new or otherwise, include taking the initial step (if they haven't come to you) and knocking on their doors, with a greeting and introduction.
Sometimes organizing a housewarming party or backyard barbecue can create a great ice-breaker event between neighbors, in which they can get to know each other. Such gatherings help neighbors and neighborhoods find common ground on which to connect.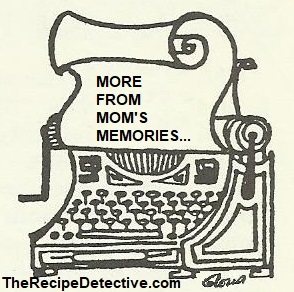 MORE FROM MOM'S MEMORIES…
Excerpts by Gloria Pitzer, from…
This is not a Cook Book! It's Gloria Pitzer's Food for Thought (Secret RecipesTM, St. Clair, MI; Oct. 1986, pp. 50 & 59)
DON'T GIVE UP!
PEOLE NOWADAYS GIVE UP too easily. They'll donate a dollar to an anonymous recipient of any given charity but won't give two words to an offended neighbor – the two most important words of successfully living side-by-side – 'I'm sorry.'
You don't throw away the patient because the bandage needs changing. You try again, and again, and again for some common ground of understanding. Otherwise, how will we, as a society, ever be able to love our neighbors across the world, until we've first learned to love those across the street? (p. 50)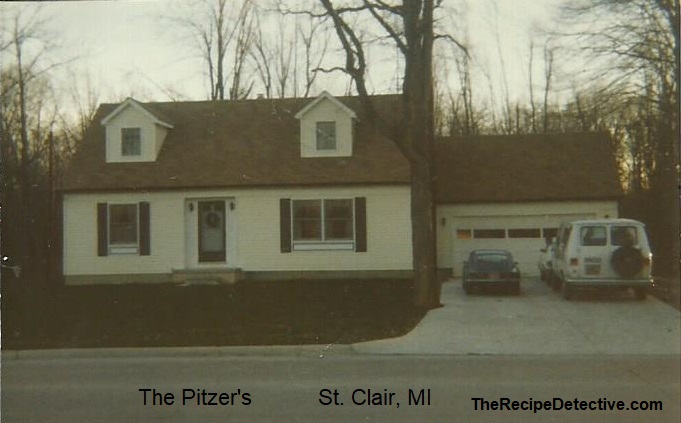 SATISFACTION GUARANTEED
IT'S GOOD TO HAVE good neighbors! I guess that's why I never want to move from this house. We don't even know all of our neighbors by name, but we recognize their smiles and respond to their waving when we passed by or see each other in town.
The other day I asked one of the older neighbors on the block where he got his lovely outlook on life, which he said he borrowed from Khalil Gibran: 'I have learned silence from the talkative, toleration from the intolerant, and kindness from the unkind.' (p. 59)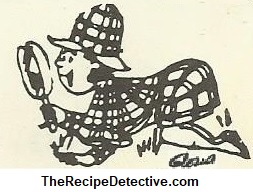 LAST THOUGHTS…

IN CLOSING…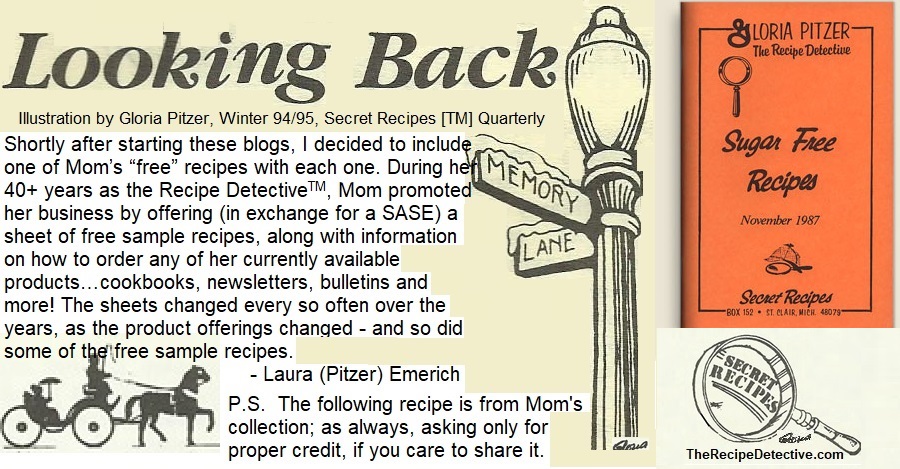 Today is National Barbecue Day AND it's National Barbecue Month! In honor, here's Mom's secret recipe for sugar-free "Barbeque Sauce" AND FOUR MORE – #DoSomethingGoodForYourNeighborDay – related recipes including sugar-free versions of Apple Sauce, Ketchup, Apple Butter, and Catalina Dressing; all of which are found in her self-published cookbook, Sugar-Free Recipes (Secret RecipesTM, St. Clair, MI; Nov. 1987, pp. 12, 50, 54 & 67).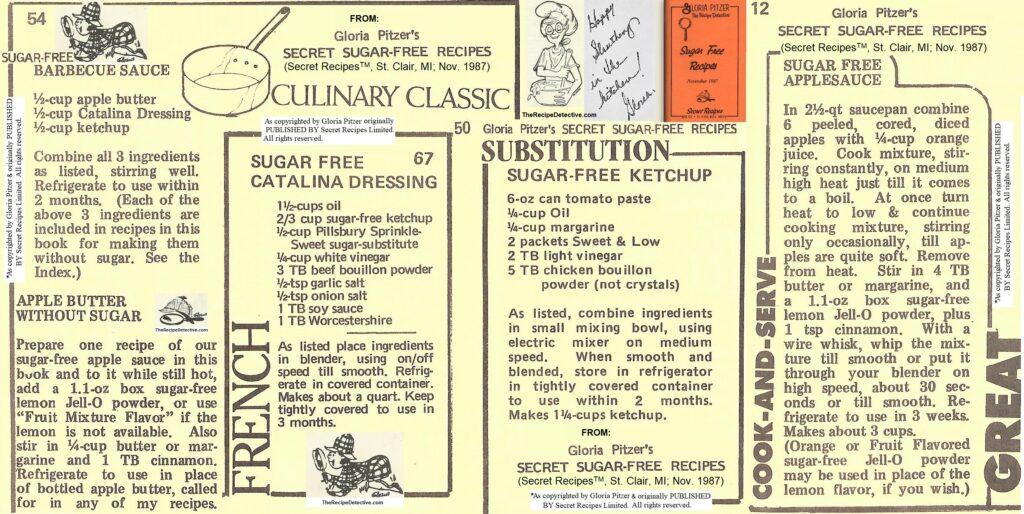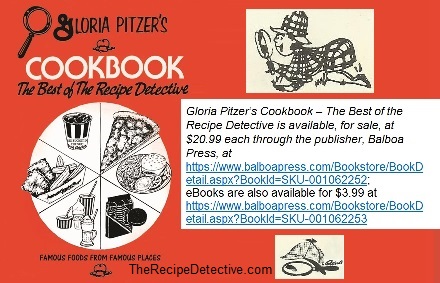 P.S. Food-for-thought until we meet again, next Monday…
Some of May's observances include… American Cheese Month, National Asparagus Month, National Egg Month, National Get Caught Reading Month, National Hamburger Month, National Inventor's Month, National Photography Month, National Preservation Month, National Recommitment Month, National Salad Month, National Salsa Month, and Asian American and Pacific Islander Heritage Month!
Other celebrations this week include… National Bike to Work Week, which began yesterday; with National Bike to Work Day observed on Friday!
Today is also… National Love a Tree Day, National Mimosa Day, and National Biographer's Day!
Tomorrow is… National Pack Rat Day, National Cherry Cobbler Day, National Walnut Day, and National Idaho Day!
May 18th, is… National Visit Your Relatives Day, National No Dirty Dishes Day, and National Cheese Soufflé Day! Plus, as the third Wednesday in May (for 2022), it's also… National Juice Slush Day! In honor, here's a re-share of Mom's "Orange Brutus" recipe that is 3-in-1; from her self-published cookbook, The Original 200 Plus Secret Recipes© Book (Secret RecipesTM, Marysville, MI; June 1997, p. 32)!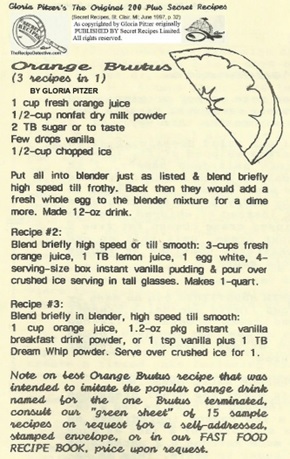 Thursday, May 19th, is… National Devil's Food Cake Day!
May 20th, is… National Pick Strawberries Day [plus it's National Strawberry Month] and National Quiche Lorraine Day! Plus, as the 3rd Friday in May (for 2022), it's also… National Pizza Party Day!
May 21st, is… National Strawberries and Cream Day! Did you pick strawberries yesterday? Plus, as the 3rd Saturday in May(for 2022), it's also… National Armed Forces Day and National Learn to Swim Day! 
Sunday, May 22nd, is… National Craft Distillery Day, World Paloma Day, National Maritime Day, National Solitaire Day, and National Vanilla Pudding Day!

…20 down and 32 to go!