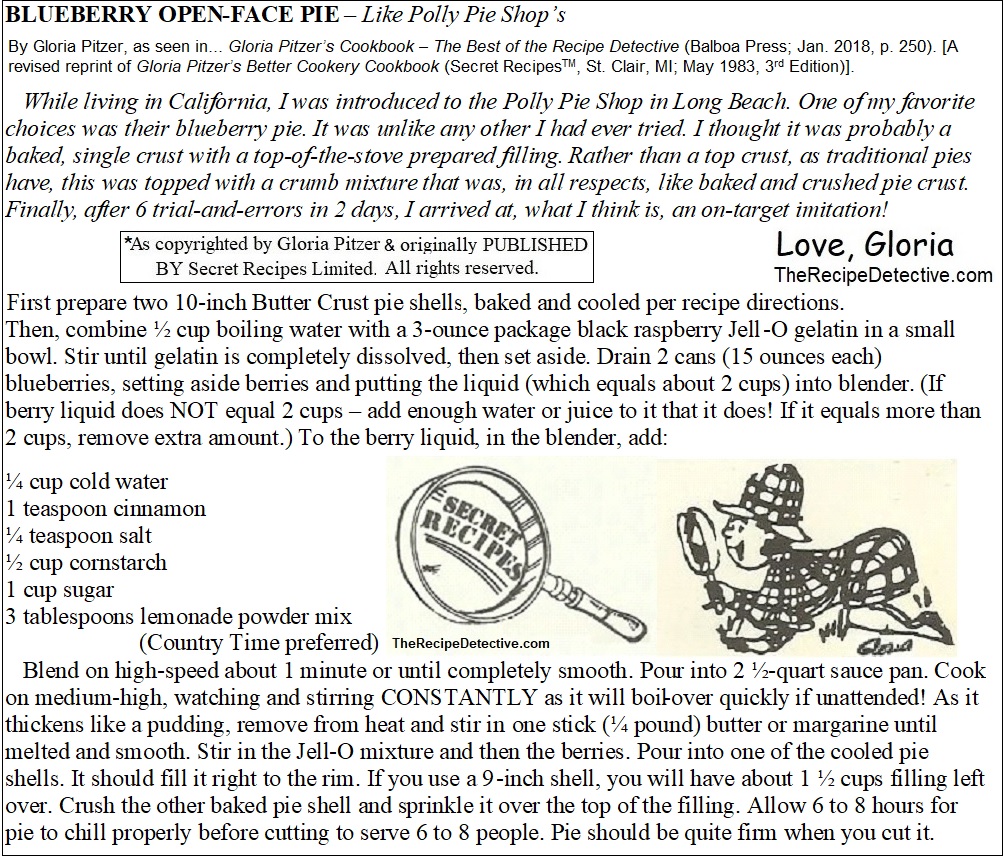 BLUEBERRY OPEN-FACE PIE, LIKE POLLY PIE SHOP'S
By Gloria Pitzer, as seen in… Gloria Pitzer's Cookbook – Best Of The Recipe Detective (Balboa Press; Jan. 2018, p. 250). [A revised reprint of Gloria Pitzer's Better Cookery Cookbook (Secret RecipesTM, St. Clair, MI; May 1983, 3rd Edition).]
While living in California, I was introduced to the Polly Pie Shop in Long Beach. One of my favorite choices was their blueberry pie. It was unlike any other I had ever tried. I thought it was probably a baked, single crust with a top-of-the-stove prepared filling. Rather than a top crust, as traditional pies have, this was topped with a crumb mixture that was, in all respects, like baked and crushed pie crust. Finally, after 6 trial-and-errors in 2 days, I arrived at, what I think is, an on-target imitation!
INGREDIENTS:
two prepared 10-inch Butter Crust pie shells (see Index) [also on "Recipes" tab]
½ cup boiling water
3-ounce package black raspberry Jell-O [powder]
2 cans (15 ounces each) blueberries
¼ cup cold water
1 teaspoon cinnamon
¼ teaspoon salt
½ cup cornstarch
1 cup sugar
3 tablespoons lemonade powder mix (Country Time preferred)
1 stick (¼ pound) butter or margarine
INSTRUCTIONS:
First prepare pie shells, baked and cooled per recipe directions. Then, combine boiling water with Jell-O [powder] in a small bowl. Stir until gelatin is completely dissolved, then set aside. Drain blueberries, setting aside berries and putting the liquid (which equals about 2 cups) into blender.
[NOTE: If berry liquid does NOT equal 2 cups – add enough water or juice to it that it does! If it equals more than 2 cups, remove extra amount.]
To the berry liquid, in the blender, add the cold water, cinnamon, salt, cornstarch, sugar, and lemonade powder mix. Blend on high-speed about 1 minute or until completely smooth. Pour into 2 ½-quart sauce pan. Cook on medium-high, watching and stirring CONSTANTLY as it will boil-over quickly if unattended!
As it thickens like a pudding, remove from heat and stir in butter or margarine until melted and smooth. Stir in the Jell-O mixture and then the berries. Pour into one of the cooled pie shells. It should fill it right to the rim. If you use a 9-inch shell, you will have about 1 ½ cups filling left over.
Crush the other baked pie shell and sprinkle it over the top of the filling. Allow 6 to 8 hours for pie to chill properly before cutting to serve 6 to 8 people. Pie should be quite firm when you cut it.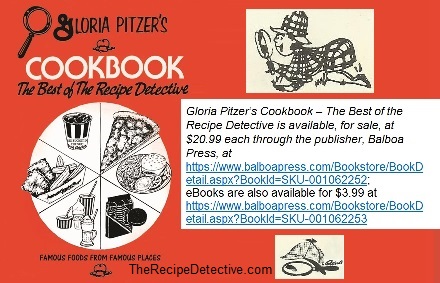 See also…