Happy Monday to everyone and "May the 4th be with you!" As always, #TGIM – because I forever look forward to Mondays, as they are my #52Chances, each year, in which I have to share my memories of Mom!
Yesterday was supposed to be the kick off of celebrating National Small Business Week. However, like almost everything else, because of Covid-19, it has been put on hold, as well, until further notice. According to SBA.gov, ordinarily, U.S. small businesses create about 2/3 of our new job force each year and "more than half of Americans either own or work for a small business."
However, because of the pandemic and many of the states' "Stay Home" orders, small businesses, from all over – especially those that provide a personal service to us, such as barber shops, salons, gyms, day cares and so many more – are closed indefinitely. In as much as these orders were put into place to help prevent the virus from spreading more and killing more people; they are, ironically, killing many small businesses.
Some small businesses that provide "goods" for us, such as restaurants and retailers, have had to learn to adapt, in some way or another; by turning their brick-and-mortar stores into online virtual shops and shipping goods to their customers, or by taking phone orders and using curbside pickups and non-contact delivery services for their customers. But, with so many people not working these days, most don't even have the funds with which to spend on non-essential products anyway.

As Mike Patton, Senior Contributor at Forbes, says in the very title of his article, from March 23, 2020, America is "on the brink of [its] 34th recession." Although, it's not just the U.S. that's facing a recession now. This pandemic has had a global impact; thus, it's becoming a global recession, as Peter Goodman explains in his article in the New York Times, from April 1, 2020. For more information about recessions in the past century, check out this very enlightening article that I came across recently on CNBC.com, by Tom Huddleston, Jr. (April 9, 2020) – https://www.cnbc.com/2020/04/09/what-happened-in-every-us-recession-since-the-great-depression.html.
No doubt, small business owners are facing some trying times, right now, and will continue to do so for quite a while to come. Their challenges are tough and numerous and require patience, planning and learning in order to adapt to our new norms. Mom always said, "learn something new every day!"
I've heard so many inspiring news stories, from all over, of small business owners (as well as some pretty big ones), facing shut downs and financial devastation for being "non-essential", turn around and "re-create" their businesses to make any one of the many needed and essential medical related supplies – like masks, face shields, gowns, test swabs, ventilators and more. Like the old proverb says: "Necessity is the mother of invention." That always inspired Mom!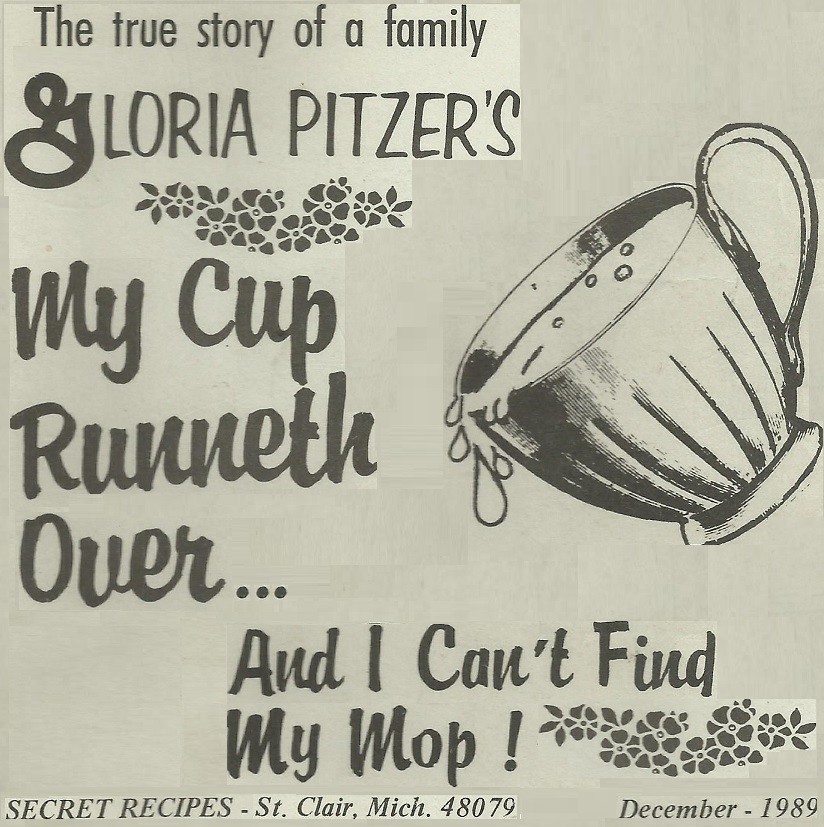 FROM MOM'S MEMORIES…
The following excerpts, by Gloria Pitzer, are found in…
My Cup Runneth Over and I Can't Find My Mop (Secret RecipesTM, St. Clair, MI; Dec. 1989)
RISKY BUSINESS
THERE ARE MANY RISKS involved with going into business for yourself, no matter what product or service you intend to offer. If I had thought more about the risks, than I did about the possibilities, I never would have moved an inch toward doing any of the things about which I now write. My husband is not a risk-taker. I am. We complement each other well. He still becomes uneasy and anxious about every new idea I have for another book or another project, on the basis that 'we can't afford it.'
I have learned, over the years, to keep many of my projects to myself until they are completed; which, in the long run, saves Paul from worrying unnecessarily about something that will very likely turn out well, and keeps me from worrying that Paul is worrying.
When I have been asked about goals or destination, it is been my feeling that every corner I turn has a new goal, a new destination awaiting us. I have never thought of any one point as being the top. Life has so many wonderful opportunities for each of us to take advantage of, that it does not seem reasonable that I should give myself the limitations that would determine just how far I should be able to go.
Because this was never a hobby, never WORK, never a job, I have had no problem with the worry or concern that accompanies a position from which one expects to retire. I would not want to give up what I have been doing [writing] since I was a child. It would be unfair to have to give up doing something that has also brought so much pleasure and good information to so many people.
It was, however, only when I realized WHAT I should be writing about and what I should be sharing with the readers – what I knew best – that things really began to happen. Of course, my husband wisely reminds me, when someone asks about writing their own cookbook, that WRITING it is the easiest part. Knowing how to SELL it is the hard part! (p. 53)
CHALLENGES & PATIENCE
I MUST HAVE SPENT hours studying the pieces I wrote in my early days – remembering where I was [and in] what I believed and expected from life when I wrote them. There was always a certainty in each article [and] every book begun but not always finished, then, that life was good and surely God was a loving presence. This always carried me through. It still does.
Surely, after all of this is now presented to us in the form of treasured memories, I can see that life's challenges teach us to be compassionate toward others [and] ourselves. Whenever we must sometimes face the harsh circumstances of human living, in which there [doesn't] seem to be any clear-cut answers to even the smallest events, as well as the big [ones]; patience and great moral courage are needed in every case, in order to overcome defeats.
Certainly, the effort put into the service of every business, whether it is a flourishing corporation or – like ours – just a dining room table enterprise, is more important than how much money you're going to make at what you do. When the money is more important, the journey becomes a job instead of a joy! (pp. 7-8)
MORE RISKY BUSINESS
IT WAS ONLY AFTER I considered every avenue that I could use without having to take 'a risk'…[as] Paul would not even hear about my publishing a cookbook! I mean, he was absolutely vehement about my not doing anything, at that time, that would be a risk…that it occurred to me to buy my own mimeograph. I could explain the mimeograph to Paul [later], and I could afford one from the ironing money and from the $20 a week I was also earning from the column I wrote, then, for the Algonac Courier (called 'Pitzer Patter').
I babysat, as well, … and the money there also contributed to my paper purchases and ink for the mimeograph. Fortunately, I was able to order the machine and pick it up a few weeks later, when Paul let me use the car to do some shopping that day. I had the mimeograph home and concealed under the sewing table in the laundry room, covering it with a bed sheet, where it remained for three months without Paul even knowing about it. He couldn't, until I had paid for it in full; and the fellow who sold it to me agreed to 90-days-same-as-cash… (p. 50)
#NationalCartoonistsDay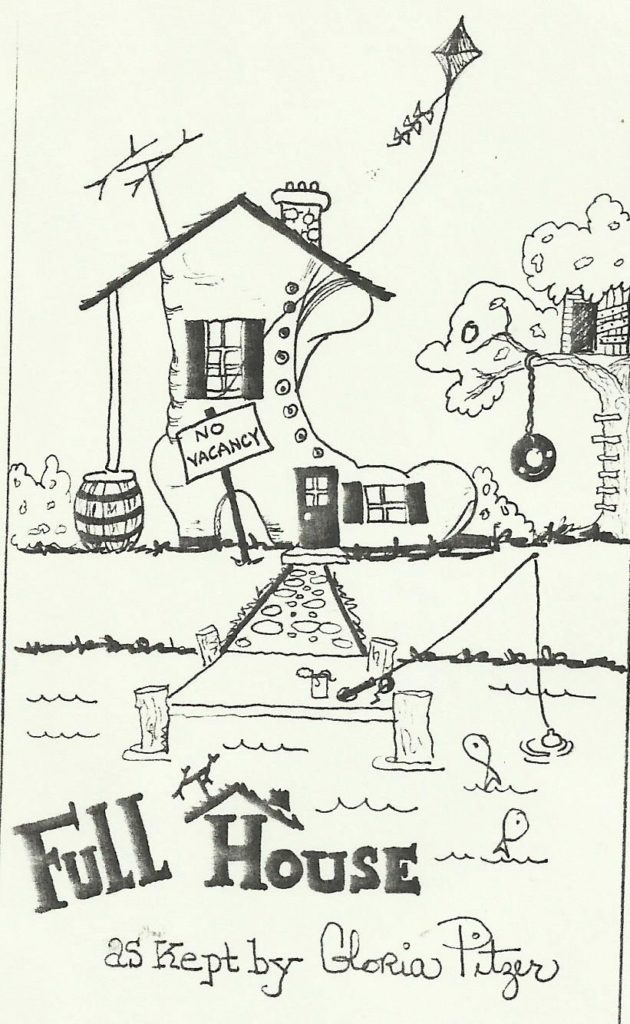 HOW TO LAUNCH YOUR OWN RISKY BUSINESS
WHENEVER I AM ASKED by somebody wanting to launch a newsletter of their own, how to get started, I wish I could just send them a blueprint or a floor plan, like you would when you build a house or a garage. With newsletter writing and marketing, it's all based on individuality, and experience being the best teacher and then having a responsive audience. It all begins with the sale.
You have to know to whom you will be directing your material and how you will be meeting their needs. Nobody can tell you HOW to do that. You either know how or you don't! If you don't know how to talk to your reader, you're like a lighthouse without a light! You have to let your light shine and part of the preparation for communicating with your reader is to know HOW to talk to them, what they need from your newsletter that will enrich them or make their lives better. (p. 43)

In honor of today, May 4th, being National Star Wars Day!
HOW TO LAUNCH YOUR OWN RISKY BUSINESS – CONT'D
LET ME ASSURE YOU, there is no formula for furthering a business like ours. Many people have asked for advice in writing and publishing a cookbook or putting out a newsletter like ours, and have seemed so disappointed when I also assure them that I cannot convey to them in a brief letter or conversation, what it has taken me nearly 20 years to learn, mostly through experience, through trial and error – sometimes a lot of error!
But it is always a learning experience, as was the case with Thomas Edison when he was trying to invent the dry cell battery. After 200 tests and all failures, somebody else came out with the invention. Reporters asked Edison how he felt about his 200 failures, to which he replied: 'Those weren't 200 failures, at all. They were 200 things I found that wouldn't work!' (p. 70)
IN CLOSING…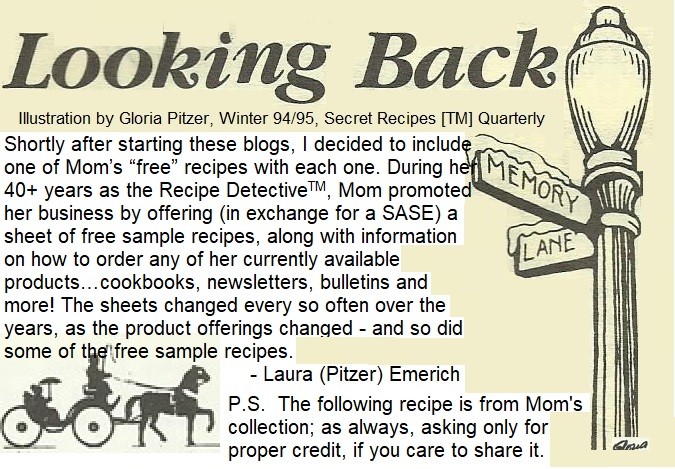 In honor of tomorrow, being Cinco de Mayo, here is Mom's 3-ingredient, short-cut-cookery recipe for Taco Cheese Spread that is super delicious! Mom gave this recipe away in the early 2000's. I've used it as a dip, as well as mixed it in with some cooked macaroni and hamburger for a quick, "Mexican Monday night" meal! I hope you enjoy it as much as our family does!
P.S. Food-for-thought until we meet again, next Monday…
As I mentioned in last weeks blog post, I was going to be interviewed that day, over the phone and radio airwaves, by Kathy Keene. She hosts a show on WHBY (Appleton, WI) called "Good Neighbor". It was so fun! We reminisced about Mom, her recipes and her "detective work" in the food industry. Mom used to be a regular guest on Kathy's show, once a month for about 13 years. Now I'm going to do the same!
I am so excited that I'm going to be a regular guest on Kathy's show (for the first hour, at least), on the last Monday of every month – except for May because of the Memorial Day holiday – in which case, it will be the following day, on Tuesday. I hope you will tune in and listen as we reminisce about Mom and her Secret RecipesTM legacy! Check out the "LISTEN LIVE" link at https://www.whby.com/goodneighbor/!
REMINDER: NationalDayCalendar.com suggests that we… "Stop shaming Monday and look at what Monday has to offer… 52 CHANCES to see a beautiful sunrise… share your talents with the world… teach someone a new skill that will better their lives…" For me, it's 52 CHANCES to tell Mom's story and, hopefully, ignite happy memories for others; while re-inspiring love in the kitchen, in the home and family, throughout the neighborhood and around the world…
…18 down, 34 to go!