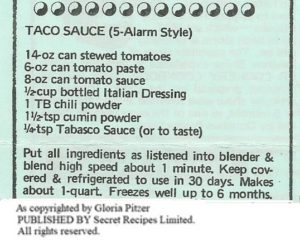 5-Alarm-Style Taco Sauce
By Gloria Pitzer; as seen in Gloria Pitzer's Secret Fast Food Recipes (Secret Recipes, St. Clair, MI; March 1985, p. 16)
Ingredients:
14-oz. can stewed tomatoes
6-oz. can tomato paste
8-oz. can tomato sauce
1/2 cup bottled Italian dressing
1 TB chili powder
1/2 TB cumin powder
1/4 tsp Tabasco sauce (or to taste)
Instructions:
Put all ingredients, as listed, into blender on high speed for 1 minute. Keep covered and refrigerated to use within 30 days. Freezes well, up to 6 months. Makes about 1 quart.
Mondays & Memories of My Mom – Mom's Story – How Secret Recipes Began, Part 1