Happy Easter Monday, everyone, and happy Earth Day too! Welcome to Mondays & Memories of My Mom.
I'm Laura Emerich and these blogs are dedicated to my mom, Gloria Pitzer, the ORIGINAL Recipe DetectiveTM, and her tremendous legacy – from her famous writing career, spanning over 5 DECADES, to her more personal loves of life, family and faith. As the Recipe DetectiveTM, Mom often referred to herself as the "Rich Little" of the food industry because she could imitate their famous dishes and food products, in her own kitchen, similarly to how Rich Little could imitate the voices of famous people.
My mom frequently exuded a satirical wit in her writings and cartoon illustrations also. Below is a photo copy of Mom's cover page for her cartoon panel-series titled, Full House as Kept by Gloria Pitzer. They were printed in The Richmond Review (Richmond, MI) for a few years, starting around early 1969; and, since they're humor was timeless, Mom reused them in some of the newsletters and cookbooks that she, later, went on to write.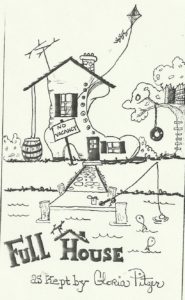 Throughout her newsletters and cookbooks, Mom never claimed to know exactly what the famous food industry companies actually used in their own "secret" recipes; however, she did claim to know that she could come up with some pretty good imitations based on some basic cooking principles and what she could see, taste and smell. Some of Mom's recipes that were imitations of certain brands, she realized, could be repurposed, reused and recycled into imitations of other companies' products.
As I mentioned in another blog recently, Hostess Twinkies have the very same cake ingredients prepared in the "Flaming Cherries Supreme" from the Waldorf Astoria kitchens. All Mom did to imitate the Hostess product was to shape the cake different and add a little more body to the cream; which was put INSIDE the cake, as a filling, rather than on top like Waldorf's!
Mom started a movement, imitating fast food and junk food at home (as well as other food industry dishes and products), for which she is rarely given credit. However, in the early 1970s, it was my mom who pioneered and trail-blazed the homemade, copycat crusade! Media quickly pounced on the news, as word got around quickly (without the aid of social media and internet, by the way), of a small town "housewife" who was imitating these famous food products at home and sharing her recipes across the radio air waves and through her self-published newsletters and cookbooks!

Mom had set out and succeeded in imitating hundreds of name brand products such as Famous Amos, Sara Lee and Hostess treats; as well as fast food and restaurant chains' burgers and other specialty, signature dishes. While most of her interviews were over the radio air waves all around North America, Mom did do some TV appearances as well. She was on the Phil Donahue twice! The episodes were replayed around the world, bringing her vast amounts more recognition.
Today, because it's Earth Day, the subject my blog is focused on the motto to "repurpose, reuse and recycle" (regardless of whichever order you put them in). Additionally, three other "r" terms are often used in conjunction with these three: (1) to "reduce", as in your carbon footprint; (2) to "repair", as in try to fix, mend or restore something before readily throwing it out; and (3) to "refuse", as in objecting to buying into wasteful marketing stuff in the first place. Such wasteful marketing products include wraps and packaging fillers like Styrofoam, plastic and foil that end up in our land, oceans and waterways and are, literally, choking our environment!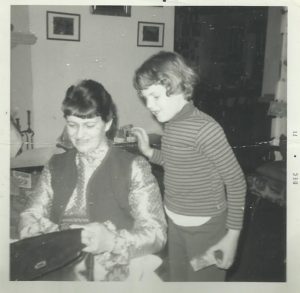 Mom was always very crafty at repurposing, reusing and recycling items to keep them out of the garbage and, thereby, not having to unnecessarily pay for things that could be easily made out of something else. The terms repurposing, reusing and recycling refer to SO MANY things! For example… as in the picture above, Mom often turned her old purses, with their many pockets and compartments, into cases for organizing things like art supplies or activity books or Barbie's clothes and accessories – the ideas are endless.
Mom often made clothes and linen for my sisters' and my BarbieTM dolls out of scraps of material from our own worn-out clothes and old linens (which were also used for quilting and other sewing projects). She also made furniture for our dolls, using cardboard food boxes covered in paper or material scraps. As a child, my favorite Christmas gift from my mom was a beautiful rag doll she made from old clothes scraps, with yarn for her hair and facial details, plus buttons for her nose and eyes.
As for food waste… Do you have leftovers from your Easter celebration yesterday? Soups, casseroles and pot pies are wonderful ways to repurpose, reuse and recycle those leftovers that are sitting in the refrigerator. However, when leftovers get past the point of safe consumption, but are not yet to the point of "penicillin science project", then composting is another form of repurposing, reusing and recycling those leftovers for your garden – except for meat and dairy products, which aren't so good for plants, but can make great chicken feed!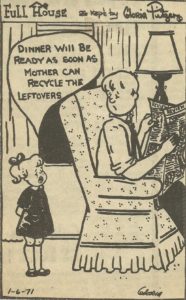 The U.S. is the second highest food-wasting country in the world, second to Australia; but leaps and bounds beyond Turkey, which is in third place, according to Statista.com.  The U.S. FAO website says that this worldwide waste of food causes an excessive spending of resources, such as water, land, energy, labor and capital; needlessly producing greenhouse gas emissions, while contributing to global warming and climate change.
Yesterday morning, I saw a clip on my local news about what to compost and a demonstration using a countertop composter! What a great idea, if you can afford one! I saw one, like the one shown in the news clip, online for more than a few hundred dollars. I love it and I want one, but I can't afford the luxury…so, like my mom did years ago for her garden and potted tomatoes, I just keep saving my coffee grounds and eggshells (and the occasional banana peels) in an old coffee container on my kitchen counter. When it's full, I take it out back to my large compost pile for the vegetable garden; but, you can also put it directly around the base of your plants – my roses love it! Then, when the rose heads are ready to cut, I hang them upside down by their stems until they're fully dried to repurpose, reuse and recycle them into potpourri!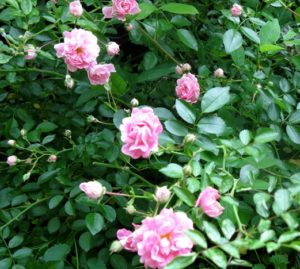 Did you know that the Environmental Protection Agency (EPA) was formed almost 50 years ago as a direct result of the first Earth Day celebration on April 22, 1970? It actually started as more of a teaching/learning event than a celebration; nonetheless, its popularity caught on quickly and is now celebrated (on different dates) worldwide.
Simple suggestions for participating in Earth Day activities include donating gently used items to non-profit resale shops (many churches have them now) or having your own yard/garage sale with them – yard/garage sale season has just started around here. Another way to participate is by cleaning up litter around your yard, as well as in your community. Additionally, hiking or walking through a park or enjoying nature through ORGANIC gardening or planting trees are other ways to partake in the occasion today (or any day for that matter). Speaking of planting trees, this Friday (April 26th) will be Arbor Day! Furthermore, the whole month of April also happens to be National Gardening Month!
#RepurposeReuseRecycle
Repurposing, reusing and recycling is not just a great way to conserve energy and natural resources, but also an effective means to saving money. A reduce and reuse lifestyle can also preserve natural resources and reduce waste, but there are additional benefits to such a lifestyle as well. So many plastic wraps and containers that people typically throw away – such as deli and dairy containers, plastic grocery bags, old toothbrushes, etc. – can be repurposed, reused and recycled in hundreds of ways; which, in turn, can eliminate tons of garbage from our landfills and, consequently, reduce how much of our plastic refuse (which doesn't decompose) finds its way into our land, oceans and waterways.
The older I get, the more I want to get rid of junk; but, I still feel an immense impulse to save things that I might use in some other way – someday. I guess it's the "green" in me, with which I grew up, that's shining through – before I can throw anything away, first, I ask myself: can it be repurposed, reused or recycled in any way? Today's Earth Day is a great time to focus on how much you and your family throw away; therefore, I challenge you to save something from being trashed and, find a new purpose for which to reuse it… Then post and tag it on social media with #RepurposeReuseRecycle!
I hope you've enjoyed my Earth Day blog and will return again next week when I discuss more about gardening, as it will be the end of National Gardening Month! In closing, as I do each week, I'd like to leave you with one of the recipes that Mom developed and gave out for free on her product information and ordering sheets in exchange for a SASE.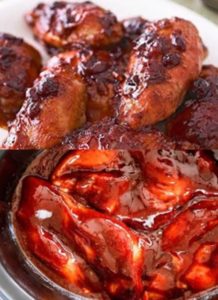 Mom used the following barbeque crockpot chicken recipe (which serves 6) pictured below, an imitation of a Kenny Rogers' dish, whenever she wanted to make an easy sweet barbeque chicken that she didn't have to fuss over. She first printed it in her cookbook, That's the Flavor (Secret RecipesTM, St. Clair, MI; May 1998, p. 25), asking only for proper credit if you care to share it.

Correction:
Mondays & Memories of My Mom – "Famous Foods from Famous Places"
[posted: 02/18/19]
My banana bread recipe, like Mackinac Island's Grand Hotel served, was originally printed in Mom's cookbook, Eating out at Home (National Home News, St. Clair, MI; Sept 1978, p. 34); before it appeared in her cookbook, The Better Cookery Cookbook (Secret RecipesTM, St. Clair, MI; May 1982). Therefore, it must have been developed on our vacation there the previous summer, and not the same one as when Somewhere in Time was filmed.