Hello and Merry Christmas to all!
I hope everyone will take, at least, a small amount of time today and these next "12 days of Christmas" to remember all of our service people who can't be with their own families during these holidays, as they give of themselves to protect us and heal us.
This is such a wonderful and magical time of year! While there are still those with a "Bah-humbug" attitude, I come across a lot more people, lately, who are spreading more good cheer than bad cheer. Mom used to tell me, "the most valuable gift you can give is to be a good example!" This time of year seems to bring out the best "good examples" in most of us. It's contageous and seems to flow right into the new year. More people are volunteering their time for "good deeds" and helping out those in need by donating money, coats, toys and more. Generous "Santas" are paying off strangers' "lay-aways" at different stores across the country. I just wish the giving of ourselves lasted all year long!
Some will blame their "Bah-humbug" attitude on the commercialism of the holiday, with marketing "experts" advising stores to start putting out their Christmas stock (right along with Halloween) in September! Then, as soon as Halloween is over, people start hearing Christmas music on the radio stations and stores' PA Systems around the first week in November. Not to mention the seemingly month-long "Black Friday" event. By the time the actual "12 days of Christmas" start (on Christmas Day), we're burnt-out on the "must-haves" that commercialism has pressed onto the public; while the true meaning of the season gets lost in the chaos!
This is, as Mom once wrote, "the easiest cop-out for those who put a price tag on the pleasures of the holiday & insist that the success of the celebration depends on the amount of money spent on the preparations and gifts. If I give our children only one gift, it will be that I gave some practical sense of what is truly important at this time of year – not the gift, but the gathering of family and friends… Not the food, but the feeling of just being home… Never letting what we want be more important than what we need… Not complaining about trivial [stuff]… And always appreciating what we've already received before we can expect to receive more."
Mom also wrote [The Christmas Feeling] "is basically a simple hope for peace and good will, no matter what other trappings we've attached to the occasion through the years since that single star lit up the sky over Bethlehem. No matter what other customs and traditions mankind has attached to Christmas or the celebration of it, the humble wish for "peace on Earth, good will towards men" remains strong among those who thrive on hope and cherish what is good, refusing to be deprived of such expectations!" [As seen in Gloria Pitzer's Secret Recipes Newsletter, Issue 147, Nov-Dec 1990; pages 1 & 8]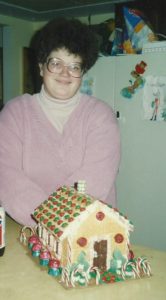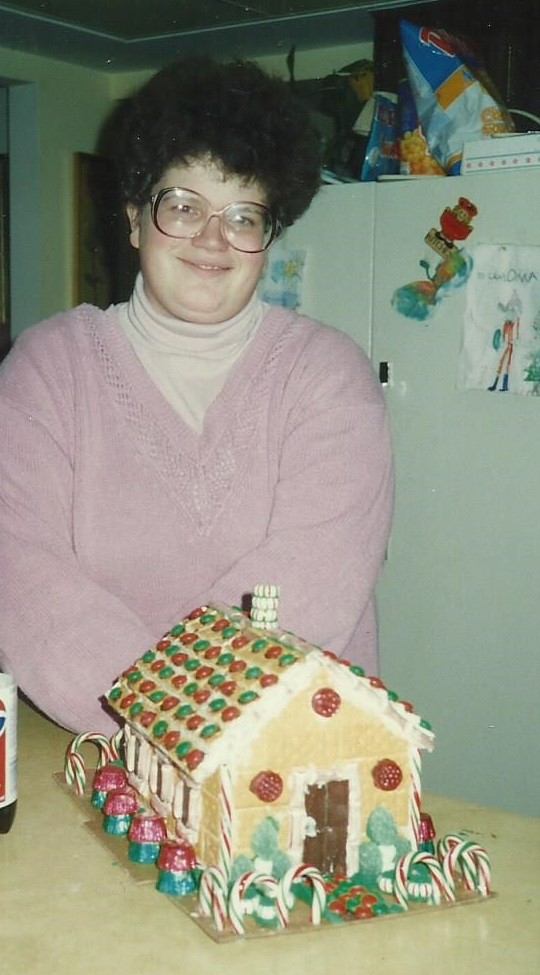 Photo by Gloria Pitzer (me and my Xmas Candy House)
Personally, I have tried to pass on Mom's attitude to my own children, as she did to me… the importance of the personal gatherings over the tangible gifts and, especially, the giving of the best of ourselves – without expectations of reciprocations of gratitude – because that's what true "Santas" do. My kids never learned "there's no such thing as Santa Claus", because I taught them something different, from the times they were each little – similar to The New York Sun's answer to Virginia – how the spirit of "Santa" lives on in each of us through selfless acts of giving from our hearts. It is with this kind of selflessness that we actually receive our own true gift – one that can't be bought or even price-valued – the gift of LOVE! And, with that, there will ALWAYS be a Santa Claus!
On that note, I leave you with this image of the classic Christmas Eve poem, 'Twas the Night Before Christmas, by Clement Clarke Moore [first published on Dec. 23, 1823 in the Troy Sentinel newspaper in upstate New York], as seen at http://www.nightbeforechristmas.biz/poem.htm.

Also, as with my pervious blogs, I'd like to end by sharing with you one of Mom's make-alike recipes that appeared on her "Free Recipes & Ordering Information" sheets (1993), asking only for proper credit if you care to share it. This is a photo copy of Mom's make-alike version of Kentucky-Style Coleslaw, updated from Mom's 1988 version in her self-published book, The Copycat Cookbook:


Note: this particular slaw recipe was not included in Mom's last cookbook, "Gloria Pitzer's Cookbook – The Best of the Recipe Detective", published by Balboa Press (January 2018, 1st Printing) – a re-write by me, Laura Emerich, of her famous, self-published book, "Gloria Pitzer's Better Cookery Cookbook" (May 1983, 3rd Printing). However, other wonderful slaw recipes and a special "Coleslaw Secret" can be found in this book on pages 38-39.
Merry Christmas to all and, to all, a good night!