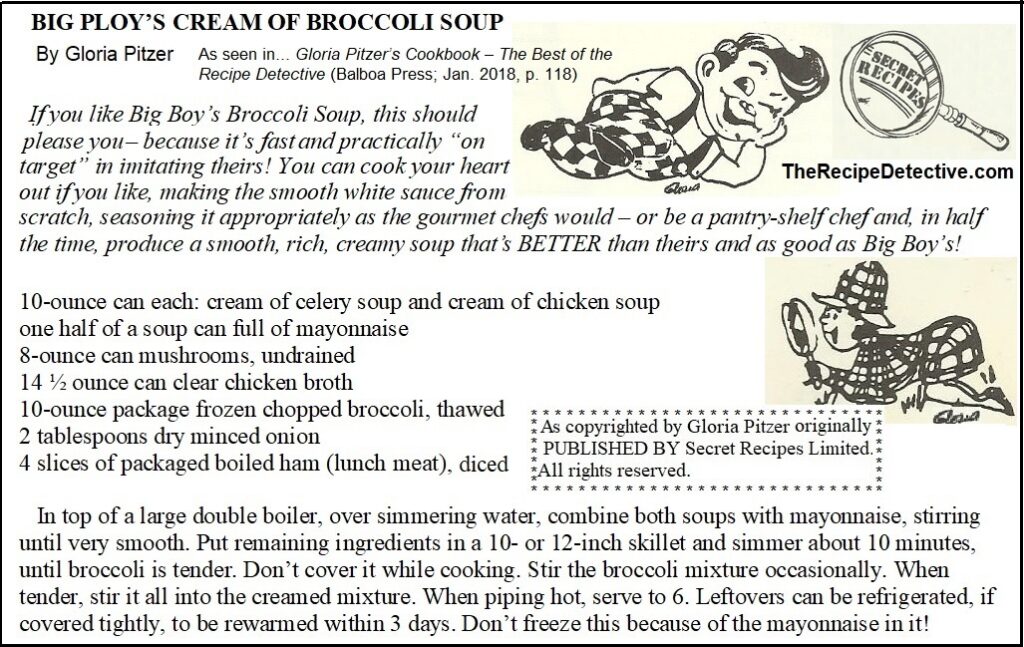 BIG BOY-STYLE CREAM OF BROCCOLI SOUP
By Gloria Pitzer, as seen in… Gloria Pitzer's Cookbook – The Best of the Recipe Detective (Balboa Press; Jan. 2018, p. 118). [A revised reprint of Gloria Pitzer's Better Cookery Cookbook (Secret RecipesTM, St. Clair, MI; May 1983, 3rd Edition).]
If you like Big Boy's Broccoli Soup, this should please you – because it's fast and practically "on target" in imitating theirs! You can cook your heart out if you like, making the smooth white sauce from scratch, seasoning it appropriately as the gourmet chefs would – or be a pantry-shelf chef and, in half the time, produce a smooth, rich, creamy soup that's BETTER than theirs and as good as Big Boy's!
INGREDIENTS:
10-ounce can each: cream of celery soup and cream of chicken soup
one half of a soup can full of mayonnaise
8-oz can mushrooms, undrained
14 ½ ounce can clear chicken broth
10-ounce package frozen chopped broccoli, thawed
2 tablespoons dry minced onion
4 slices of boiled ham (lunch meat), cut up
INSTRUCTIONS:
In top of a large double boiler, over simmering water, combine both soups with mayonnaise, stirring until very smooth.
Put remaining ingredients in a 10- or 12-inch skillet and simmer about 10 minutes, until broccoli is tender. Don't cover it while cooking. Stir the broccoli mixture occasionally. When tender, stir it all into the creamed mixture, continuing to stir until piping hot.
Serve to 6. Leftovers can be refrigerated, if covered tightly, to be rewarmed within 3 days. Don't freeze this because of the mayonnaise in it!
NOTE: If the soup is too thick, dilute it with Half-and-Half coffee cream – or another liquid, non-dairy creamer product – a few tablespoons at a time, to please you. The soup thins out quite a bit the longer it sits over the hot water. You can keep it warm over the hot water for up to an hour before serving it – but cover it to keep the surface of the soup from drying out.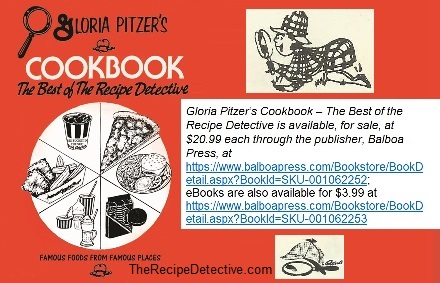 See also…