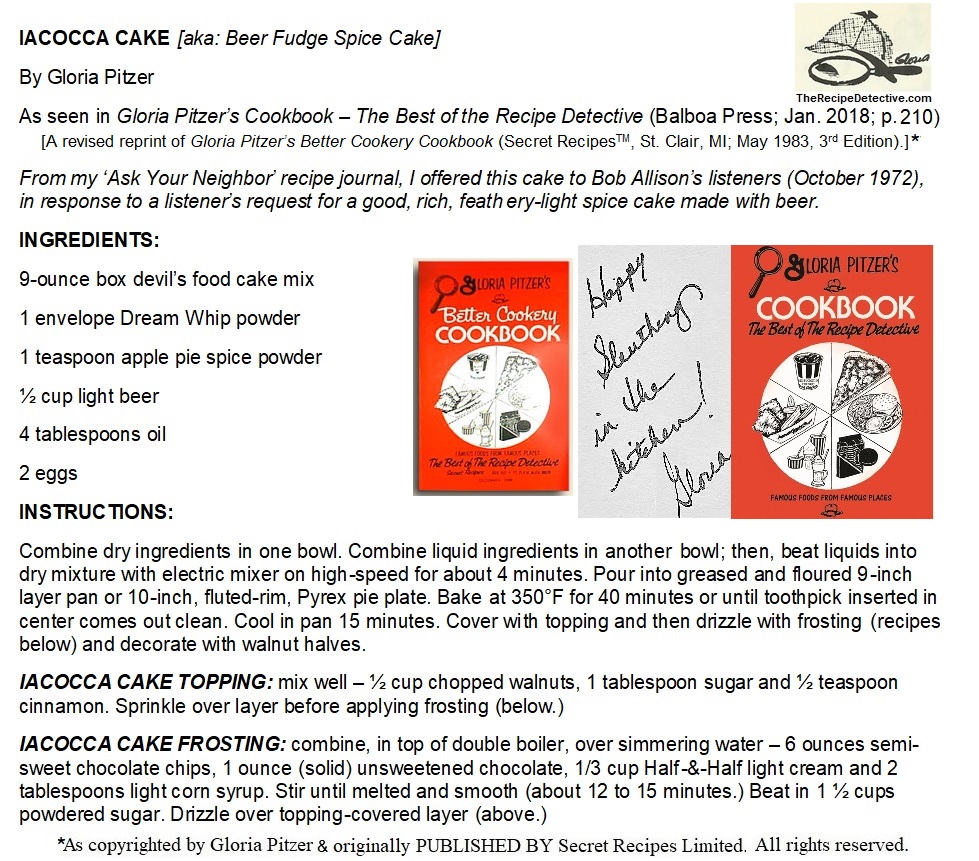 IACOCCA CAKE [aka: Beer Fudge Spice Cake]
By Gloria Pitzer, as seen in… Gloria Pitzer's Cookbook – The Best of the Recipe Detective (Balboa Press; Jan. 2018, p. 210). [A revised reprint of Gloria Pitzer's Better Cookery Cookbook (Secret RecipesTM, St. Clair, MI; May 1983, 3rd Edition).]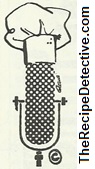 From my 'Ask Your Neighbor' recipe journal, I offered this cake to Bob Allison's listeners (October 1972), in response to a listener's request for a good, rich, feathery-light spice cake made with beer.
INGREDIENTS:
9-ounce box devil's food cake mix
1 envelope Dream Whip powder
1 teaspoon apple pie spice powder
½ cup light beer
4 tablespoons oil
2 eggs
INSTRUCTIONS:
Combine dry ingredients in one bowl. Combine liquid ingredients in another bowl; then, beat liquids into dry mixture with electric mixer on high-speed for about 4 minutes. Pour into greased and floured 9-inch layer pan or 10-inch, fluted-rim, Pyrex pie plate. Bake at 350°F for 40 minutes or until toothpick inserted in center comes out clean. Cool in pan 15 minutes. Cover with topping and then drizzle with frosting (recipes below) and decorate with walnut halves.
IACOCCA CAKE TOPPING: mix well – ½ cup chopped walnuts, 1 tablespoon sugar and ½ teaspoon cinnamon. Sprinkle over layer before applying frosting (below.)
IACOCCA CAKE FROSTING: combine, in top of double boiler, over simmering water – 6 ounces semi-sweet chocolate chips, 1 ounce (solid) unsweetened chocolate, 1/3 cup Half-&-Half light cream and 2 tablespoons light corn syrup. Stir until melted and smooth (about 12 to 15 minutes.) Beat in 1 ½ cups powdered sugar. Drizzle over topping-covered layer (above.)