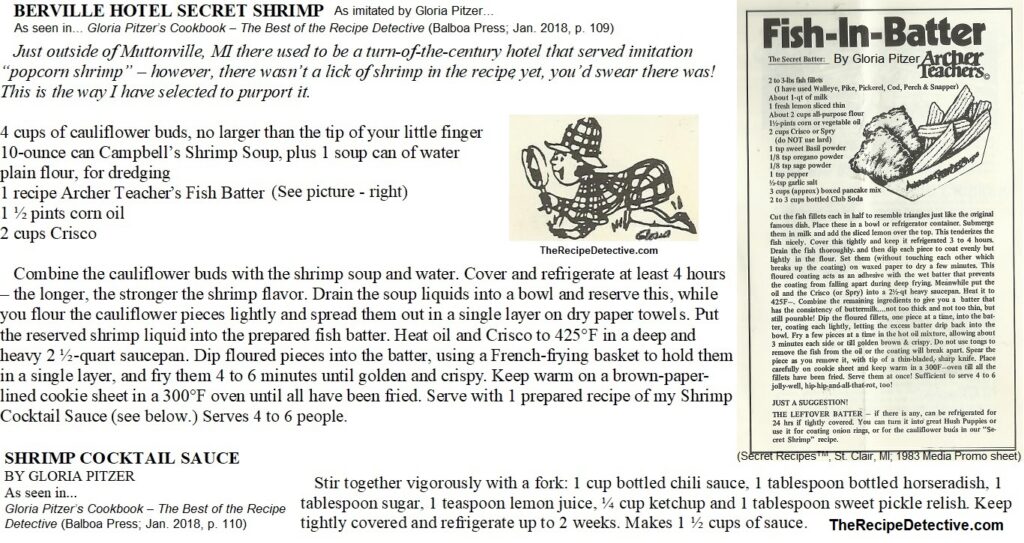 BERVILLE HOTEL SECRET SHRIMP & SHRIMP COCKTAIL SAUCE
By Gloria Pitzer, as seen in… Gloria Pitzer's Cookbook – The Best of the Recipe Detective (Balboa Press; Jan. 2018, pp. 109-110). [A revised reprint of Gloria Pitzer's Better Cookery Cookbook (Secret RecipesTM, St. Clair, MI; May 1983, 3rd Edition).]
Just outside of Muttonville, MI there used to be a turn-of-the-century hotel that served imitation "popcorn shrimp" – however, there wasn't a lick of shrimp in the recipe; yet you'd swear there was! This is the way I have selected to purport it.
INGREDIENTS:
4 cups of cauliflower buds, no larger than the tip of your little finger
10-ounce can Campbell's Shrimp Soup, plus 1 soup can of water
plain flour, for dredging
1 recipe of my Archer Teacher's Fish Batter [see "Recipes" tab]
1 ½ pints corn oil
2 cups Crisco
INSTRUCTIONS:
Combine the cauliflower buds with the shrimp soup and water. Cover and refrigerate at least 4 hours – the longer, the stronger the shrimp flavor.
Drain the soup liquids into a bowl and reserve this, while you flour the cauliflower pieces lightly and spread them out in a single layer on dry paper towels. Put the reserved shrimp liquid into the prepared fish batter.
Heat oil and Crisco to 425°F in a deep and heavy 2 ½-quart saucepan. Dip floured pieces into the batter, using a French-frying basket to hold them in a single layer, and fry them 4 to 6 minutes until golden and crispy.
Keep warm on a brown-paper-lined cookie sheet in a 300°F oven until all have been fried. Serve with 1 prepared recipe of my Shrimp Cocktail Sauce (see below.) Serves 4 to 6 people.
[*NOTE: More information about Arthur Treacher and a slightly different version of this recipe than pictured above, using individual spices instead of the packaged ranch dressing mix, along with some other famous fish & chips-style dishes and stories, can be found on pages 105-115 of Mom's last book, Gloria Pitzer's Cookbook – The Best of the Recipe Detective (Balboa Press; January 2018, 1st Printing)].

SHRIMP COCKTAIL SAUCE
Stir together vigorously with a fork: 1 cup bottled chili sauce, 1 tablespoon bottled horseradish, 1 tablespoon sugar, 1 teaspoon lemon juice, ¼ cup ketchup and 1 tablespoon sweet pickle relish.
Keep tightly covered and refrigerate up to 2 weeks. Makes 1 ½ cups of sauce.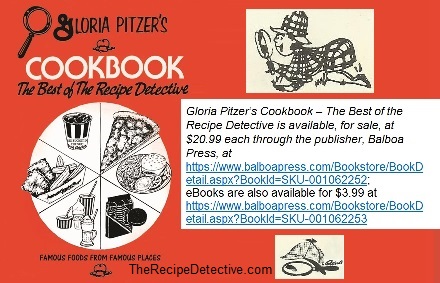 See also…
Mondays & Memories of My Mom – Yule-Solstice & Humbug-Festivus Days