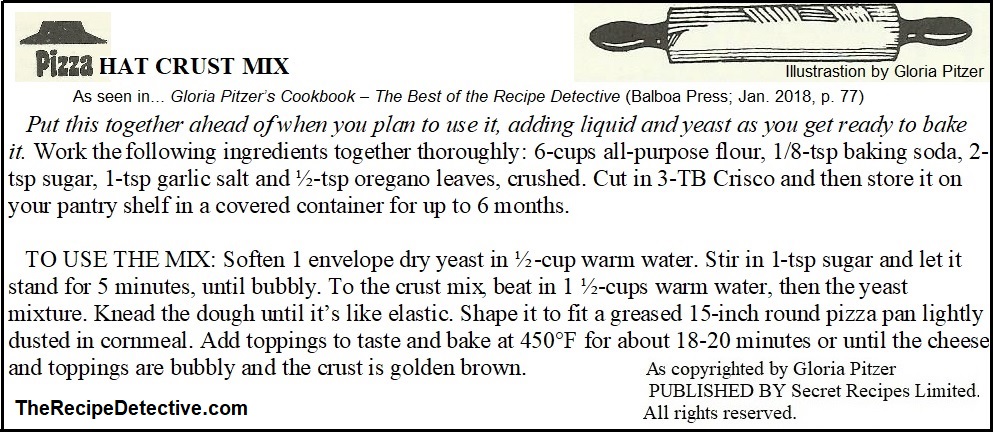 PIZZA HAT CRUST MIX
By Gloria Pitzer
As seen in… Gloria Pitzer's Cookbook – The Best of the Recipe Detective (Balboa Press; Jan. 2018, p. 77). [A revised reprint of Gloria Pitzer's Better Cookery Cookbook (Secret RecipesTM, St. Clair, MI; May 1983, 3rd Edition).]
 Put this together ahead of when you plan to use it, adding liquid and yeast as you get ready to bake it.
TO MAKE THE MIX:
Work the following ingredients together thoroughly: 6-cups all-purpose flour, 1/8-tsp baking soda, 2-tsp sugar, 1-tsp garlic salt and ½-tsp oregano leaves, crushed.
Cut in 3-TB Crisco and then store it on your pantry shelf in a covered container for up to 6 months.
TO USE THE MIX:
Soften 1 envelope dry yeast in ½-cup warm water. Stir in 1-tsp sugar and let it stand for 5 minutes, until bubbly.
To the crust mix (above), beat in 1 ½-cups warm water, then the yeast mixture. Knead the dough until it's like elastic. Shape it to fit a greased 15-inch round pizza pan lightly dusted in cornmeal.
Add toppings to taste and bake at 450°F for about 18-20 minutes or until the cheese and toppings are bubbly and the crust is golden brown.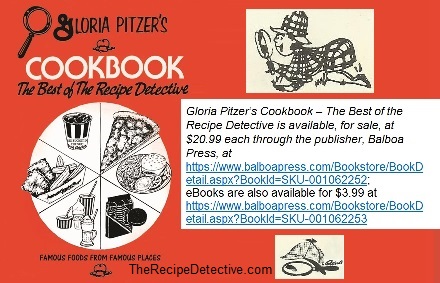 See also…
Mondays & Memories of My Mom – Where Did All The Good Noshes Go? – Part III