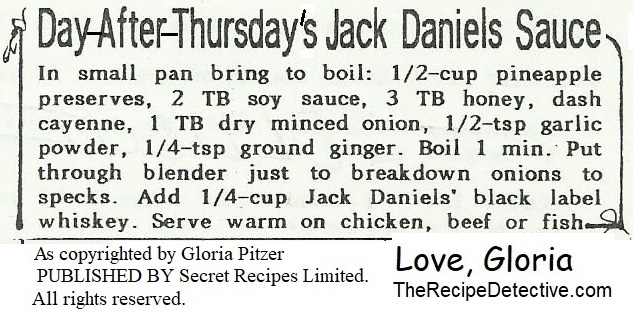 DAY-AFTER-THURSDAY'S JACK DANIEL'S SAUCE
By Gloria Pitzer, as seen in her "Free Recipes/Information" sheet (circa 2000)
INGREDIENTS:
½ C. pineapple preserves
2 TB soy sauce
3 TB honey
Dash powdered cayenne pepper
1 TB dry minced onion
½ tsp. garlic powder
¼ tsp. ground ginger
¼ C. Jack Daniel's Black Label whiskey
INSTRUCTIONS:
Combine ingredients [as listed, except for whiskey] in a small pan and bring to a boil for one minute. Put through blender, just to break down onions into specks. Add whiskey and serve warm over your choice of meat.