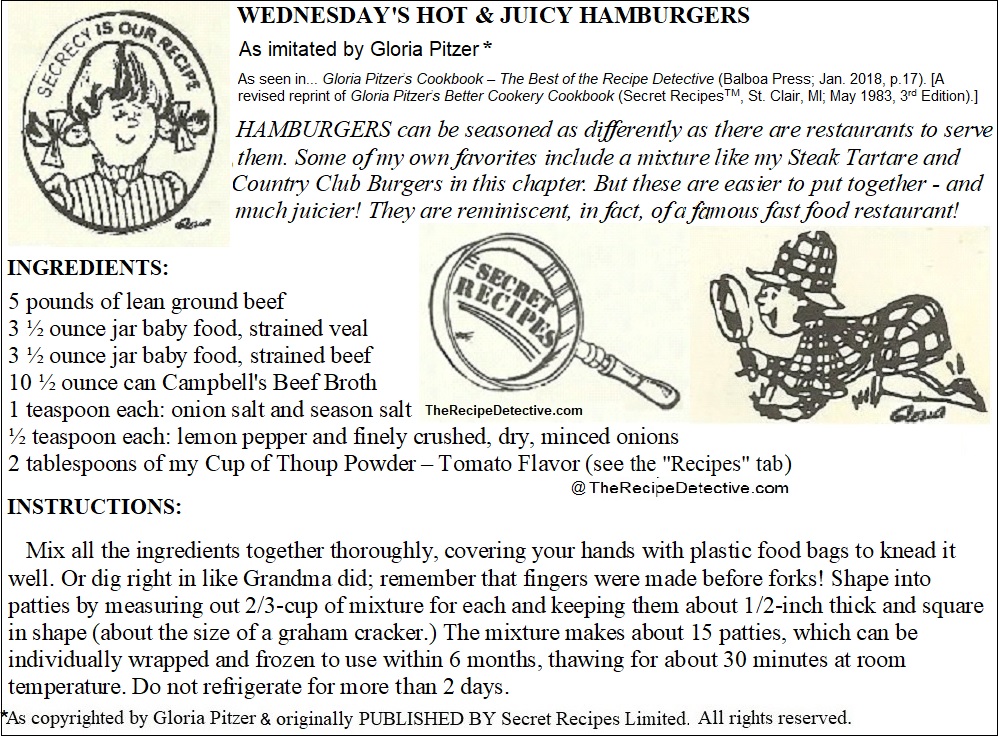 WEDNESDAY'S HOT & JUICY HAMBURGERS
By Gloria Pitzer, as seen in… Gloria Pitzer's Cookbook – Best Of The Recipe Detective (Balboa Press; Jan. 2018, p. 17) [A revised reprint of Gloria Pitzer's Better Cookery Cookbook (Secret RecipesTM, St. Clair, MI; May 1983, 3rd Edition).]
HAMBURGERS CAN BE seasoned as differently as there are restaurants to serve them. Some of my own favorites include a mixture like my Steak Tartare and Country Club Burgers in this chapter. But these are easier to put together – and much juicier! They are reminiscent, in fact, of a famous fast food restaurant!
INGREDIENTS:
5 pounds of lean ground beef
3 ½ ounce jar baby food, strained veal
3 ½ ounce jar baby food, strained beef
10 ½ ounce can Campbell's Beef Broth
1 teaspoon each: onion salt and season salt
½ teaspoon each: lemon pepper and finely crushed, dry, minced onions
2 tablespoons of my Cup of Thoup Powder – Tomato Flavor (see the "Recipes" tab at TheRecipeDetective.com)
INSTRUCTIONS:
Mix all the ingredients together thoroughly, covering your hands with plastic food bags to knead it well. Or dig right in like Grandma did; remember that fingers were made before forks! Shape into patties by measuring out 2/3-cup of mixture for each and keeping them about 1/2-inch thick and square in shape (about the size of a graham cracker.) The mixture makes about 15 patties, which can be individually wrapped and frozen to use within 6 months, thawing for about 30 minutes at room temperature. Do not refrigerate for more than 2 days.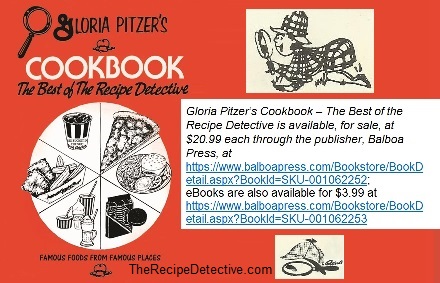 See also…