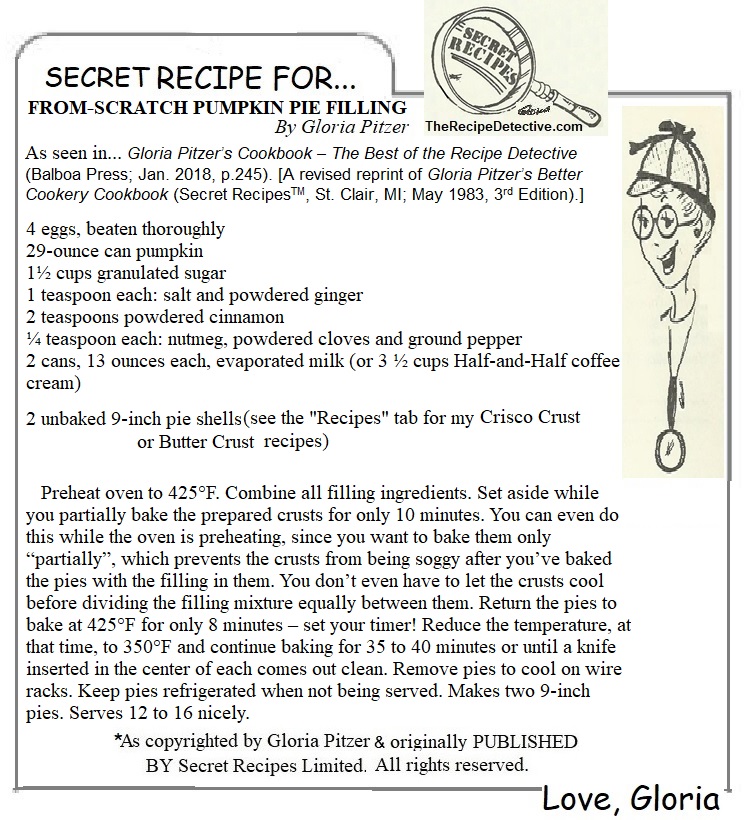 FROM-SCRATCH PUMPKIN PIE FILLING
By Gloria Pitzer, as seen in… Gloria Pitzer's Cookbook – Best Of The Recipe Detective (Balboa Press; Jan. 2018, p. 245) [A revised reprint of Gloria Pitzer's Better Cookery Cookbook (Secret RecipesTM, St. Clair, MI; May 1983, 3rd Edition).]
INGREDIENTS:
4 eggs, beaten thoroughly
29-ounce can pumpkin
1½ cups granulated sugar
1 teaspoon each: salt and powdered ginger
2 teaspoons powdered cinnamon
¼ teaspoon each: nutmeg, powdered cloves and ground pepper
2 cans, 13 ounces each, evaporated milk (or 3 ½ cups Half-and-Half coffee cream)
2 unbaked 9-inch pie shells (see Index for my Crisco Crust or Butter Crust recipes)
INSTRUCTIONS:
Preheat oven to 425°F. Combine all filling ingredients. Set aside while you partially bake the prepared crusts for only 10 minutes. You can even do this while the oven is preheating, since you want to bake them only "partially", which prevents the crusts from being soggy after you've baked the pies with the filling in them.
You don't even have to let the crusts cool before dividing the filling mixture equally between them. Return the pies to bake at 425°F for only 8 minutes – set your timer! Reduce the temperature, at that time, to 350°F and continue baking for 35 to 40 minutes or until a knife inserted in the center of each comes out clean.
Remove pies to cool on wire racks. Keep pies refrigerated when not being served. Makes two 9-inch pies. Serves 12 to 16 nicely.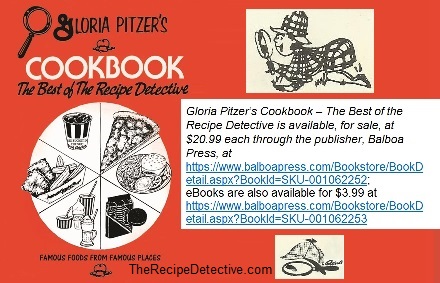 See also…