Thank God Its Monday and, as such, #HappyMonday to everyone! I personally look forward to all Mondays because they're my 52 Chances a year, in which I get to share Memories of My Mom with you!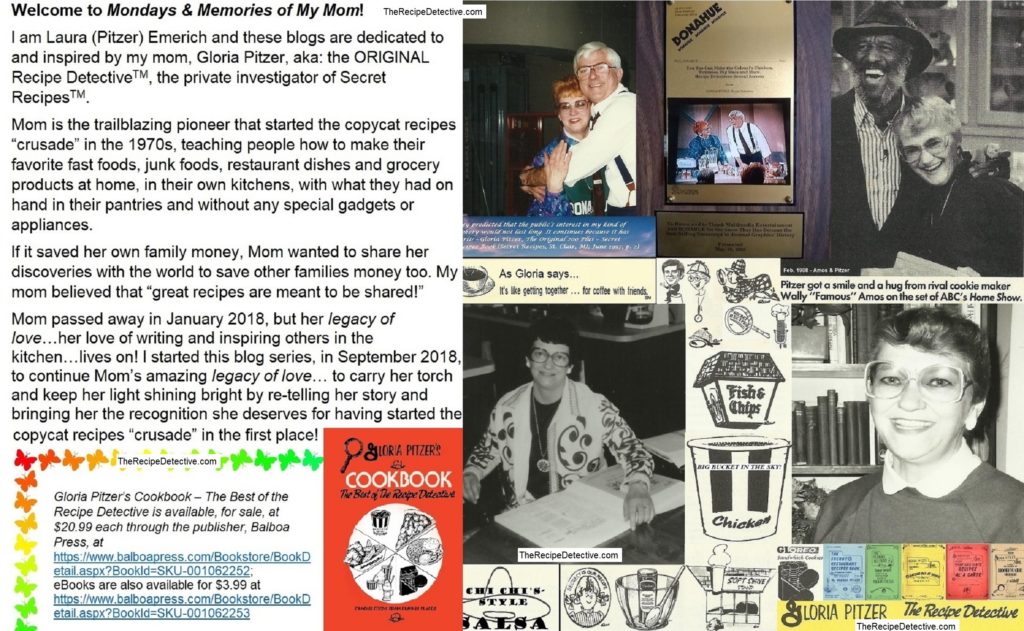 As the fourth Monday in September (for 2023), today is… National Family Day! Additionally, Sunday kicks off the month of October, which celebrates a lot of month-long observances, in relation to my mom, being the ORIGINAL Secret Recipes Detective.
Among them are… National Book Month, National Cookbook Month, National Women's Small Business Month, National Work and Family Month, and Self-Promotion Month!
In the early 1970s, when Mom left her job, as a columnist, at a local newspaper; she went home to start her own business, incorporating our whole family into her dining room table operation. Mom carved out a unique niche in the food. She called her concept "copycat cookery".
Mom's development created a way for "eating out at home" and "taking the junk out of junk food". She discovered how to imitate America's favorite dishes from famous fast food eateries & fine-dining restaurants at home, with what she had in her own pantry.
'Learn how to cook. Try new recipes, learn from your mistakes, be fearless and, above all, have fun.' – Julia Child (1912-2004)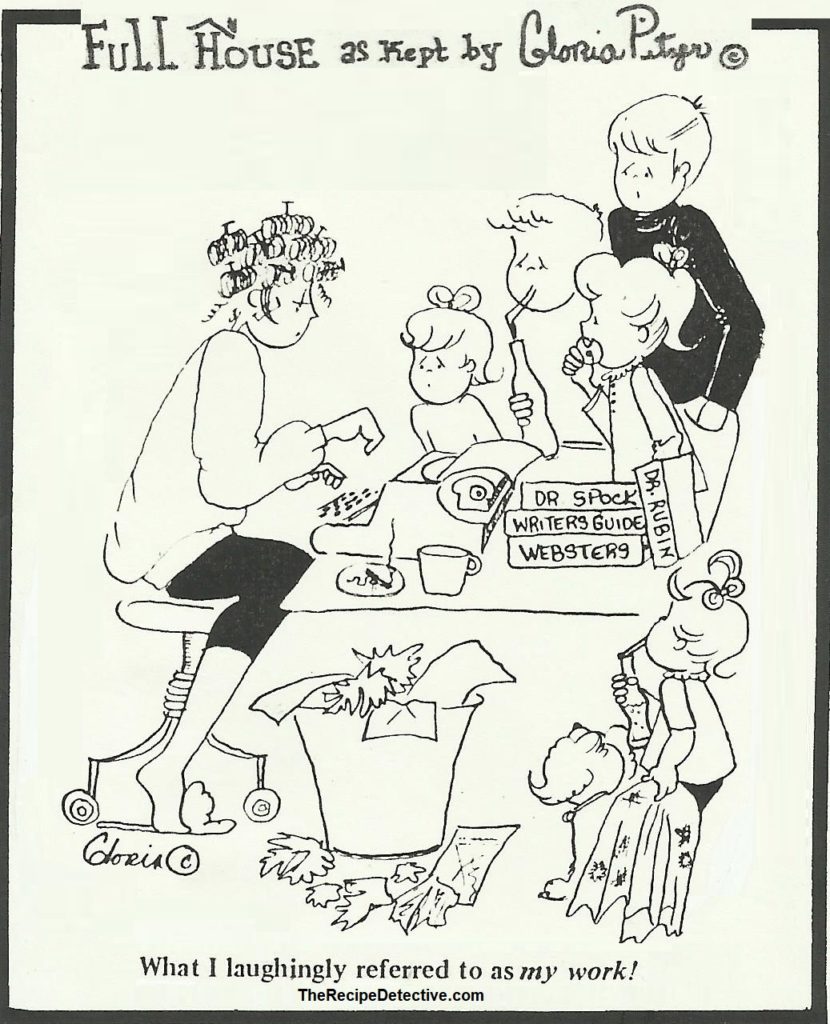 Mom also created imitations for many frozen, dairy, and shelf-stable supermarket items, as well as things like homemade soap, finger paints, pet foods, and so on. Everything she made, to save on our family's budget, she shared in her many publications, to help others save, too.
If it saved her household money, she had to share it with others, to help them save money, too. Mom always believed that great recipes were meant to be shared and, if the food companies weren't going to share their great recipes, she'd find ways to duplicate them at home, herself, and share her own secrets.
Mom was an innovator in the early 1970s – not only developing her own copycat recipes but also marketing her talents, herself, through the media – which then consisted only of newspapers, magazines, television and radio talk shows, as there wasn't any home internet, back then.
In the early years of her small, family business, Mom sold her recipes on individual 4"x6" index cards, which she printed on her hand-cranked mimeograph that she kept in our laundry room. She began with a small catalog that quickly grew into over 200 recipes.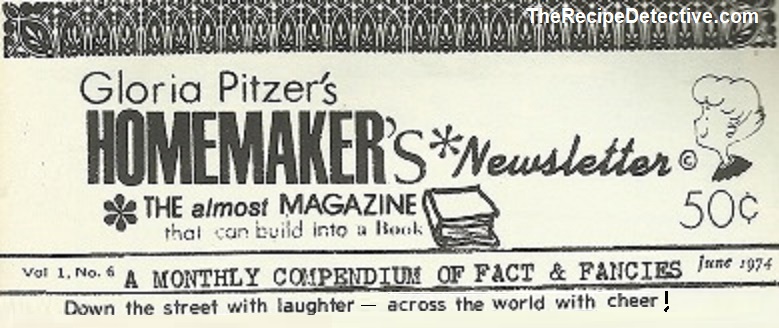 Mom decided to discontinue some lower-selling cards, as she continually developed new imitations, to keep the catalog at a manageable level. Then she resolved to put together her own cookbook and start a monthly newsletter for her growing collection, self-publishing them and blazing a trail of uniqueness through all the "Betty Crockers" and "Julia Childs".
Radio was Mom's media of choice, for promoting what she was doing. It didn't take long for her recipe collection to grow exponentially, through requests from her fast growing fan-base. She began self-publishing more cookbooks – at least one a year for over 30 years.
Television talk shows also played a significant role, in launching world-wide recognition of Mom's talents as the Secret Recipe DetectiveTM; the nickname that was given to her by her local radio audience fans in the early 1970s. Mom loved it – it was catchy and new and very marketable.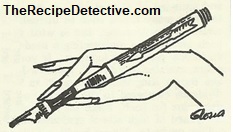 FROM MOM'S MEMORIES…
Excerpts by Gloria Pitzer, as seen in…
My Cup Runneth Over and I Can't Find My Mop (Secret RecipesTM, St. Clair, MI; Dec. 1989)
EXPERIENCES & RADIO
I AM BLESSED many times over but, when I count my blessings, I count my radio friends twice. [Even] as I share our story, with you, in these pages; you will not be able to fully appreciate the generous support that we received from radio personalities and their listeners.
While the critics snickered that my fast food imitations would run its unhealthy course in a short while [and] that my ability to turn out copy would, soon, be exhausted; I continued to look to a Divine Source for [my] daily supply of, both, energy and ideas.
I have never yet been disappointed or without something good to share with our family of readers and our radio listeners. My cup does, indeed, run over! (p. 21)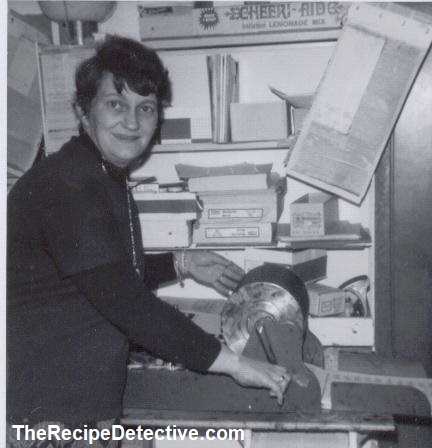 MARKETING INSPIRATION
TO MAKE THE MIMEOGRAPH pay for itself, I even printed up my own business cards on it, using dime-store construction paper and then cutting the cards apart with scissors until I had neat little stacks of about 50 [each] and a total of 200 or 300 cards.
These I distributed at the mall whenever and wherever we might be in one. Paul didn't know I was doing this, at first, either, or he would've disapproved. It was unprofessional and risky, but I thought anything was worth a try and what I could do 'quietly' until I could prove it was either a mistake or benefit, would have to be my little secret.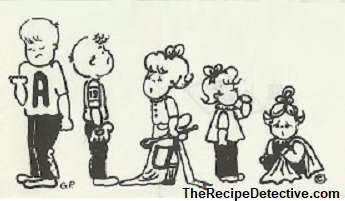 Well, actually, the kids were a part of that secret too. I had heard an interview on TV or radio with 'the world's most successful salesman', who was a Chevrolet salesman in Detroit and who believed heartily in business cards, placing them everywhere and anywhere that it was allowed.
From his story, I found it was easy to drop my card into the pocket of a bathrobe in the ladies' wear [areas] in the department stores and in the purses and tote bags, on public phone booth stands, [in] restaurant restrooms, even in cookbooks in the bookstores.
From these, you'd be surprised, we DID hear from people who wanted to know about my recipes, which was the first experience I had with public response. What I had at that time was a little book entitled 'The Better Cookers Cookbook' [1973], as opposed to our current popular book, 'Better Cookery' [1982]*. (p. 43)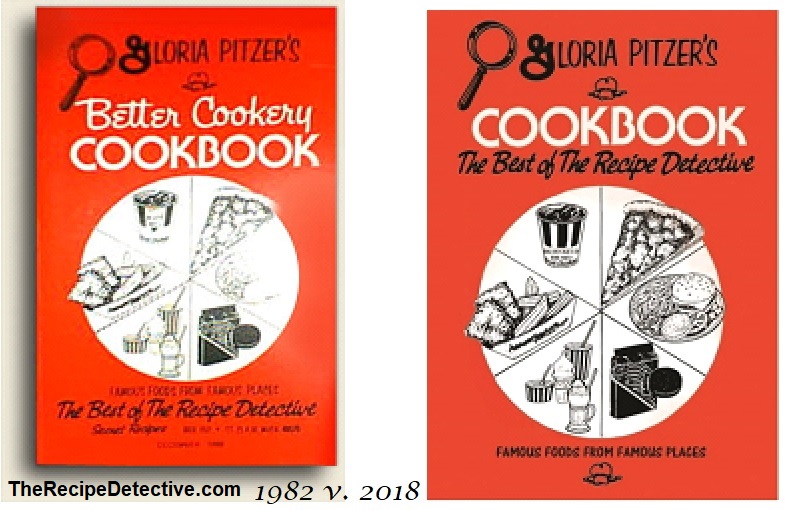 [*NOTE: That's the book (3rd edition, version) that I helped Mom rewrite for a new digital audience. It was published by Balboa Press in January 2018 – just before Mom passed away.]
Mom could write a story about anything and relate it to food in some way, thus, she always blended her stories with her recipes in all of her cookbooks and newsletter issues so that they were as apt to be found on the living room coffee table as they were on the kitchen counter.
Fall was usually the time of year when Mom would start her baking process for the holidays. She invented her own copycat version of the Herman sourdough starter for bread-baking and then developed another, quicker, beer-batter version because she was not a patient cook.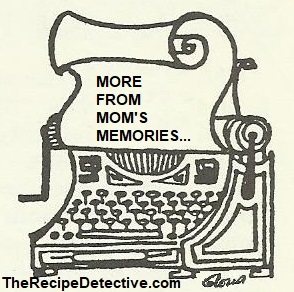 MORE FROM MOM'S MEMORIES…
As seen in…
Gloria Pitzer's Mixed Blessings – Recipes & Remedies (Secret RecipesTM, St. Clair, MI; March 1984, p. 95-96)
THE HISTORY OF HERMAN
IF YOU AREN'T ACQUAINTED with Herman, permit me to introduce you to him. He's a charming and interesting assistant in our kitchen, whose family came from the mining camps of California during the Gold Rush Days, where he was born in a humble pottery crock on a trail cook's hearth.
He bubbles with enthusiasm and lends a delicious aroma to the kitchen as he contributes greatly to the recipes for biscuits, flapjacks, breads, rolls and coffeecakes. He makes everyone happy when shared with friends. Even becomes the topic of conversations at parties, in the office, over the telephone.
If kept pleasantly warm and properly out of drafts, Herman will continue to grow for years and years. He doesn't require any special attention, other than to stir him up once a day and talk cheerfully to him to let him know you care.
He is a good listener, never talks back, doesn't take up much room, has no personal prejudices to speak of – at least, none that I am aware of – so makes an ideal kitchen companion.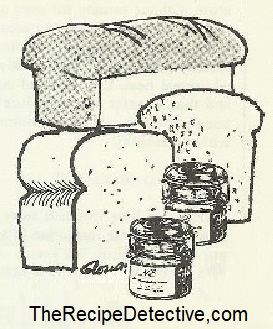 According to the many stories about Herman's family background, the name, some said, when I visited with Fred Krell of 'Meet the Mrs.' over Saginaw (MI) radio WSGW, was derived from a combination of 'her' and 'man' – meaning the cook's man's favorite. But my further investigations revealed something entirely different.
Sarah Sherman ran the best boarding house on the Barbary Coast, during the 1880s; and according to Grandma's own recipe journal, when Grandpa had to travel west to San Francisco to handle arrangements for his father's funeral and selling his property there, he stayed at Sarah Sherman's boardinghouse.
Sarah was well known for her secret sourdough baking, the original starter acquired from the mining camp cook, who when he couldn't pay his board in cash, gave her a crock of his priceless 'starter'.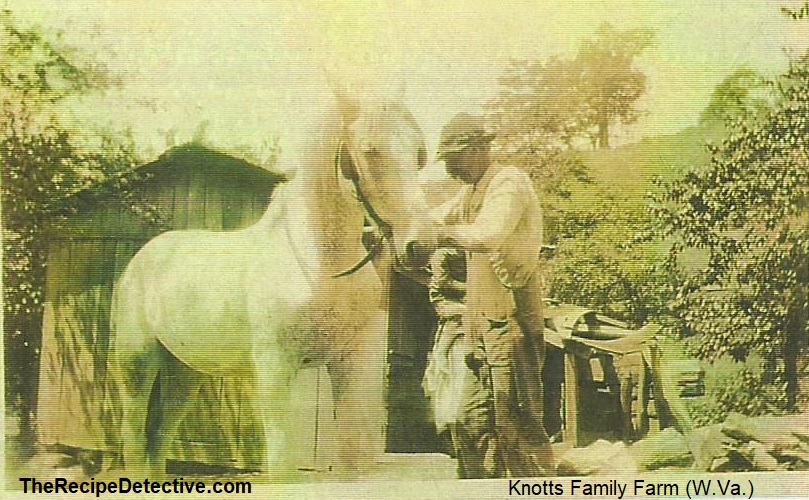 Grandpa stayed on to work as a handyman for a week after his father's business was taken care of, just to earn his board and a portion of that famous starter, which he knew was the best gift he could take back to Grandma.
She employed the starter in her own 'Back Door Bakery', kept it going and passed it on to friends, customers, relatives and neighbors for years and years.
They, in turn, had also passed it on, to the point that in the time and distance that the starter traveled, the name 'Sherman' was somehow lost in translation and became 'Herman'…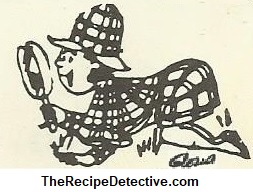 LAST THOUGHTS…
For the next few weeks, since it's National Book Month, National Cookbook Month, National Women's Small Business Month, National Work and Family Month, and Self-Promotion Month, I'll be sharing a lot more memories about Mom…
After all, she created her own recipe business, from scratch – authoring cookbooks and newsletters and promoting them, herself, while also involving our whole family, to help.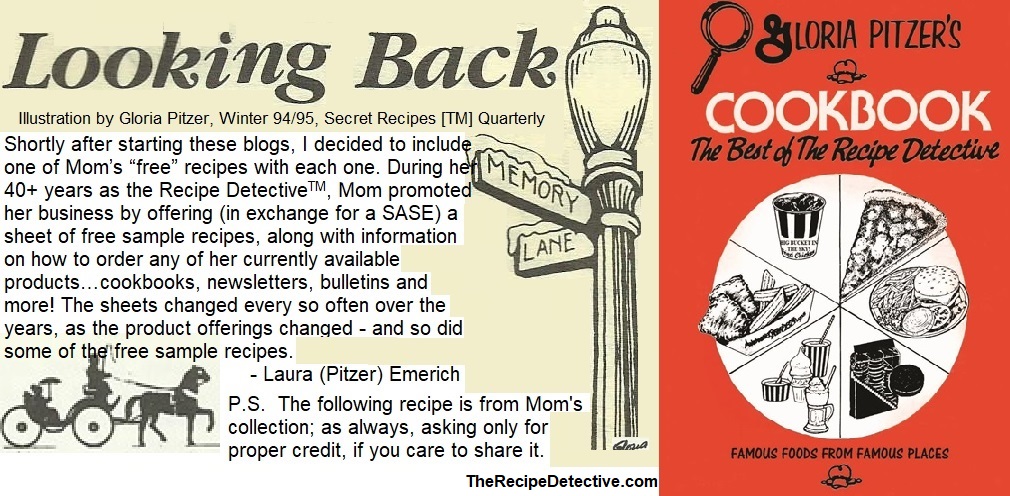 IN CLOSING…
In honor of TODAY, being National Cooking Day, here is Mom's copycat recipe for Sweeten House Bread Pudding; as seen in… Gloria Pitzer's Cookbook – The Best of the Recipe Detective (Balboa Press; Jan. 2018, p. 277). [A revised reprint of Gloria Pitzer's Better Cookery Cookbook (Secret RecipesTM, St. Clair, MI; May 1983, 3rd Edition)].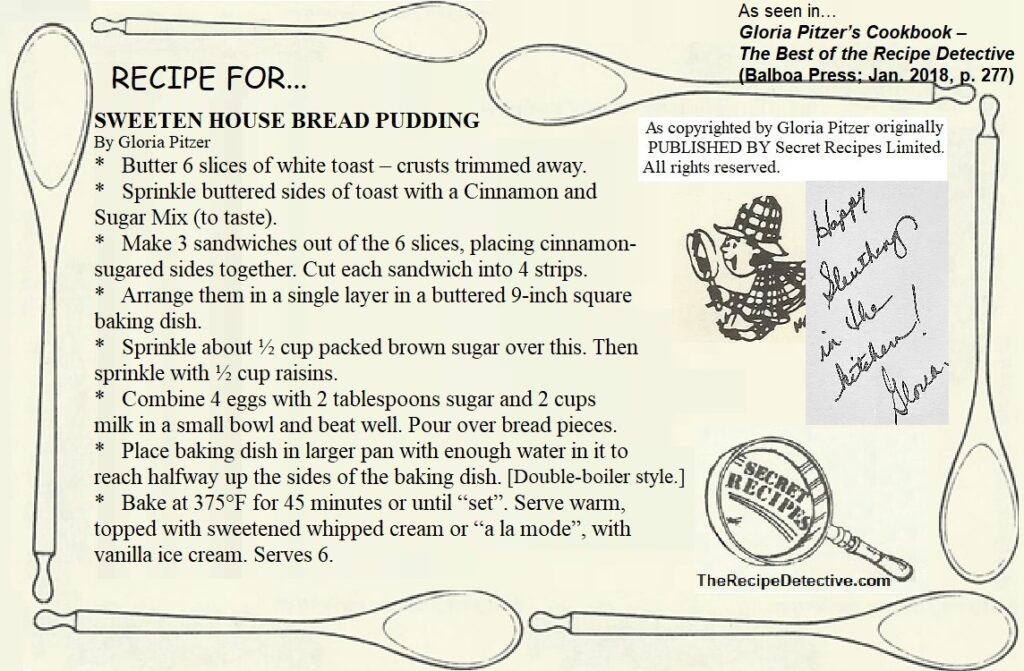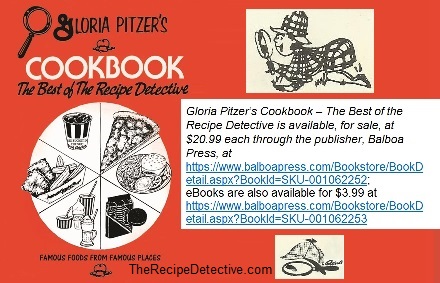 P.S. Food-for-thought until we meet again, next Monday…
The month of September observes, among other things… Better Breakfast Month, National Blueberry Popsicle Month, National Chicken Month, National Courtesy Month, National Honey Month, National Italian Cheese Month, National Library Card Sign Up Month, National Mushroom Month, National Potato Month, National Rice Month, National Sewing Month, National Self-Improvement Month, and National Whole Grains Month!
Plus, as the last week in September, this is… National Keep Kids Creative Week!
Today is also… National Quesadilla Day, National Daughter's Day, and National Lobster Day!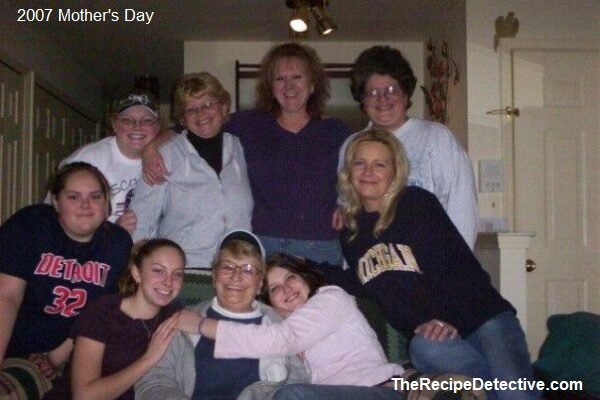 Tomorrow is… National Dumpling Day, National Johnny Appleseed Day, and National Pancake Day! Plus, as the fourth Tuesday in September (for 2023), it's also… National Voter Registration Day!
September 27th is… National Chocolate Milk Day and National Corned Beef Hash Day! Plus, as the last Wednesday in September (for 2023), it's also… National Women's Health & Fitness Day!
Thursday, September 28th is… National Drink Beer Day, National Good Neighbor Day (which used to be on the 4th Sunday), National Strawberry Cream Pie Day, and National North Carolina Day!
Friday, September 29th is… National Coffee Day and National VFW Day!
September 30th is… National Love People Day, National Chewing Gum Day, National Mud Pack Day, and National Hot Mulled Cider Day! Plus, as the last Saturday in September (for 2023), it's also… Save Your Photos Day (AND it's Save Your Photos Month), National Family Health and Fitness Day USA, National Ghost Hunting Day, and National Public Lands Day!
Sunday kicks off the month of October…

October 1st is also the start of… Active Aging Week, National Chili Week, National Spinning & Weaving Week, International Post Card Week, and National Newspaper Week! Plus, it's… the start of the Christmas Seal Campaign (which always runs Oct. 1st to Dec. 31st). Additionally, Sunday is… National Homemade Cookies Day!
[October is also the anniversary month of Mom's FIRST appearance on the Kelly & Company show, in Detroit (1990).]

…39 down and 13 to go!