#ThankGodItsMonday, once again. I personally look forward to all Mondays because they're my 52 Chances a year, in which I get to share Memories of My Mom with you!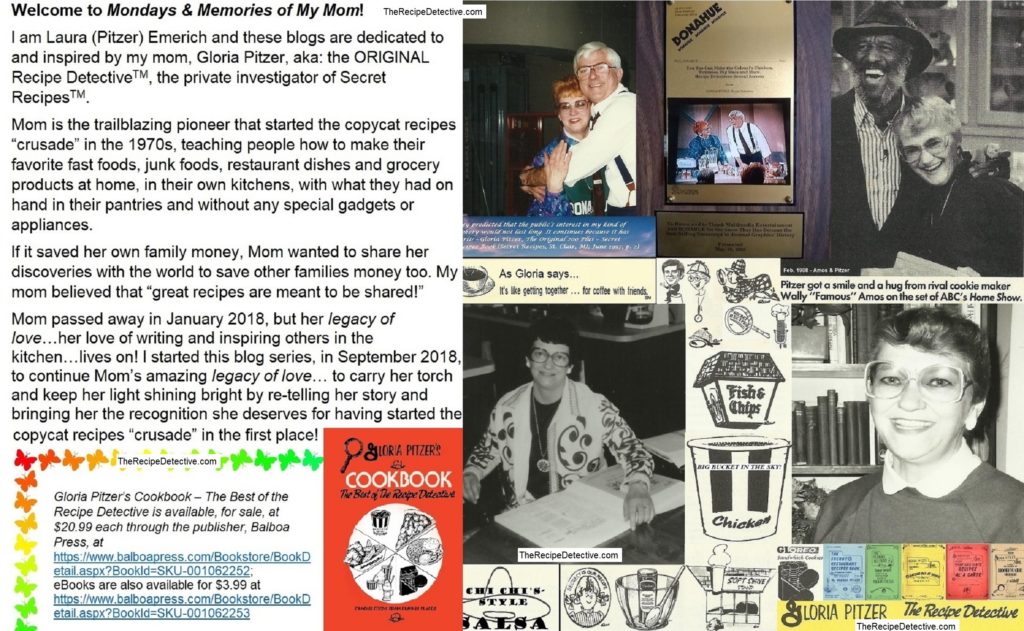 The northern hemisphere's Autumnal Equinox, for 2023, is coming this Saturday. Its official observance changes slightly, from year to year; but it's usually around the 22nd, give or take a day. Folklore claims you can only balance an egg on its end during the equinox.
The equinox is when the daylight hours are almost equal to the dark hours. Spring has an equinoctial point also. Saturday is also known as the OFFICIAL start of fall. Correspondingly, Sunday is the beginning of National Fall Foliage Week. The trees are already transitioning for their winter hibernation and their leaves are getting more colorful each day.
This has always been my favorite time of year, especially the first half of fall. Once the color show really takes off in Michigan, it doesn't last very long. It goes in a wave, starting in the upper peninsula in September and spreading through the lower peninsula in October.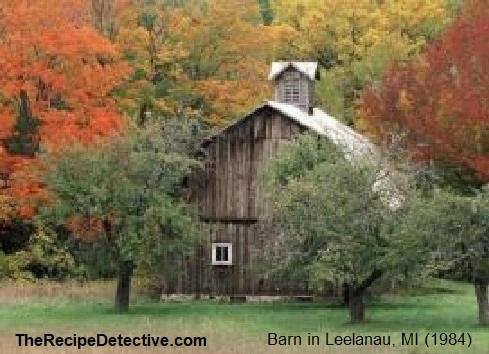 Maybe it's because of how far north of the equator, the state of Michigan sits. The Upper Peninsula is already experiencing its peak fall colors this week, having started around Labor Day. Meanwhile, the "tip-of-the-mitt" is getting closer to its peak color time, which may be in the next few weeks.
Following that, week after week, the colors peak through different parts of the state, moving in a southward wave toward the Indiana and Ohio state borders. As Mother Nature transitions from summer to winter, in the Northern Hemisphere, many trees and plants are beginning the ending process, of this year's growth-cycle, before the winter months arrive.
Some trees and plants go out in a blaze of brilliant colors. Perfect photo opportunities are everywhere you look around Michigan, September through October.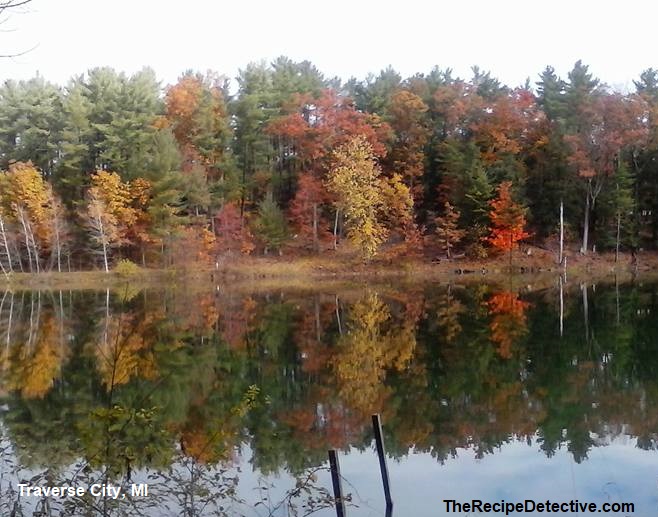 Fall was also Mom's favorite time of year. Not only because it's back to school time but also because the cool, autumn days made it more inviting to turn on the stove and make some soup or do some baking. The fall season usually highlights flavors and scents of cinnamon, nutmeg, pumpkin and cloves in almost everything.
Butterflies, birds, and many other animals, start their annual migration southward; whereas others prepare for their northern, winter hibernations. In fact, there are many northern area people who also migrate south (hence, nicknamed "snow birds"), while others prepare to hunker down for the long, cold winter months.
Harvest time has begun in Michigan. Consequently, numerous people are starting their canning rituals to stock up for the winter and the approaching new year. My dad's mom taught my mom how to grow her own fruits and vegetables, as well as canning things like tomatoes, sauces, pickles, and jams.

I never learned how to do it, myself – I usually have too many pans on the fire – but Mom shared a lot of her canning knowledge in her self-published cookbook, The Secrets of Homemade Groceries (Gloria Pitzer – Secret RecipesTM, St. Clair, MI; August 1980). That's my "go-to", "make-it-yourself" book – when I have time.
Autumn's arrival is usually the time in which I start working on my fall cleaning list – before the holidays start rolling in, one after another. If I stick to my list, every weekend, my fall cleaning is usually finished before the majority of colorful leaves in my region disappear (which is by the end of October).
Do you have a "Fall Cleaning List"? If not, Household-Management-101.com offers a great, free printable that covers all the basics. It can also be easily modified to fit your personal needs.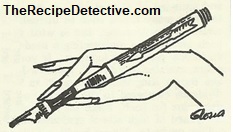 FROM MOM'S MEMORIES…
As seen in…
Gloria Pitzer's Mixed Blessings – Recipes & Remedies (Secret RecipesTM, St. Clair, MI; March 1984, p. 15)
[SIMPLE COMFORTS]
COOKING IS ONE OF THOSE personal accomplishments that afford us all the opportunity to express 'talent'. We love being approved of. In fact, we eat it up! It's the little pat on the back that gives us the incentive to continue trying. And where else, but in the kitchen, can you try to win approval with such satisfying results!
I'm very partial to my kitchen because it is the one place in our home where I feel the most comfortable! Whether I'm there alone, working on a recipe, or sitting at my desk, looking for inspiration on a new article I'm writing, or sharing a cup of coffee with a neighbor or a friend, who's dropped by – it's my favorite room!
I have a desk in the kitchen right next to the [glass] door-wall that overlooks the yard. Our daughter, Debbie, and our son-in-law, Jim, gave me a flowering crab [apple] tree last Mother's Day, which they planted right in the middle of the yard.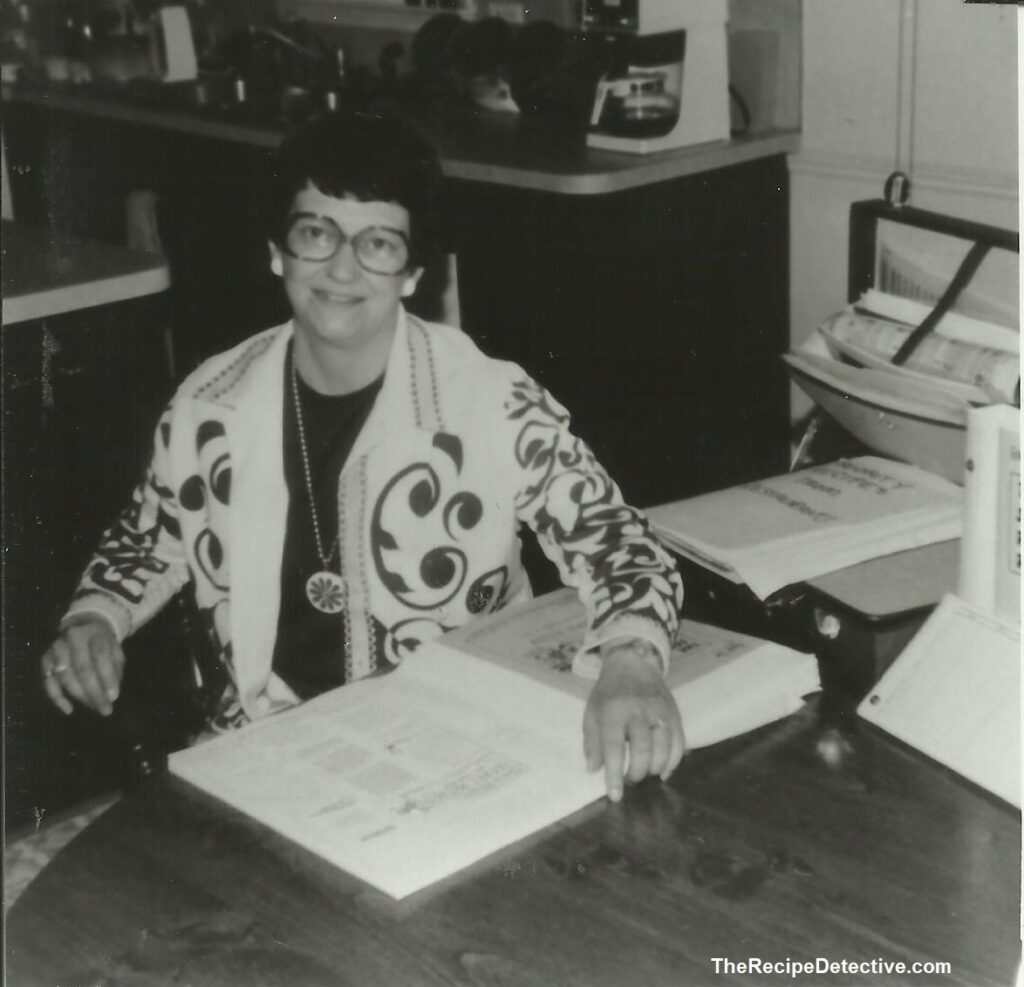 I can enjoy it's flowers each spring; also the very long bare, red branches during the autumn and it's snow-covered limbs all winter. It's my sundial, by which I observe the seasons and the changes involved with this natural wonder.
While the Scotch pines around this little tree never change, never go through the transition of bud to blossom to barren branches and then buds again, I can see the contrasts that are parallel to our own personal predicaments.
Some things, places – and yes, even people – never seem to change, while others go through budding and blossoming and withering away, only to come right back to life again in the sunshine of human kindness as does my tree in the sunshine of the seasons. I've spent my entire life being a writer.
It's not what I do, but what I am. I love every minute of it, and by writing about what I have come to know best – cooking – it occurs to me that having a desk in my kitchen was awfully appropriate. Mind you, not all that crazy about cooking, by default rather than decision, I have learned more about it than any other skill I've attempted.
For many, like me, the countdown to the holidays begins with the official onset of fall. It's only six more weeks until Halloween, which will be here and gone in the blink of an eye. After that, it's only four weeks until Thanksgiving.
Hanukkah begins two weeks after Thanksgiving, running from the 7th to the 15th and Christmas is only 10 days after that. Then it's only one more week, following that, when the new year will be upon us. But let's try to hang on to autumn as long as possible.
There's so much to do in Michigan in autumn, before Halloween even gets here. Football games are in full-swing, now. Bon fire parties are always popular in my area. Personally, I always loved going to the apple tree farms and cider mills when I was young, when my kids were young, and even now.
Octoberfest celebrations are also quite popular, as Michigan has so many micro-breweries. And, of course, the "color tours" around Michigan's lakeshore (and throughout the farmlands) are exquisite.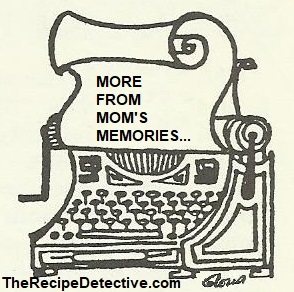 MORE FROM MOM'S MEMORIES…
As seen in…
Gloria Pitzer's Mixed Blessings – Recipes & Remedies (Secret RecipesTM, St. Clair, MI; March 1984, p. 22)
IF I WERE AN ARTIST…
… I WOULD COVER my walls with pictures that would recapture the beauty of all the lovely places I've been to and would miss once I had left them. I would recapture a restful sunset over the wooded hills of northern Michigan sloping toward the Sleeping Bear Sand Dunes.
Or I would relive the blazing colors of autumn that shroud the clusters of trees along the uninhabited backgrounds of the countryside surrounding Grand Traverse Bay. But, alas, I cannot put such places into paintings…
I'll have to paint them with words in order to revisit them in my memory whenever the thoughts of which John Ruskin must have written – those secret places of the happy mind, 'nests of pleasant thoughts'… 'houses built without hands, for our souls to live in'.
Perhaps the food for thought, of finding these restful places in our memories, is just the elixir we often need; one more sufficiently nourished with sustenance to keep us physically fit, while we let our famished affections go hungry!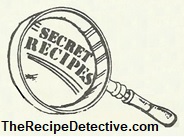 AGAIN, MORE FROM MOM'S MEMORIES…
As seen in…
Gloria Pitzer's Mixed Blessings – Recipes & Remedies (Secret RecipesTM, St. Clair, MI; March 1984, p. 180)
A FEW PLEASANT MEMORIES
EVEN THE GREAT DAYS of early fall are lovely to recall when the sky and the lake are the same color, the surrounding hills a drab blend of pale brown and gold, around Saginaw Bay. This is my quiet place – 'which care cannot disturb, nor pain make gloomy…'
A great deal of what we see, no matter where we are, I would imagine, depends on what we are looking for. The critics look for something to criticize, while the rest of us look for those scenes that give us an easy feeling about ourselves.
For me, it's a positive attitude and it's worth holding on to – especially when all indications around me are insisting that one cannot afford to 'get soft', nor become sensitive to simple beauty. It's again a reflection of the double standard lifestyle of the 1980s! And you can't escape from the commentaries that tried to represent a solitary authority!
And so we are engulfed with cookbooks containing recipes for feeding the physical needs, while we let the famished affections go hungry! But if they can put video games in ice cream parlors, why not food for thought in a thoughts-on-food book?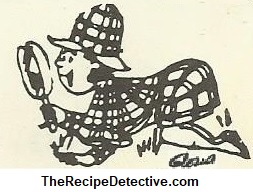 LAST THOUGHTS…
The cooler, autumn days make it more inviting to turn on the oven and do some baking! Whether it's homemade bread, cookies, pies, brownies, or something else; fresh baked goods are starting to fill our homes with pleasant aromas. The fall season adds scents of cinnamon, nutmeg, pumpkin spice and cloves to almost everything.
There is something about autumn that also makes many people yearn for their favorite, belly-warming, comfort foods – pot roast, baked potatoes, stew, meatloaf, lasagna, and so on. This was usually the time of year when Mom would make up her Herman starter for bread-baking. Next week I'll share Mom's story about Herman!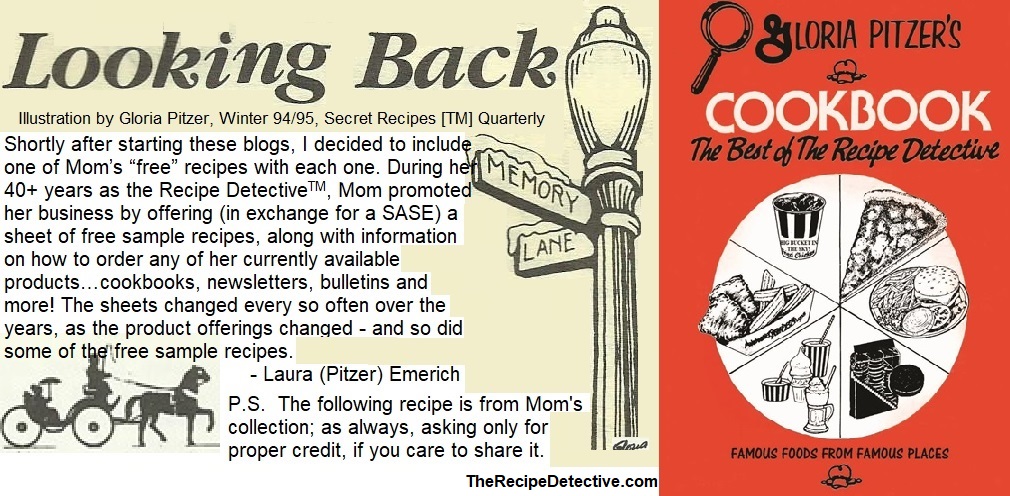 IN CLOSING…
In honor of tomorrow, being National Butterscotch Pudding Day, here's Mom's copycat recipe for Butterscotch Pudding; as seen in… Gloria Pitzer's Cookbook – The Best of the Recipe Detective (Balboa Press; Jan. 2018, p. 261). [A revised reprint of Gloria Pitzer's Better Cookery Cookbook (Secret RecipesTM, St. Clair, MI; May 1983, 3rd Edition)].
#NationalButterscotchPuddingDay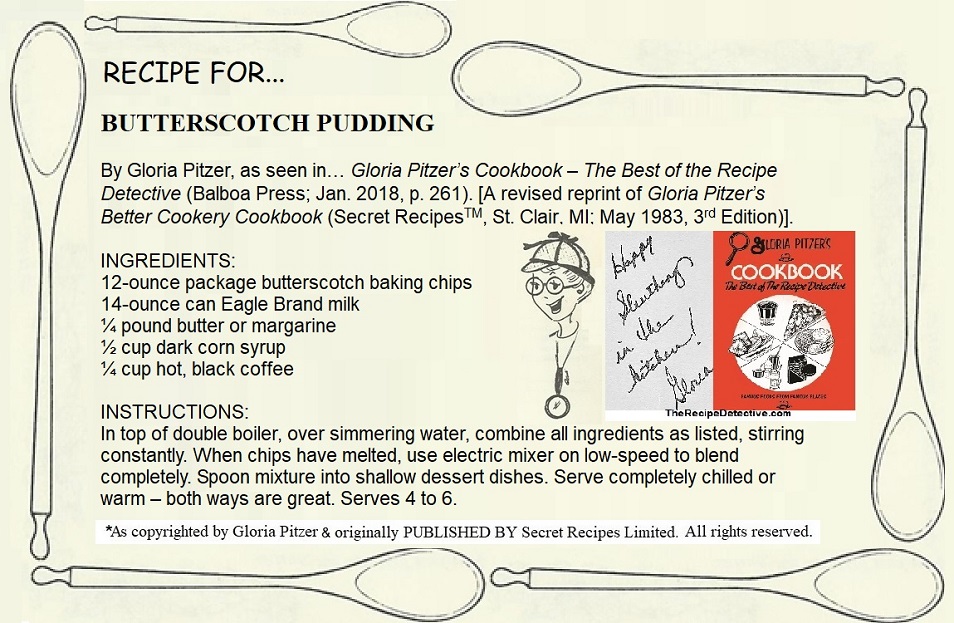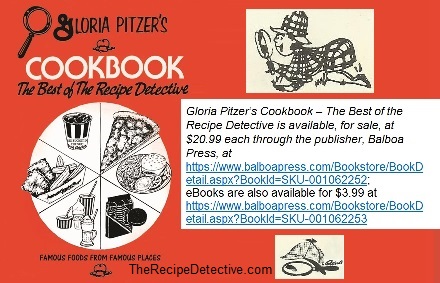 P.S. Food-for-thought until we meet again, next Monday…
The month of September observes, among other things… Better Breakfast Month, National Blueberry Popsicle Month, National Chicken Month, National Courtesy Month, National Honey Month, National Italian Cheese Month, National Library Card Sign Up Month, National Mushroom Month, National Potato Month, National Rice Month, National Sewing Month, National Self-Improvement Month, and National Whole Grains Month!
Plus, the third week in September is… National Farm Animals Awareness Week and National Indoor Plant Week!
Today is… National Air Force Birthday and National Cheeseburger Day!
Tomorrow is also… Talk Like A Pirate Day!
Wednesday, September 20th, is… National Fried Rice Day, National Pepperoni Pizza Day, National Punch Day, and National String Cheese Day!
Thursday, September 21st, is… National Chai Day, National Pecan Cookie Day, and National New York Day!
September 22nd is… National Dear Diary Day, National Girls' Night, National Hobbit Day, National Ice Cream Cone Day, American Business Women's Day, and National White Chocolate Day! Plus, as the fourth Friday in September (for 2023), it's also… National BRAVE DAY!
September 23rd is… National Great American Pot Pie Day and National Snack Stick Day! Plus, as the fourth Saturday in September (for 2023), it's also… National Hunting and Fishing Day!
September 24th is… National Cherries Jubilee Day and National Punctuation Day! Plus, as the last Sunday in September (for 2023), it's also… National Gold Star Mother's Day! Additionally, as the start of the last week in September, it's also… National Keep Kids Creative Week!

…38 down and 14 to go!