Thank God Its Monday and, as such, #HappyMonday to everyone! I personally look forward to all Mondays because they're my 52 Chances a year, in which I get to share Memories of My Mom with you!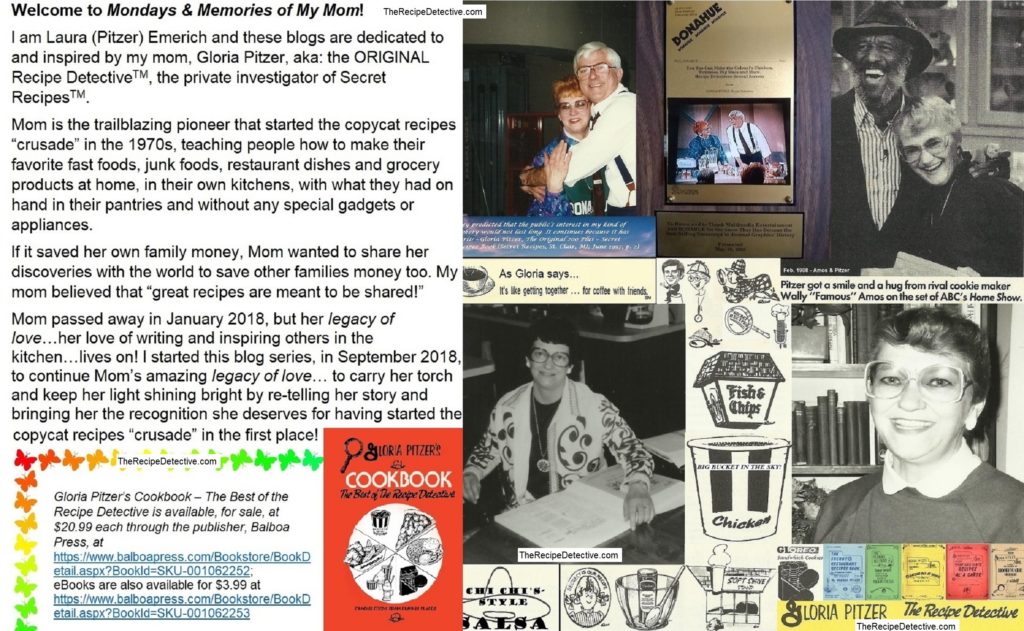 To blog or not to blog was something over which I pondered more than half a decade ago. Then the "meant-to-be" powers of fate took me and my inherited love for writing on this unexpected and incredible journey, "blogging" to honor my mom's legacy, as the ORIGINAL Secret RecipesTM Detective.
Next Sunday will be the 5-year anniversary of my blog, Mondays & Memories Of My Mom. It launched on Sept. 17, 2018, with my first post, A Legacy Of Love. I've learned a lot about blogging since then and I continue to learn more, as I go along. For now, though, for me, blogging is a hobby since I don't make any money from it.
Mom always knew she wanted to be a writer. Her passion for writing began when she was about 10 years old, after watching a 1946 Warner Brothers movie about the Bronte sisters, called "Devotion". She was so inspired by one of the sisters, she started journaling daily, which amounted to over 71 years of chronicles – now that's DEVOTION!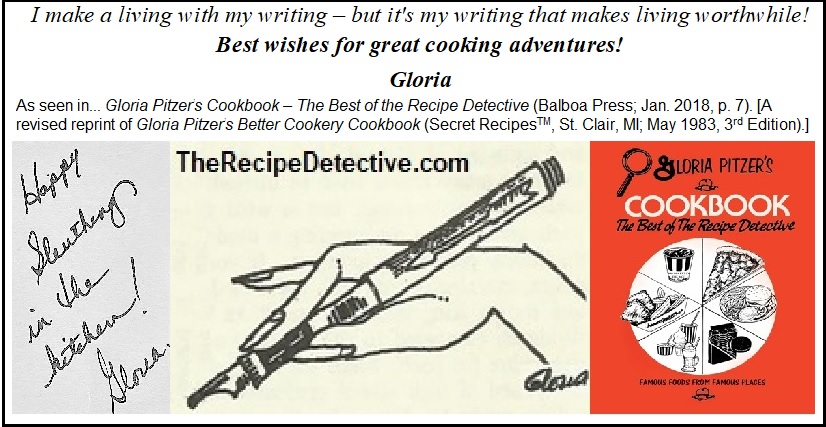 She also knew that she wanted to write for a living – as Mark Twain said, "Find a job you enjoy doing and you will never have to work a day in your life." Mom dreamed of writing the great American novel someday. Instead, fate took her passion for writing in a different direction.
Her initial career, as a columnist, was very similar to blogging – but that was about four decades before home computers first became popular. Back then, her columns were printed in newspapers and magazines. She always claimed that she made a living with her writing but it was her writing that made living worthwhile.
Mom hungered for more than what the ordinary cookbooks were offering. It motivated her to design her own collection. Her cookbooks were not your run-of-the-mill, counter-top, recipe collections. She infused a lot of information, household tips, humor, food-for-thought articles, and food-for-the-soul acclamations between her food-for-the-table recipes.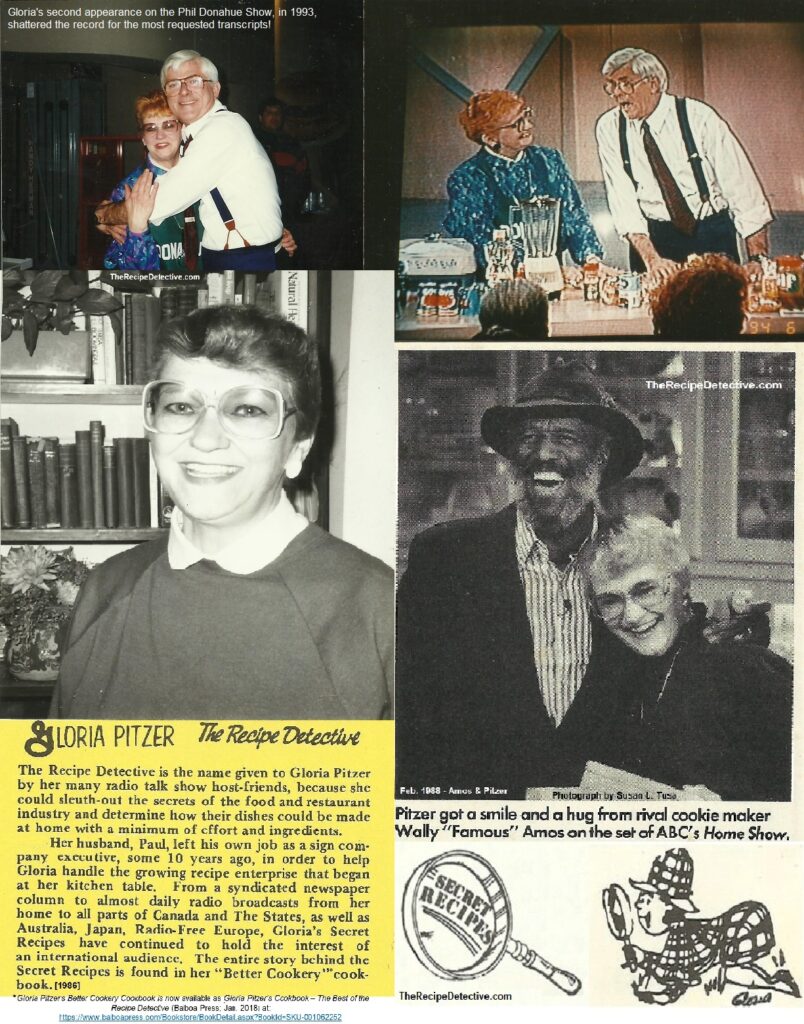 She wanted her creations to be as much at home on the coffee table in the living room as they were on the kitchen counter. Mom's books and newsletters were like no others on the market, putting her writings in a unique position to be noticed – and that they were!
Additionally, over the decades, Mom always offered a dozen or so free samples of her most requested recipes, starting with her "Original 200" collection. Over the years, times changed, as did the food industry's offerings. She changed up her free samples, as newer requests became more popular from her national and international radio interviews.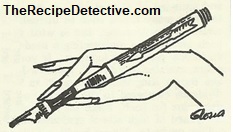 FROM MOM'S MEMORIES…
Excerpts by Gloria Pitzer, as seen in…
Gloria Pitzer's Cookbook – The Best of the Recipe Detective (Balboa Press; January 2018, 1st Printing)
[A revised reprint of Gloria Pitzer's Better Cookery Cookbook (Secret RecipesTM, St. Clair, MI; May 1983, 3rd Edition)].
A MEAL BY ANY OTHER NAME
FAST FOOD RECIPES were not published in the best-sellers – and these were the restaurants where families were apt to frequent if they wanted a meal that was affordable! [In the 1970s] Paul and I could take all 5 of the children to Capri's, an Italian restaurant down the road from us, in Pearl Beach.
We could feed the whole family for less than $10, providing we ordered the large pizza with only pepperoni and cheese on it and one soft drink for each of us. It was not for substance that we ate out. It was for entertainment.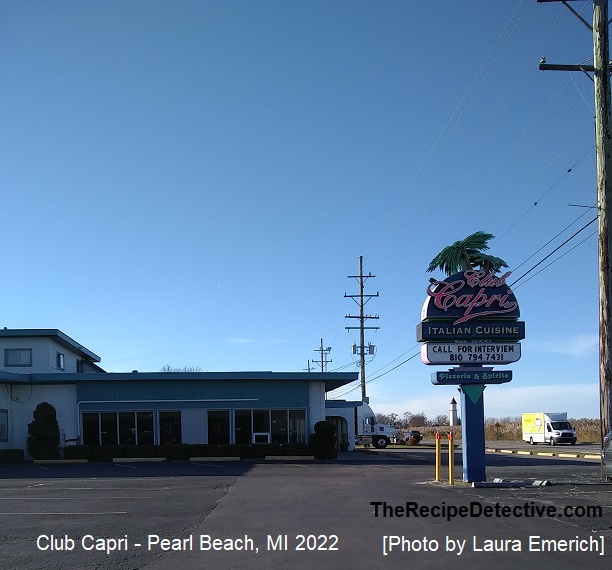 We could take the kids to McDonald's, and it did the same thing for us that going to the movies did for our parents. It was an affordable pleasure. It was a diversion from meatloaf and pot roast and peas and carrots.
It was a treat. We looked forward to it. We felt good about the experience and even better after it was over. It carried us through a long week of paying the utilities, insurance, house payments and car payments and grocery expenses.
When we had to have our 10-year-old station wagon repaired, we had to skip eating out that week. If one of us had to see the dentist, it might be 2 or 3 weeks before we could afford to eat out again. We made do with what we had… (p. 295)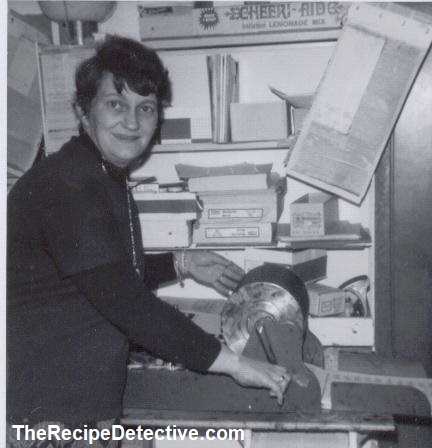 THE "ORIGINAL 200"
MY LIST OF 'SECRET RECIPES' had grown to 200 and we offered them, on 4×6-inch cards [that I printed on my mimeograph], at $.25 each or 5 for a dollar. It was quite a packaging process to fill the combinations of orders, so I put all those recipes into a book.
It was going to be our only book on the subject, since most of the recipes were fast foods – but, as it turned out, it was only the first in a series of five books. After 'Book One' took off and became a very good seller, I did a Bicentennial American Cookery book as a limited edition and was pleased when the Henry Ford Library at Greenfield Village in Dearborn, Michigan ordered copies for their Bicentennial collection… (p. 296)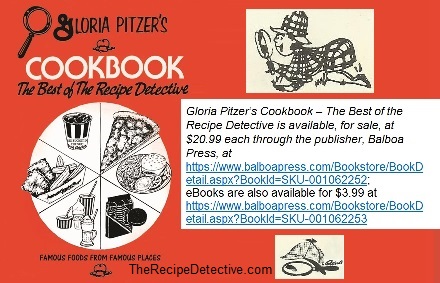 WE WANTED OUR CAKE AND WE WANTED TO EAT IT, TOO!
WE WANTED TO EAT OUT at a price we could afford; and, when we couldn't afford to eat out, we wanted to dine-in as if we were eating out! At the time, there were few recipes for this kind of cooking.
We wanted to spend less time preparing the foods and less money on the ingredients and still serve a dish to those who shared our table…that would be equal to – if not better than – anything we could buy in a restaurant or from a supermarket.
For all of these reasons, I have pursued the investigations of the food industry with the greatest joy and the utmost care, translating into recipes, those secrets that I have been able to decipher. (p. 297)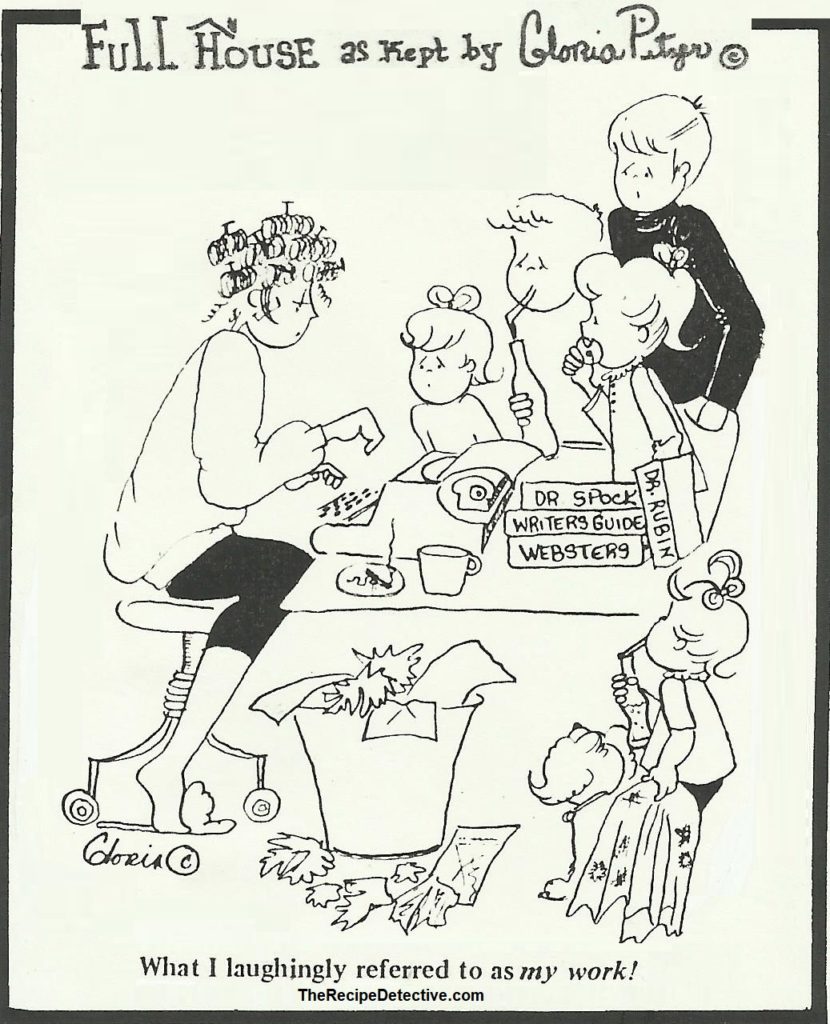 For years, I wondered if I could make a living from home, blogging; like mom did, writing and syndicating her columns from home. Writing always made me feel close to Mom, as she was my biggest fan and always encouraged me in my creative and artistic passions.
In as much as I love to write, I hadn't done any creative writing for many years, while I was busy working full-time. Then, when I started helping Mom rewrite her favorite cookbook, after Dad passed away (so it could be republished by Balboa Press for a new digital generation), the flame was rekindled in me.
Now that this blogging venture has kind of fallen into my lap, I love what I'm doing but I'm not making a living at it… Not yet! I've learned a lot about blogging, but there's still so much more to learn. Nowadays, knowledge is instantaneously at our finger tips. But you need to be motivated to open the "pages" and read. Soak it up like a sponge and then apply it!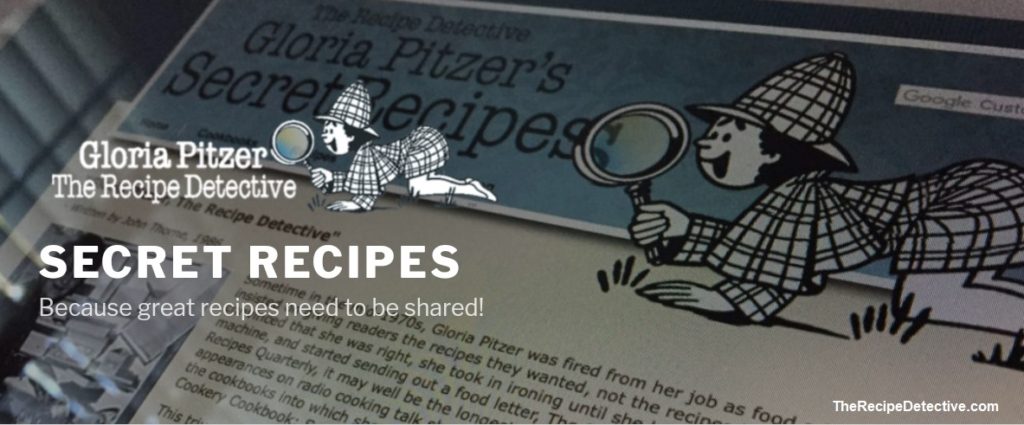 In my blogging notes, I wrote that the average speed at which adults read, depending on age and education, is about 200-300 words per minute; and a good blog should be readable in about 7 minutes (source unknown), suggesting optimal length as 1,400-2,100 words. Ideal blog lengths vary, depending on topic, audience, and a number of other factors.
It's generally considered best to have about 1,500 to 2,000 words for most articles or posts, according to a recently updated editorial at Databox.com. However, SearchEngineJournal.com recently said that a HubSpot study from 2021 claims that 2,100-2,400 words is the best length – at least for SEO ranking purposes.
Optimizely.com explains SEO, as the art and science of getting pages to rank higher in search engines like Google. Search engines are the most popular way that people find websites. High rankings generally result in high traffic.
Regardless of my SEO, I write these blog posts in memory of my mom, posting entries every Monday since mid-September 2018. I try to stay in the 1,400-2,100 optimal range, fine-tuning it along the way. In the process, I continually learn new things. Pictured below is some of my notes for anyone else interested in blogging as a Hobby or Profession.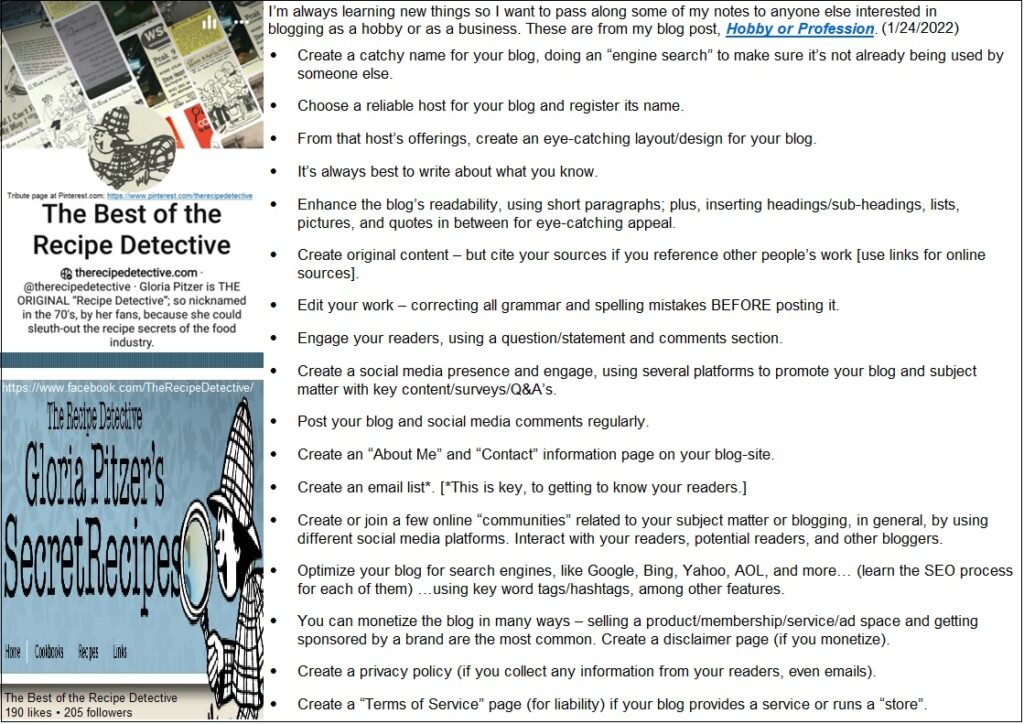 LAST THOUGHTS…
Mom never looked at writing as a "hobby". To her, it was always a part of who she was – a reflex she did every day (like brushing her hair) for more than 70 years. Writing brought her so many blessings and she told me before she passed away that she'd do it all over again if she could. I wish she was still here with me, on this wonderful blogging adventure.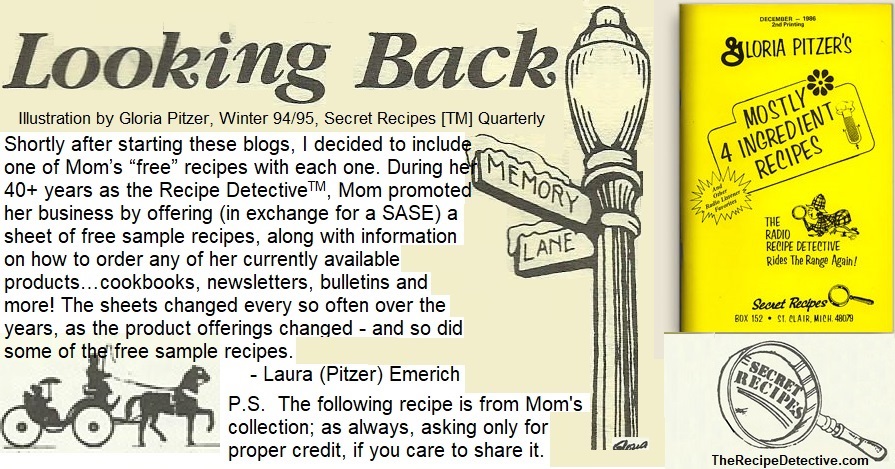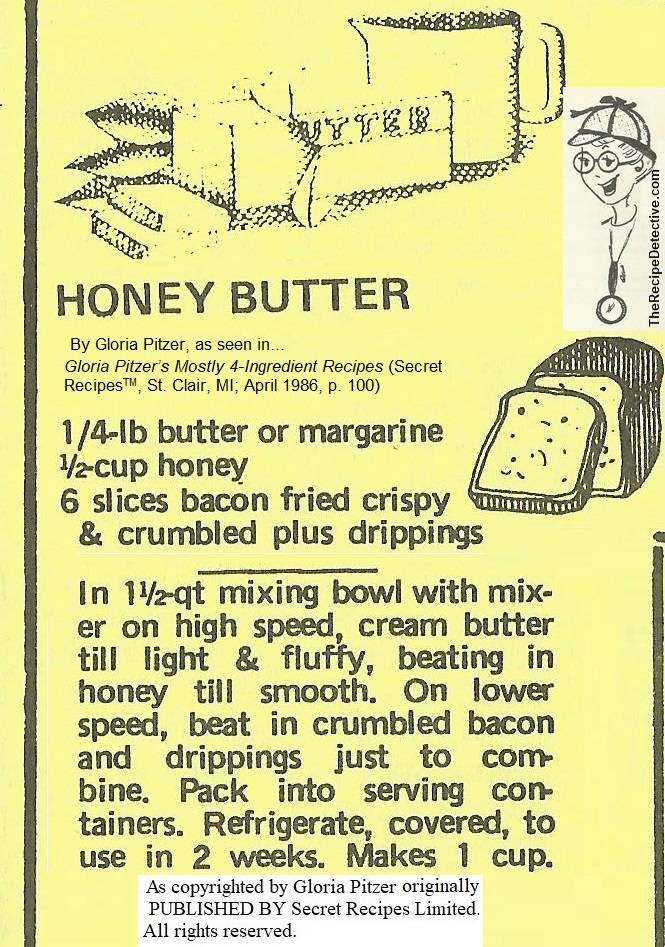 P.S. Food-for-thought until we meet again, next Monday…
The month of September observes, among other things… Better Breakfast Month, National Blueberry Popsicle Month, National Chicken Month, National Courtesy Month, National Honey Month, National Italian Cheese Month, National Library Card Sign Up Month, National Mushroom Month, National Potato Month, National Rice Month, National Sewing Month, National Self-Improvement Month, and National Whole Grains Month!
Plus, as the second week in September, it's… National Biscuit and Gravy Week and National Arts In Education Week!
Today is also… National Make Your Bed Day, National Hot Cross Bun Day, and Patriot Day and National Day of Service and Remembrance!
Tomorrow is… National Chocolate Milkshake Day and National Day of Encouragement! Plus, as the second Tuesday in September (for 2023), it's also… National Ants on a Log Day!
Wednesday, September 13th is… National Kids Take Over The Kitchen Day and National Peanut Day!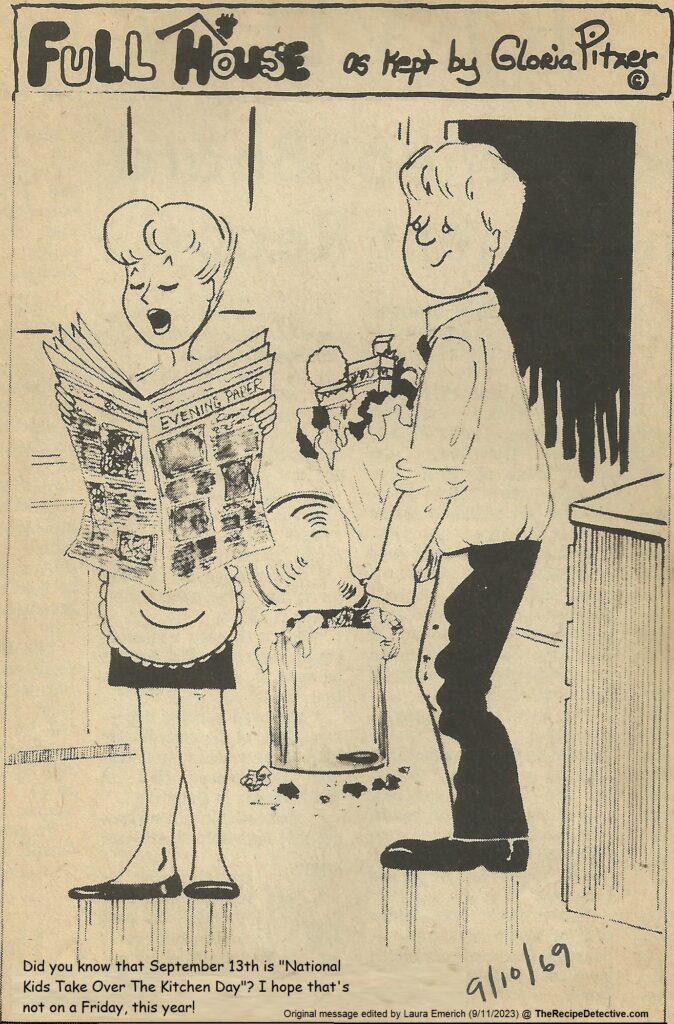 September 14th is… National Cream Filled Donut Day, National Eat a Hoagie Day, National Live Creative Day , and National Virginia Day! Plus, as the third Thursday in September (for 2023), it's also… National Pawpaw Day!
Friday, September 15th, is… National Cheese Toast Day, National Linguine Day, National Double Cheeseburger Day, National Creme de Menthe Day, National Online Learning Day, and Greenpeace Day! Plus, it's the start of Hispanic Heritage Month (which is always September 15th to October 15th)!
September 16th is… National Play-Doh Day, National Cinnamon Raisin Bread Day, National Guacamole Day, National Step Family Day, and National Working Parents Day! Plus, as the third Saturday in September (for 2023), it's… National Dance Day, National Gymnastics Day, Boys' and Girls' Club Day for Kids, Responsible Dog Ownership Day, and National Clean Up Day!
September 17th is… National Professional House Cleaners Day, National Apple Dumpling Day, Constitution Day and Citizenship Day, and National Monte Cristo Day! Plus, as the third Sunday in September (for 2023), it's also… Wife Appreciation Day! Additionally, as the start of the third week of September, it's also… National Farm Animals Awareness Week and National Indoor Plant Week!

…37 down and 15 to go!