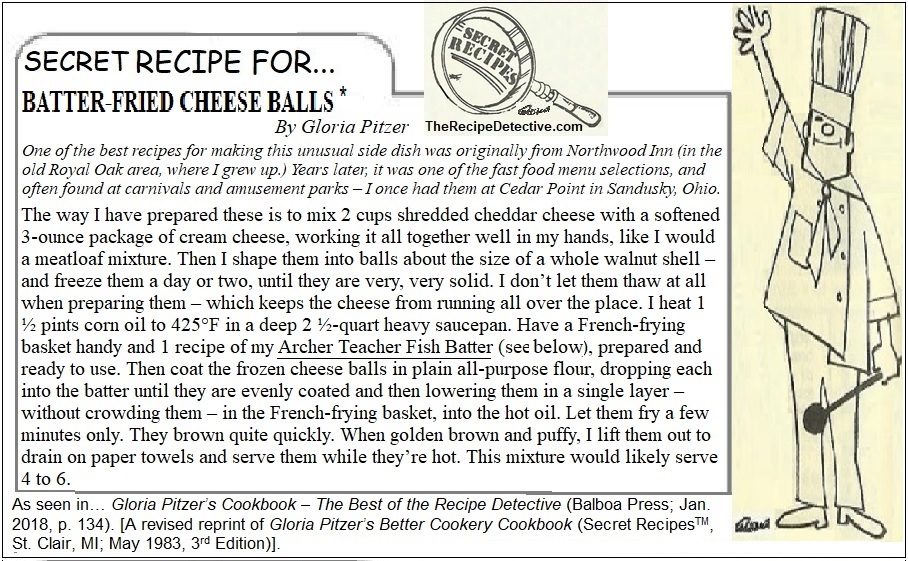 BATTER-FRIED CHEESE BALLS
By Gloria Pitzer, as seen in… Gloria Pitzer's Cookbook – Best Of The Recipe Detective (Balboa Press; Jan. 2018, p. 134). [A revised reprint of Gloria Pitzer's Better Cookery Cookbook (Secret RecipesTM, St. Clair, MI; May 1983, 3rd Edition).]
One of the best recipes for making this unusual side dish was originally from Northwood Inn (in the old Royal Oak area, where I grew up.) Years later, it was one of the fast food menu selections, and often found at carnivals and amusement parks – I once had them at Cedar Point in Sandusky, Ohio.
INGREDIENTS:
2 cups shredded cheddar cheese
3-ounce package of cream cheese, softened
1 ½ pints corn oil
1 recipe of my Archer Teacher Fish Batter (see picture below), prepared and ready to use
Plain, all-purpose flour (enough to coat balls)

INSTRUCTIONS:
The way I have prepared these is to mix the shredded cheese with softened cream cheese, working it all together well in my hands, like I would a meatloaf mixture. Then I shape them into balls about the size of a whole walnut shell – and freeze them a day or two, until they are very, very solid.
I don't let them thaw at all when preparing them – which keeps the cheese from running all over the place. I heat the corn oil to 425°F in a deep 2 ½-quart heavy saucepan. Have a French-frying basket handy and 1 recipe of my Archer Teacher Fish Batter, prepared and ready to use.
Then coat the frozen cheese balls in plain all-purpose flour, dropping each into the batter until they are evenly coated and then lowering them in a single layer – without crowding them – in the French-frying basket, into the hot oil.
Let them fry a few minutes only. They brown quite quickly. When golden brown and puffy, I lift them out to drain on paper towels and serve them while they're hot. This mixture would likely serve 4 to 6.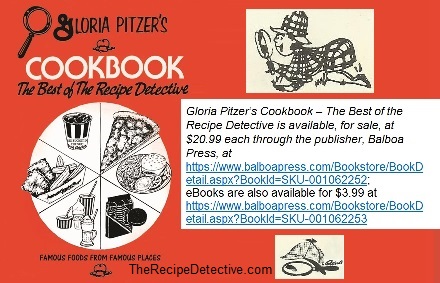 See also…