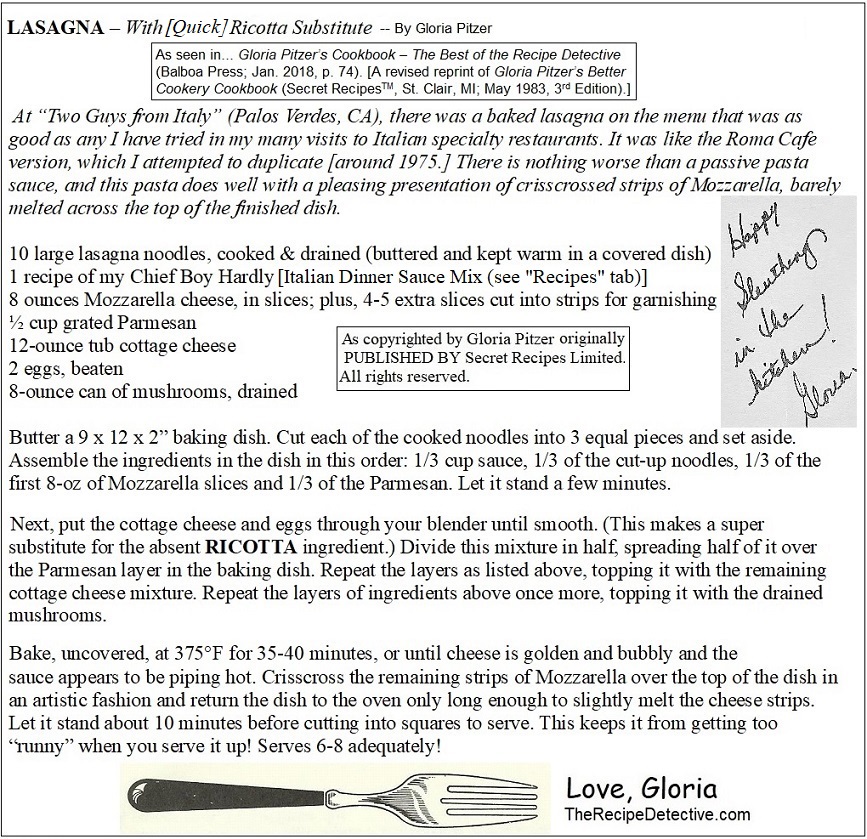 LASAGNA WITH RICOTTA SUBSTITUTE
By Gloria Pitzer, as seen in… Gloria Pitzer's Cookbook – Best Of The Recipe Detective (Balboa Press; Jan. 2018, p. 74). [A revised reprint of Gloria Pitzer's Better Cookery Cookbook (Secret RecipesTM, St. Clair, MI; May 1983, 3rd Edition).]
At "Two Guys from Italy" (Palos Verdes, CA), there was a baked lasagna on the menu that was as good as any I have tried in my many visits to Italian specialty restaurants. It was like the Roma Cafe version, which I attempted to duplicate [around 1975.] There is nothing worse than a passive pasta sauce, and this pasta does well with a pleasing presentation of crisscrossed strips of Mozzarella, barely melted across the top of the finished dish.
INGREDIENTS:
10 large lasagna noodles, cooked & drained (buttered and kept warm in a covered dish)
1 [prepared] recipe of my Chief Boy Hardly Italian Dinner Sauce – Herb & Spice Mix (see "Recipe" tab)
8 ounces Mozzarella cheese, in slices; plus, 4-5 extra slices cut into strips for garnishing
½ cup grated Parmesan
12-ounce tub cottage cheese
2 eggs, beaten
8-ounce can of mushrooms, drained
INSTRUCTIONS:
Butter a 9 x 12 x 2" baking dish. Cut each of the cooked noodles into 3 equal pieces and set aside. Assemble the ingredients in the dish in this order: 1/3 cup sauce, 1/3 of the cut-up noodles, 1/3 of the first 8-oz of Mozzarella slices and 1/3 of the Parmesan. Let it stand a few minutes.
Next, put the cottage cheese and eggs through your blender until smooth. [This makes a super (quick) substitute for the absent RICOTTA ingredient.] Divide this mixture in half, spreading half of it over the Parmesan layer in the baking dish.
Repeat the layers as listed above, topping it [again] with the remaining [Ricotta Substitute]. Repeat the layers of ingredients above once more, topping it with the drained mushrooms. Bake, uncovered, at 375°F for 35-40 minutes, or until cheese is golden and bubbly and the sauce appears to be piping hot.
Crisscross the remaining strips of Mozzarella over the top of the dish in an artistic fashion and return the dish to the oven only long enough to slightly melt the cheese strips. Let it stand about 10 minutes before cutting into squares to serve. This keeps it from getting too "runny" when you serve it up! Serves 6-8 adequately!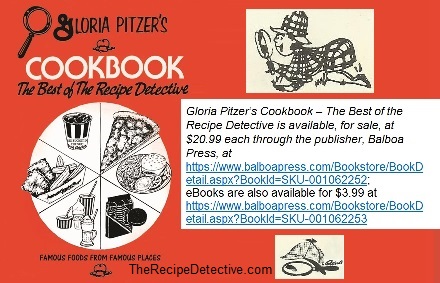 See also…