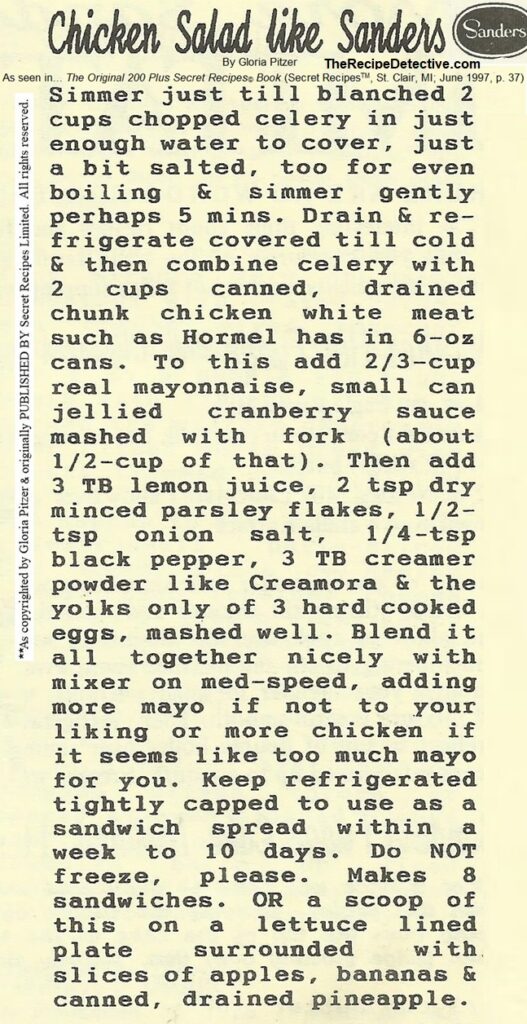 CHICKEN SALAD, LIKE SANDERS'
By Gloria Pitzer, as seen in her self-published cookbook… The Original 200 Plus Secret Recipes© Book (Secret RecipesTM, St. Clair, MI; June 1997, p. 37).
INGREDIENTS:
2 cups chopped celery [prepared*]
2 cups canned, drained, chunk chicken (white meat, like Hormel's)
2/3 cup real mayonnaise
½ cup canned, jellied cranberry sauce; mashed with fork
3 TB lemon juice
2 tsp dry, minced parsley flakes
½ tsp onion salt
¼ tsp black pepper
3 TB creamer powder (like Creamora)
3 hard-cooked eggs, yolks only – mashed well
INSTRUCTIONS:
Simmer, just until blanched, [the] celery in just enough water to cover; just a bit salted, too, for even boiling and simmer gently – perhaps 5 minutes. Drain and refrigerate, covered, until cold.
Then combine celery with chunk chicken. To this add the mayonnaise and cranberry sauce. Then add lemon juice, parsley, onion salt, pepper, powdered creamer and the yolks only of 3 hard-cooked eggs, mashed well.
Blend it all together nicely, with mixer on medium speed; adding more mayonnaise or chicken, to your liking. Keep refrigerated, tightly capped, to use as a sandwich spread within a week to 10 days. Do NOT freeze, please.
Makes 8 sandwiches. Or scoop this onto a lettuce-lined plate, surrounded with slices of apples, bananas, and canned, drained pineapple [chunks or slices].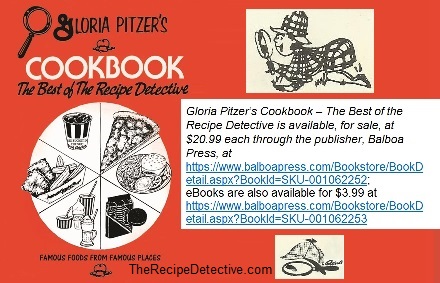 See also…