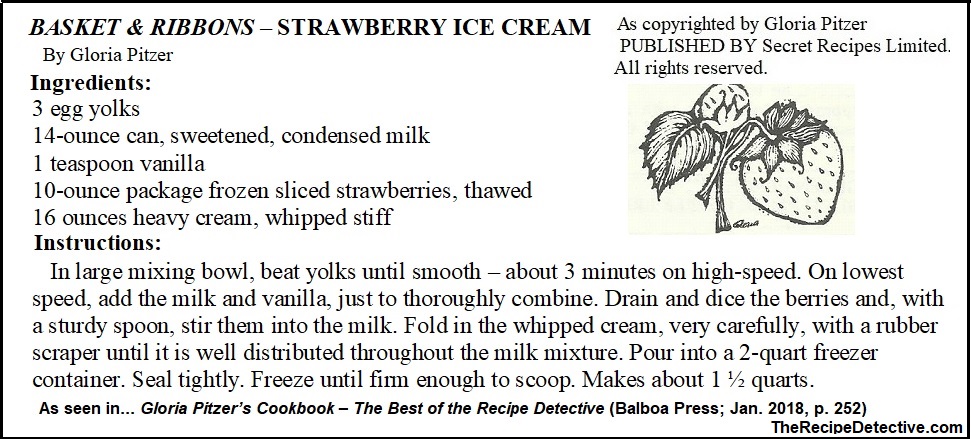 BASKET & RIBBONS – STRAWBERRY ICE CREAM
By Gloria Pitzer
As seen in… Gloria Pitzer's Cookbook – The Best of the Recipe Detective (Balboa Press; Jan. 2018, p. 252). [A revised reprint of Gloria Pitzer's Better Cookery Cookbook (Secret RecipesTM, St. Clair, MI; May 1983, 3rd Edition).]
INGREDIENTS:
3 egg yolks
14-ounce can, sweetened, condensed milk – or use my homemade version [*see page 33 of this book]
1 teaspoon vanilla
10-ounce package frozen sliced strawberries, thawed
16 ounces heavy cream, whipped stiff
INSTRUCTIONS:
In large mixing bowl, beat yolks until smooth – about 3 minutes on high-speed. On lowest speed, add the milk and vanilla, just to thoroughly combine.
Drain and dice berries, stirring them into the milk mixture with a sturdy spoon. Carefully fold in whipped cream with a rubber scraper until it's well distributed.
Pour into a 2-quart freezer container. Seal tightly. Freeze until firm enough to scoop. Makes about 1 ½ quarts.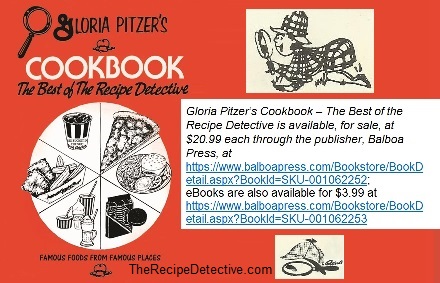 Also see…