Happy Monday everybody! Personally, I always look forward to Mondays because they are my 52 Chances each year, in which I get to share Memories of My Mom with all of you!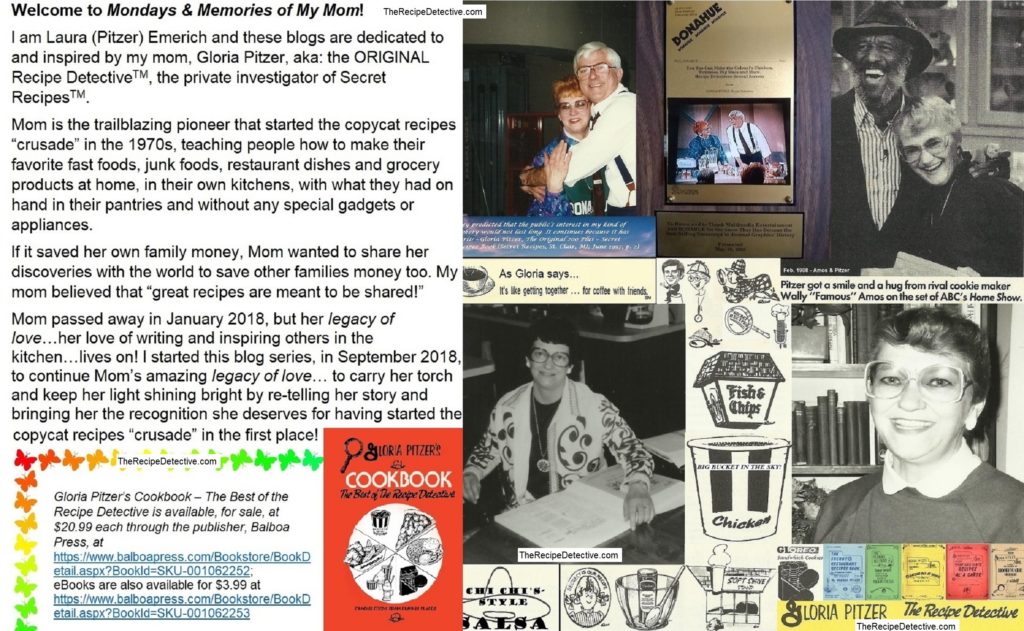 I'm a Michigander, as were both of my parents. I'm very grateful that all of my grandparents migrated to this beautiful state, which we've called home for four generations, since then. Like the rest of North America, Michigan is a multicultural "melting pot"; combining the sum of its various heritages into one whole society – Michiganders. Wherever we go in life, we are forever kindred spirits!
In my Michigander-biased opinion, this is one of the most beautiful states in our country! Its bordered by four of the five Great Lakes, which is a major part of the St. Lawrence Seaway. Michigan is home to an abundance of historic places, beautiful sights, famous people, iconic foods, renowned restaurants, and so much more.
As a Michigander, I grew up on (and still enjoy) some awesome, Michigan-made products. Many of which were among Mom's famous imitations – such as Mackinac Fudge, Vernors Ginger Ale, Kellogg's cereals, Sanders' various confections, Win Schuler's products, J.L. Hudson's and Frankenmuth's famous restaurant dishes; as well as many others!
Here's a bit of trivia: Did you know that Michiganders call carbonated soft-drinks "pop"; while everyone else calls it "soda"? No matter what you call it, add a few scoops of ice cream to it and you have a delicious concoction that some call a "cooler", while others call it a "float". Either way, it's a great summertime treat!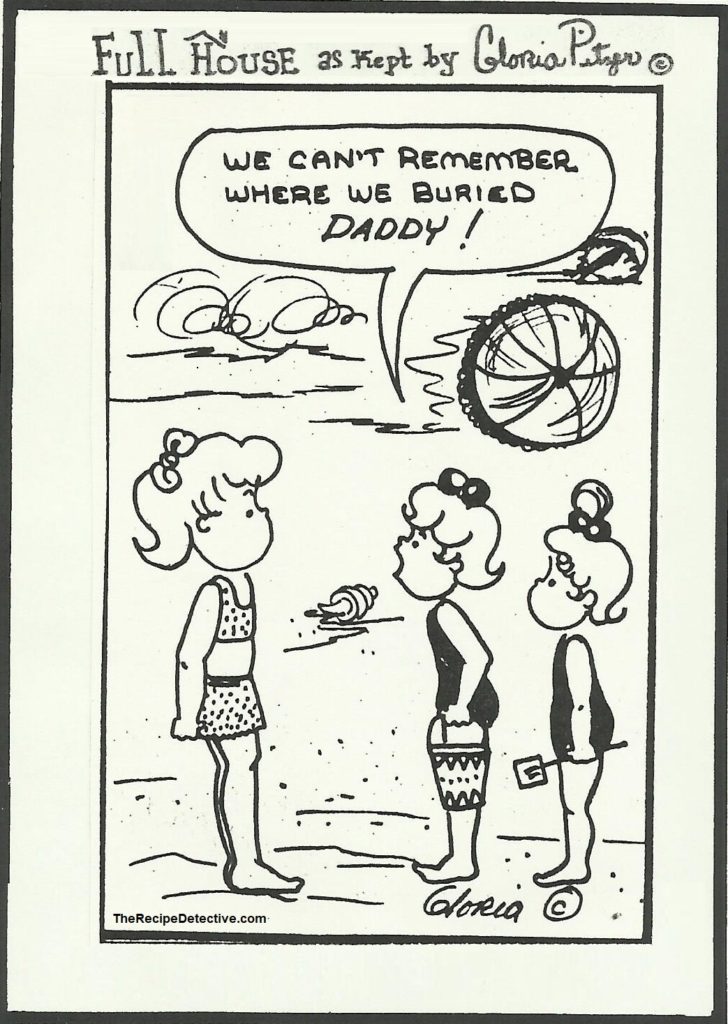 It's probably those rough winters we go through that make us, Michiganders, appreciate the summer months even more than most others! The "Thumb Area", in which I grew up and continue to live, is all about celebrating summer; especially after a long, hard Michigan winter!
However, hot and humid Michigan summer days, like those in July (and August), are when a lot of us like to head "up north" to vacation in a slightly cooler and drier atmosphere. It's very refreshing – especially so when you're close to the shore one of our Great Lakes!
I have many fond, childhood memories of my family's own Michigan, summertime vacations. Mom and Dad took us to so many places around our beautiful state – such as the Tahquamenon Falls and the Soo Locks, both in Michigan's Upper Peninsula (aka: the U.P.); as well as beach towns like Alpena, Petoskey, and Mackinaw City in the "Tip of the Mitt" region; plus, Mackinac Island, in Lake Huron, between the two peninsulas.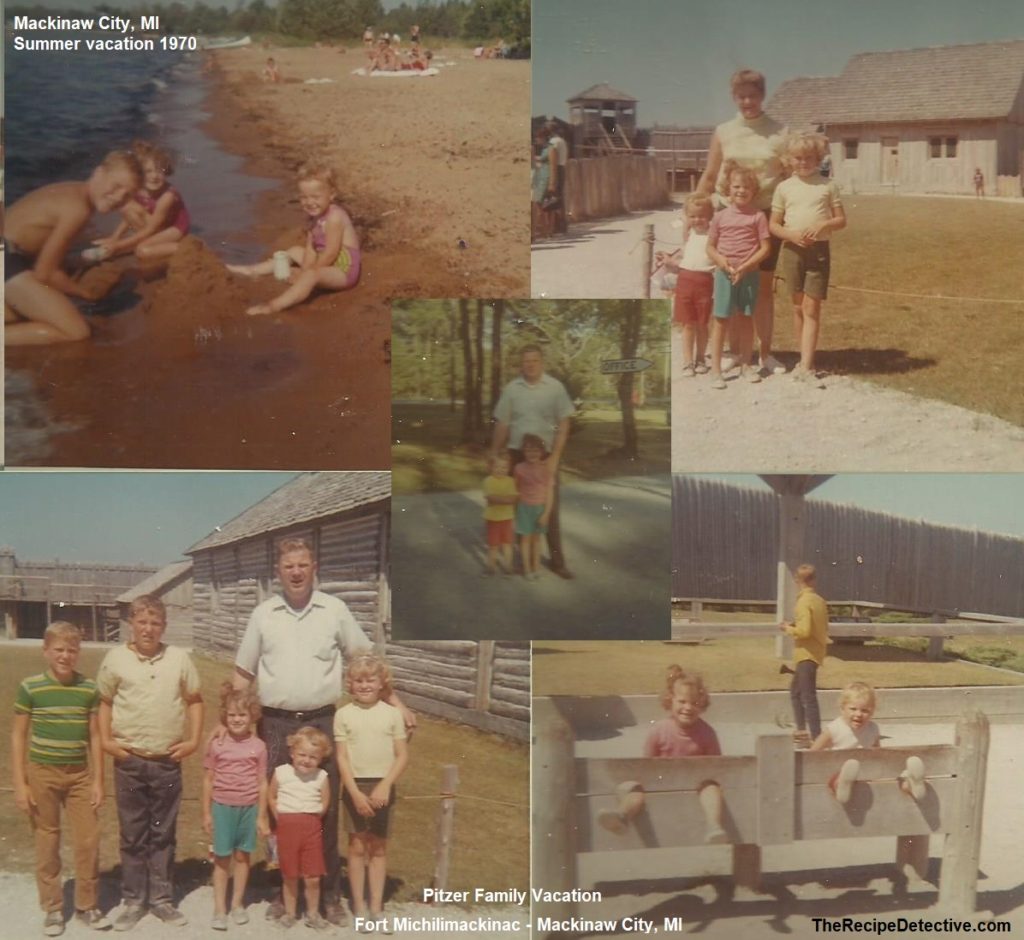 Mackinac Island has always been tops in my summertime memories. It's full of many heavenly scents from the sugary confections being made in the fudge and candy shops to the wonderful aromas seeping from the island's restaurants and bakeries to the heavenly scents surrounding all the beautiful gardens that are everywhere.
It's also a very nostalgic place full of history that takes you back to around the turn of the 20th century. To this day, no cars are allowed on the island (except for some emergency vehicles). Getting around the island is usually done by foot, bicycle or horse in some manner. Whenever I've gone there, it's always seemed like a magical trip back in time…
That was especially so in the summer of 1979, when we were staying at the Grand Hotel during the filming of the movie, Somewhere in Time. What a special treat for all of us to experience! It's probably in the top five of my favorite summertime vacation memories.
[FYI: More than three decades earlier, another movie was filmed at the Grand Hotel. In 1947, during the filming of This Time for Keeps, Ethel Merman swam in the Grand Hotel's kidney-shaped pool. Thus, the hotel named the pool, in her honor.]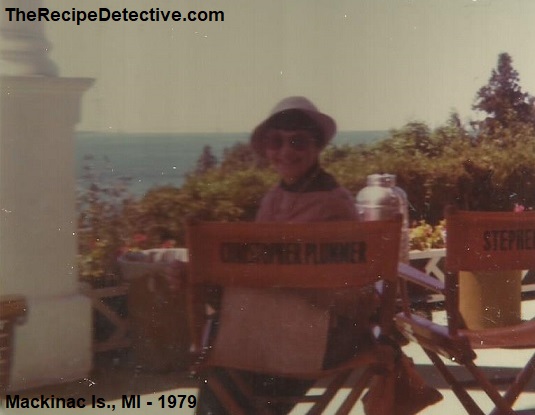 FROM MOM'S MEMORIES…
As seen in…
Gloria Pitzer's Cookbook – The Best of the Recipe Detective (Balboa Press; Jan. 2018, p. 235)
[A revised reprint of… Gloria Pitzer's Better Cookery Cookbook (Secret RecipesTM, St. Clair, MI; May 1983, 3rd Edition)]
SOMEWHERE IN TIME – MACKINAC ISLAND
Our reservations were made in February, that year, to spend the Fourth of July week at The Grand Hotel on historic Mackinac Island in Northern Michigan. We had heard, when we arrived, that Universal Pictures was filming a movie with Christopher Reeve and Jane Seymour and that our two-day stay at the hotel might be disrupted from the usual routine we were used to when we stayed there.
The place was booked, and we were lucky to have those two days because other customers had canceled. The scene when we arrived was one of spectators and glamorous Hollywood activity in the lobby and on the grounds.
Paul was just teeing off at the green next to the golf pro shop, the next morning, when we heard a sympathetic moan from the beautiful leading man, himself, as he locked up his bike and headed across the street to the filming activity. I know I should have run after Christopher Reeve for his autograph, but I was in shock!

Later, in the hotel lobby, we watched the scene when Christopher Reeve checks into The Grand and, later, when he and Jane Seymour take a buggy ride away from the entrance of the hotel with Christopher Plummer looking on. Take the time to enjoy seeing the movie they were filming – we've seen it 4 times and can't wait to see it again! It's for everyone who has ever been in love – or who has ever visited lovely Mackinac Island, as we do every summer.
In one scene of the movie you'll notice, on the main street of the village, a sign over a shop that reads 'Murdick's Fudge', a recipe which I have coveted for years. Finally, after dozens of tests, I came up with the secret for purporting this product at home… It whips up in five minutes and, a week later, it's still smooth and creamy.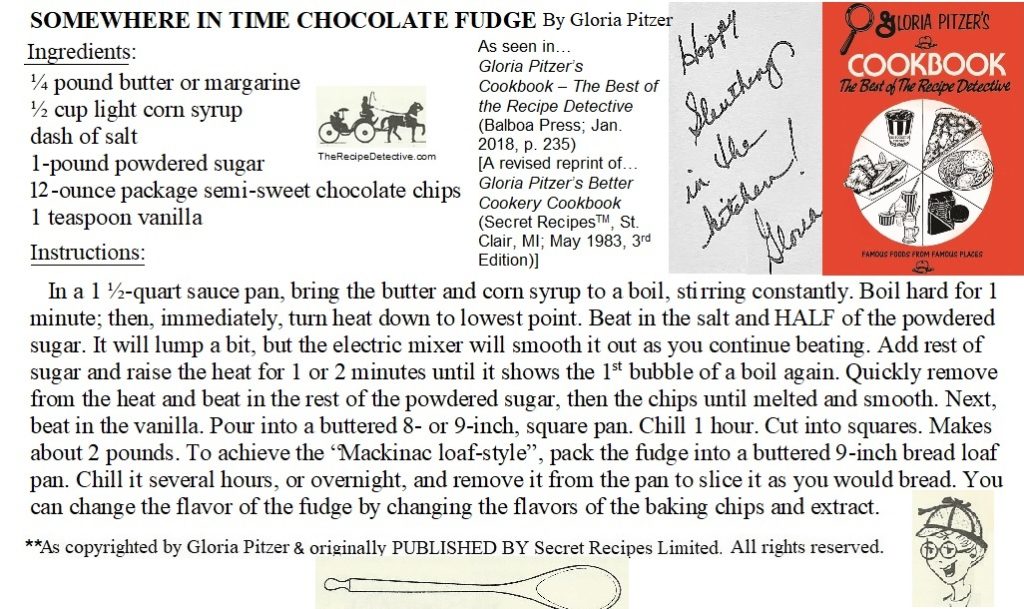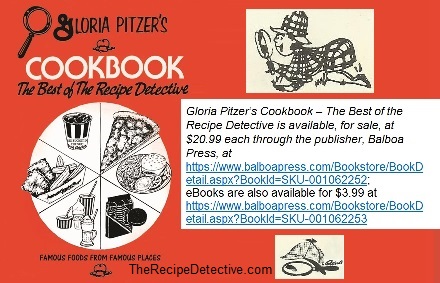 Every summer that I can remember, while growing up in the "Thumb Area" of Michigan, there was usually a couple of memorable family trips; as well as some special one-day-events like taking a boat ride on the St. Clair River, going to a summer festival, playing at the beach, picnicking in a park, as well as having or attending a backyard party and barbeque. All of it filling my Michigan summers with a lot of fun memories.
The best time to discover Michigan, depends on your interests. If you like winter activities, Michigan has it in spades, December through March! For most others, May through October is when Michigan's weather is most pleasant. It's generally warm in the spring and fall, while the mild, summertime heat is great for enjoying a vast array of activities – especially water activities.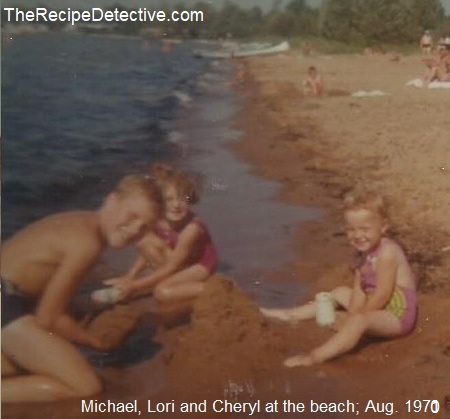 Did you know that Michigan has 3,288 miles of coastline that borders four of the five Great Lakes? It's the longest freshwater coastline in the U.S. In fact, regardless of water type (sea or fresh), Michigan is only second to Alaska in total length of coastline.
Just as my parents used to do, after a long work-week, my husband and I LOVE to go on one-day jaunts or weekend road trips to different places around our scenic state. We really enjoy traveling the sparkling, blue water shoreline that surrounds most of our state; as well as exploring the in-land lakes, rivers, parks, forests and farmlands throughout Michigan, too.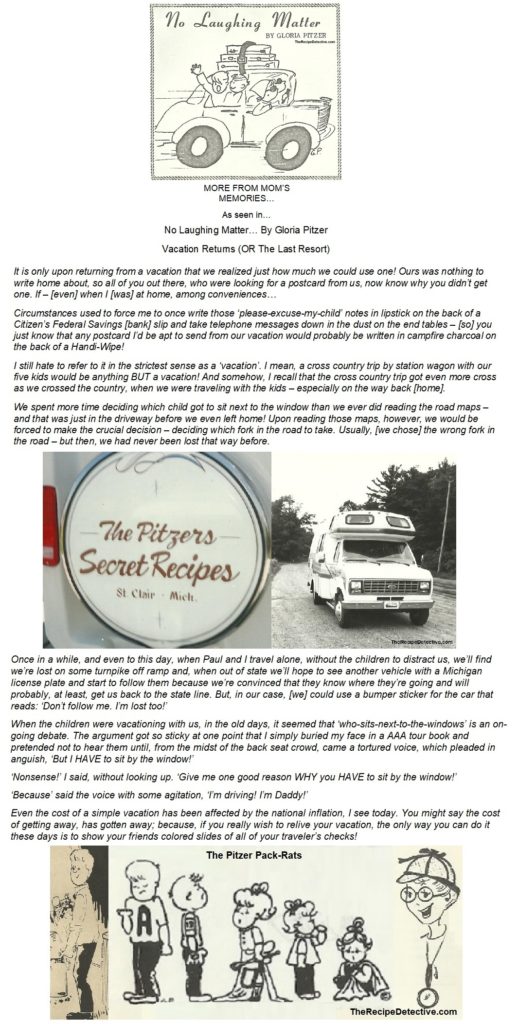 LAST THOUGHTS…
I found a great article online by Lana Law & Lura Seavey, called 14 Top-Rated Tourist Attractions in Michigan (Nov. 17, 2020). Their list contains many of my own bucket-list-destinations; a lot of which I've already accomplished, plus a few that are planned for this summer!
1-Mackinac Island – Been there. Done that. Can't wait to go again this summer!
2-Sleeping Bear Dunes National Lakeshore & Lake Michigan – Been there, done that and want to go again soon!
3-Detroit Institute of Arts – Been there, done that and want to go again!
4-Pictured Rocks National Seashore – Can't wait to go this summer!
5-Frederik Meijer Gardens & Sculpture Park – Been there, done that and want to go again soon!
6-The Henry Ford complex (including the Museum, Greenfield Village, and the Ford Rouge Factory) – Been there, done that and want to go again soon!
7-Isle Royale National Park – This is definitely going on a future bucket list!
8-Detroit Zoo – Been there, done that and want to go again!
9-University of Michigan campus – Been there, done that and want to go again!
10-Belle Isle Park – Been there, done that and want to go again!
11- Fort Michilimackinac – Been there and done that. Can't wait to go again this summer!
12-Michigan Historical Museum (Lansing) – #LearnSomethingNewEveryDay
13-Windmill Island – Been there, done that and can't wait to go again!
14-Great Lakes Shipwreck Museum (Paradise) – Been there. Done that. Can't wait to go again this summer!
Furthermore, I also discovered another great article, called 20+ Things to Do in Michigan: Your Ultimate Summer Bucket List, that suggested many great activities to do at a lot of the wonderful Michigan destinations mentioned above!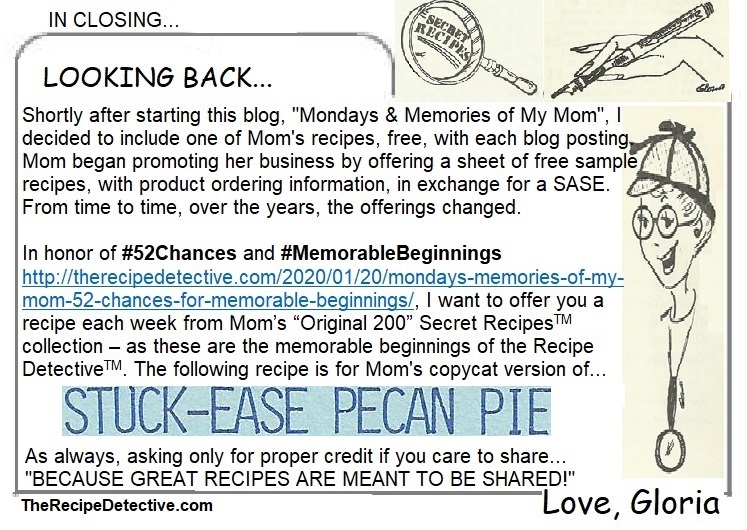 In honor of TODAY, being National Pecan Pie Day, and Thursday's National Give Something Away Day, here is one of Mom's "Original 200" copycat recipes, for Stuckey's Pecan Pie; as seen in… The Secret Restaurant Recipes Book (Nat'l Homemakers Newsletter, Pearl Beach, MI; Jan. 1977, p. 11)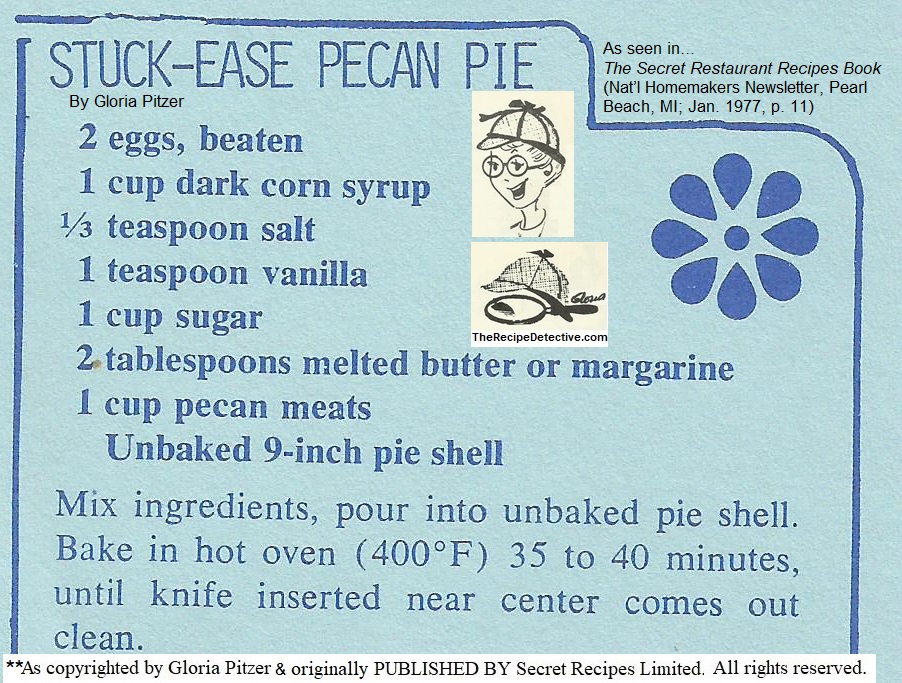 P.S. Food-for-thought until we meet again, next Monday…
Some of July's observances include: World Watercolor Month, National Baked Bean Month, National Culinary Arts Month, National Grilling Month, National Horseradish Month, National Hot Dog Month, National Ice Cream Month, Independent Retailer Month, National Blueberry Month, National Picnic Month, and National Peach Month!
Other celebrations happening this week include:
Today is… Paper Bag Day and Eat Your Jello Day!
Tomorrow, July 13th is… National French Fry Day, National Beans 'N' Franks Day, and National Delaware Day!
Wednesday, July 14th is… National Grand Marnier Day, National Tape Measure Day, and National Mac & Cheese Day! In honor of the latter, here is a re-share of Mom's imitation of Woolworth's Macaroni & Cheese, from her "Original 200" recipes collection!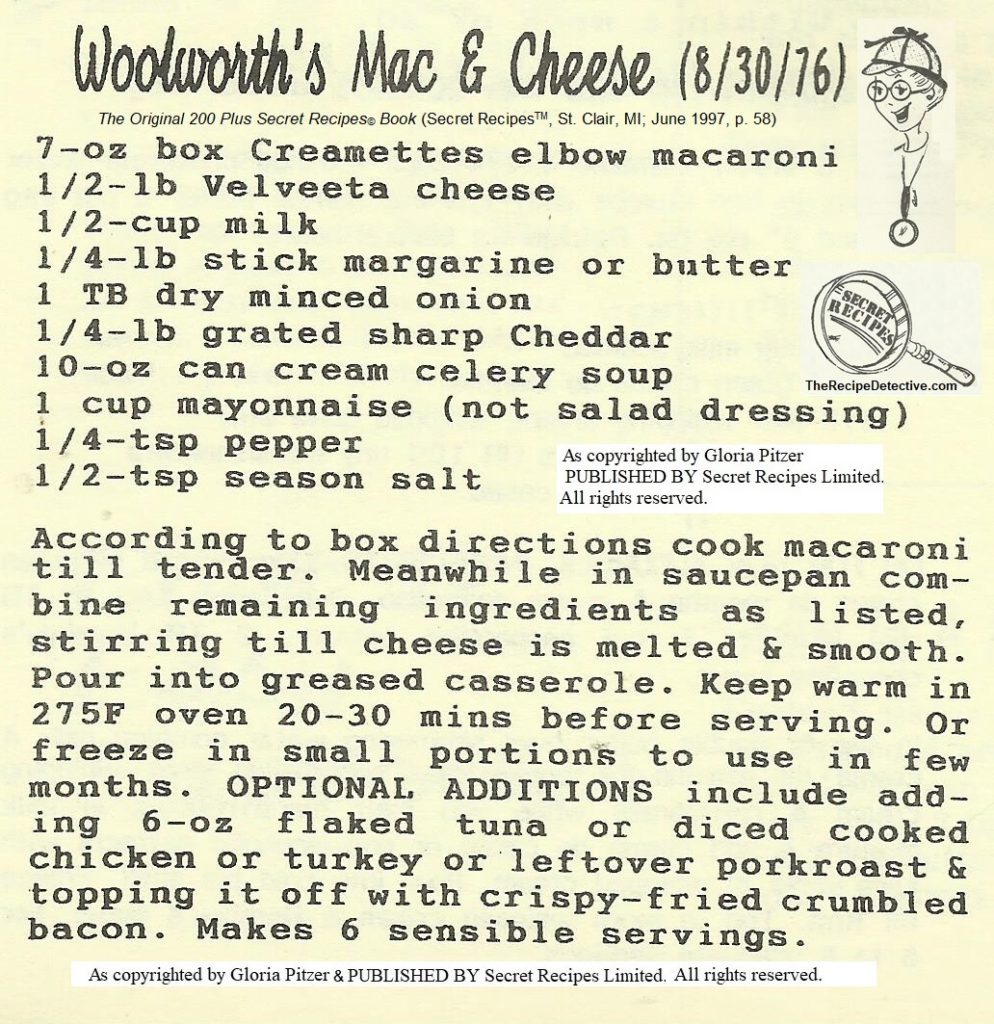 Thursday, July 15th is… National Tapioca Pudding Day and National Gummi Worm Day! Plus, as the third Thursday of the third quarter, it's also… Get to Know Your Customers Day!
Friday, July 16th is… National Corn Fritters Day and National Personal Chef's Day!
Saturday, July 17th is… National Lottery Day, National Peach Ice Cream Day, and World Emoji Day. Plus, as the third Saturday in July, it's also National Strawberry Rhubarb Wine Day and Toss Away the "Could Haves" and "Should Haves" Day!
Sunday, July 18th is… National Sour Candy Day, National Caviar Day, and National Ice Cream Day, which is the third Sunday in July! Being the third week in July, it's also… Everybody Deserves a Massage Week, National Zoo Keeper Week, and National Parenting Gifted Children Week!

…28 down and 24 to go!