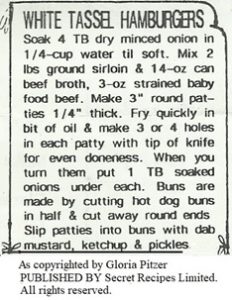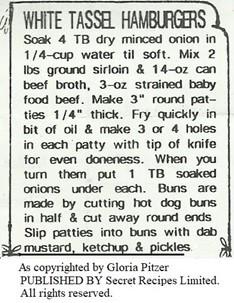 White Tassel Hamburgers
By Gloria Pitzer, Secret Restaurant Recipes (Secret Recipes, St. Clair, MI; Apr. 1978, 6th Printing, p. 10)
Ingredients:
4 TB Minced Onion
1/4 cup Hot Water
2 lbs. Ground Sirloin
3 oz. Baby food Strained Beef (jar)
2/3 cup Clear Beef Broth (or prepared Bouillon)
Instructions:
Soak minced onion in hot water until soft. Mix ground sirloin & baby food strained beef with beef broth or prepared bouillon.
Make patties uniform in size, flattening 3-4 ounces of meat mixture to 1/4 " thick. Fry each patty quickly in 1 TB oil on a hot griddle. Make 3 or 4 small holes in the patties, with the tip of a knife or skewer, during frying to ensure even doneness. Cut hot dog buns in half and cut away the rounded ends. [Not available in 1981, companies now market "slider" buns!]
Fry 1 tsp. of softened onions under each patty when turning to fry the other side. Slip patties into buns and serve with pickles, mustard & ketchup. Add chips on the side.
The number of servings is questionable, depending on how many Sliders™ you can eat! Freeze whatever patties are not fried right away.
NOTE:  This recipe did not appear in the 1st printing of the Secret Restaurant Recipes cookbook…but, I don't know if it was in any other printings between the 1st and 6th ones.
About White Castle®
Founded Billy Ingram and cook Walter Anderson, White Castle is the oldest American hamburger fast food restaurant chain with its first locations opening in 1921 in Wichita, Kansas. It is known for square burgers, sometimes referred to as "sliders" (officially spelled and trademarked as "Sliders") that were priced at five cents until the 1940s, and remained at ten cents for years thereafter.
Besides a being a great concept, with a killer little burger, White Castle also set some amazing records. First fast-food hamburger chain ever. First industrial-strength spatula. First mass-produced paper hat. First to sell a million hamburgers. First to sell a billion hamburgers. First frozen fast food for sale.
And something for all of the guys to remember, every year on February 14, White Castle offers to reserve a candlelit table for two, complete with a server for Valentine's Day.
For more information, check out www.whitecastle.com It has a ton of information including nutrition, White Castle history and terminology, locations, what's new and some great promotions.
Source: whitecastle.com & wikipedia.com