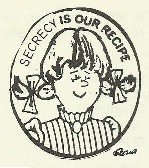 Wednesday's Chili
By Gloria Pitzer, originally from Eating Out at Home (Secret Recipes, St. Clair, MI; Sep. 1981, 12th Printing, p.16)
WHEN A VERY SUCCESSFUL HAMBURGER FRANCHISE decided to give the 'Golden Arches' a little nudge in the marketplace, it won the public's approval by adding a velvety-textured, mildly-seasoned chili to its menu, which has not been duplicated by any other food chain. Today, it's the leading lady of Wendy's fast food menu. Here's [Gloria's] version…
Ingredients:
2 TB Oil
1 1/2 to 2 lbs. Ground Round
10-oz.. can French Onion soup
1 TB Chili Powder
2 tsp Ground Cumin
1/2 tsp Pepper
3 to 6 drops Tabasco (to taste)
21-oz.. can Red Kidney Beans (undrained)
6-oz.. can Tomato Paste
8-oz.. can Tomato Sauce
Instructions:
Brown the ground beef in the vegetable oil, crumbling the beef into rice-size pieces with the back of a fork.
Put the onion soup through a blender on high-speed until it's smooth; then, add it to the beef mixture and mash it thoroughly again with the fork.
Stir in the remaining ingredients and simmer gently for about 15 minutes or until the flavors are well-blended and the chili is piping hot!
Makes about 6 servings. Left-overs keep well in a covered container in refrigerator for a week, or freeze up to 6 months, but it should be thawed/re-heated in the top of a double boiler over gently simmering water. NEVER thaw frozen meat and tomato sauce over direct heat or it may scorch. Oven-thawing tends to dry it out quicker, evaporating the natural juices more than steaming it will do.
About Wendy's®
Founded by Dave Thomas in 1969, Wendy's is the third largest hamburger fast food chain with approximately 6,700 locations and more than 46,000 people in its global operations recording $9.45 billion (USD) in annual sales.
Wendy's menu consists primarily of hamburgers, chicken sandwiches, French fries and beverages but does not have a signature product such as the Whopper or the Big Mac. What is unique is that their burger patties are square. The burgers are also made from fresh ground beef, not frozen.
For the complete story of Wendy's, visit www.Wendys.com, where you can find out everything you could possibly want to know about this amazing restaurant concept.