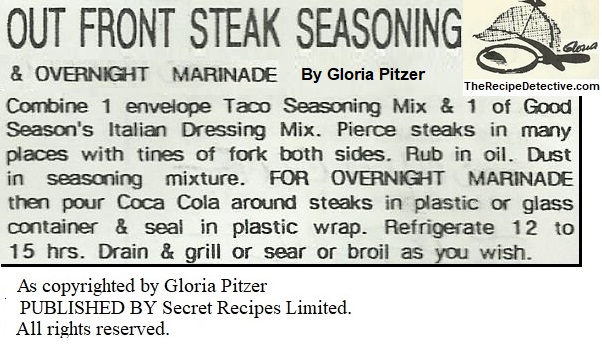 OUT FRONT STEAK SEASONING & OVERNIGHT MARINADE
By Gloria Pitzer, as seen in her "Free Recipes/Information" sheet (2000)
SEASONING INGREDIENTS & INSTRUCTIONS:
Combine 1 envelope of taco seasoning mix with 1 envelope of Good Season's Italian Dressing mix.
Tenderize steak on both sides, by piercing it many times with the tines of a fork. Rub steak with oil and dust with seasoning mixture.
OVERNIGHT MARINADE & INSTRUCTIONS:
Place steaks in an accommodating plastic or glass container (not metal). Pour a can of Coca Cola around the steaks and cover/seal container. Refrigerate 12-15 hours.  Drain steaks and grill or broil or pan-fry as you wish.
Mondays & Memories of My Mom – A 2nd Helping of Not Losing It!